'Squid Game' star Lee Jung-jae makes his muscular directorial debut with this kinetic, violent thriller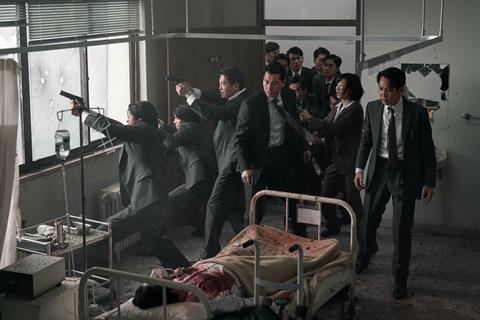 Dir: Lee Jung-jae. South Korea. 2022. 131 mins.
There will be blood — as well as plenty of double-crosses — in Hunt, which follows two South Korean government agents who are looking for a mole in their ranks, each man suspecting the traitor may be the other. Squid Game star Lee Jung-jae makes his directorial debut with this assured, violent thriller, providing a coolly controlled performance that goes toe-to-toe with an equally stoic Jung Woo-sung. The plotting may sometimes be convoluted, but the picture rolls along so forcefully that its familiar genre trappings hardly hamper the proceedings.
There's a steely precision to Hunt's gun battles, explosions and vehicular menace that's overwhelming and kinetic
Hunt premieres in Cannes' Midnight section, boasting the marquee value of its two veteran leads. The film's tension and sustained action sequences could make it a fetching commercial proposition, especially among fans of muscular spy thrillers.
Lee plays Park, the KCIA Foreign Unit chief who harbours dark memories of a past tragedy that will eventually be illuminated through flashbacks. After a failed assassination attempt on the president, both Park and Kim (Jung), the head of the Domestic Unit, are ordered to find the masterminds. But Park and Kim have a history — Kim roughly interrogated Park five years ago, leaving him with permanent nerve damage in his hand — and they don't like one another. Nevertheless, their investigation leads to the discovery that a mysterious individual, codenamed Donglim, has infiltrated the KCIA. They must find this man, both becoming equally convinced that their opposite number is the double agent.
Set in the 1980s, with a fictionalised narrative inspired by South Korean politics of the time, Hunt is rife with intrigue, paranoia, car chases and shootouts. While there is certainly a message buried underneath the film's body count about the best way to foster societal change, it is secondary to the mystery of who Donglim is — and how many people will die along the way to find out the answer. Lee and editor Kim Sang-bum keep Hunt moving right along, confidently crosscutting between its two characters, who are separately trying to solve that riddle, each of them finding clues that seem to indict their rival.
Lee is superb as this no-nonsense agent who objects to Kim's torturing of suspects to get information. Meanwhile, Jung lends Kim an air of quiet malevolence as he calmly patronises his buttoned-down colleague. Hunt builds in intensity as the relationship between the two agents grows more contentious, resulting at one point in a fistfight that is both raw and shockingly comic.
But that brief outburst pales in comparison to the lengthy action set pieces that Lee unveils elsewhere. There's a steely precision to Hunt's gun battles, explosions and vehicular menace that is overwhelming and kinetic. Some of the stunt work is especially adept, and Cho Young-wuk's propulsive score only further juices these rousing sequences.
On occasion, the picture gets bogged down in twists and shifting allegiances. (Some supporting characters will prove unexpectedly important to the uncovering of the mole.) But while these plot points can slow the forward momentum, Lee has such a firm grasp on the material — and such an eye for dynamic staging — that one forgives the brief lapses into heavy exposition. Eventually, we do learn the mole's identity, but by then we have discovered that riddle was really just an excuse for more and more carnage, culminating in a suitably overblown finale which aims for a sweeping dramatic grandeur that may be a little forced but is nonetheless sufficiently satisfying. Once the Hunt begins, you may not want it to end.
Production companies: Artist Studio, Sanai Pictures
International sales: Megabox Plus M, kim.yujin3@megabox.co.kr
Producers: Han Jae-duk, Lee Jung-jae
Screenplay: Lee Jung-jae, Jo Seung-hee
Production design: Park Il-hyun
Editing: Kim Sang-bum
Cinematography: Lee Mo-gae
Music: Cho Young-wuk
Main cast: Lee Jung-jae, Jung Woo-sung, Jeon Hye-jin, Heo Sung-tae, Go Youn-jung, Kim Jong-soo, Jung Man-sik