Daniela Seggiaro explores the plight of Argentina's indigenous population in this real-world fable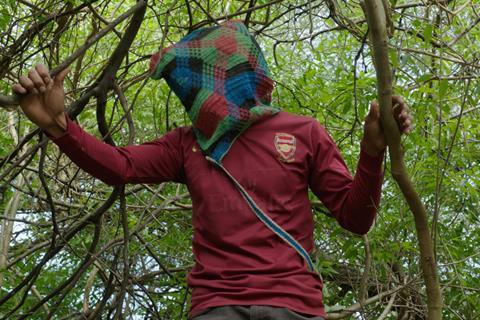 Dir: Daniela Seggiaro. Argentina. 2021. 89mins
The eternal struggle between rural tradition and urban modernity gets a welcome fresh spin in Husek, director/co-writer Daniela Seggiaro's belated followup to her prizewinning 2012 debut Nosilatiaj, la bellezza. Again addressing the rights, struggles and cultural riches of the Wichí people—an indigenous ethnicity whose territory straddles Bolivia and her native Argentina—Seggiaro audaciously adorns an engrossing real-world fable with subtle supernatural aspects.
While the prevailing mood is matter-of-fact, Seggiaro weaves in transcendent touches with a confident hand
Matters concerning Argentina's indigenous population—home to 90% of the total 55,000 Wichí—make fewer international waves than those in adjoining Bolivia (where the other 10% reside), explicitly and officially a "Plurinational State." Meanwhile in nearby Brazil, first nation minorities and their environments have experienced a well-publicised torrid time under the current far-right presidency. Husek—named after a Wichí concept relating to balanced goodwill—is thus a welcome addition to the noble and eclectic tradition of politically-engaged South American filmmaking. Further festival play is likely, including at hybrid-friendly showcases like FIDMarseille where Husek premieres in the international competition.
Despite second billing, Veronica Gerez is front and centre for most of the running-time as Ana, a thirtysomething architect working on a federal project to build new housing in the hot lowlands of the Gran Chaco region. This initiative encounters increasing opposition from many of the local residents, whose representatives include dignified elder Valentino (Juan Rivero).
The film's first ten minutes observe Valentino and his grandson Leonel (Leonel Gutierrez) collecting wild honey in a secluded area dotted with crumbling ruins of abandoned buildings. Valentino recounts how this location was the site of a bloody stand-off between Wichí people and the national army generations before—the reverberations of such incidents continue to echo ominously in the collective memory of the indigenous folk. "The government never ask," sighs one female elder, "first they act, and then we have to cope with it."
After this documentary-style prologue Seggiaro shifts gears in effective style, showing preliminary earth-moving work disrupted and suspended by poltergeist activity. The potency of invisible forces is thus established very early on, tipping the audience the wink that the Wichí (with whose cause the film is squarely sympathetic) have formidable backup to call on—should negotiations between the unstoppable force and the immovable object break down.
The importance of doing things by the book, respecting all stake-holders, is evidently a crucial principle for Ana. She is presented as conscientious, honourable and sympathetic—in contrast to her more craven and insensitive superiors and colleagues. ("We'll throw them out one way or another," snaps an impatient co-worker.) "A bit of a feminist", Ana also happens to be in a warm same-sex relationship; but the film, seemingly heading for a white saviour narrative via this locus of (international) audience identification, thankfully takes a more surprising tack – Ana is more the channel of resistance than its agent.
While the prevailing mood is matter-of-fact, Seggiaro weaves in transcendent touches with a confident hand. There's one especially lovely and mysterious interlude when a big-city musical event bathes nocturnal trees in waves of deep, vibrant colour. Guillermo Saposnik's after-dark camerawork sets the scene for a dramatic, literally earth-shaking, but pleasingly ambiguous finale. The magic even continues even after the narrative itself concludes, with the closing credits featuring arrays of complex ASCII art that transforms this mundane element of film-production housekeeping into its own kind of ritualistic folk-art.
Production company: Vista Sur
International sales: Vista Sur (alvaro@vistasurfilms.com.ar)
Producer: Álvaro Urtizberea
Screenplay: Daniela Seggiaro, Osvaldo Villagra
Production design: Guido Yannito, Bruno Alfarano
Editing: Julian D'Angiolillo
Cinematography: Guillermo Saposnik
Main cast: Juan Rivero, Verónica Gerez, Leonel Gutiérrez, Carla Crespo