Dir. Laurent Lariviere. France. 2015. 97 mins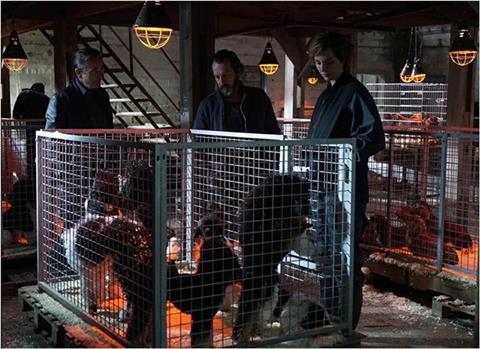 A grim topic gets a disappointingly uneven treatment in French dog-trafficking drama I Am A Soldier. This well-intentioned debut film from writer-director Laurent Larivière - following several shorts, plus much work in theatre and dance - is solid, by-the-book, downbeat realism, with touches of art-cinema atmospherics, all built around a likeable but less than commanding lead by popular French face Louise Bourgoin. Her profile should help the film domestically, but in export terms, the film doesn't stand out from the annual French crop of tales from the current economic trough.
Though by no means a mutt, Larivière's film is just that crucial bit short of pedigree.
Larivière's film centres on a work crisis. Thirty-year-old Sandrine (Bourgoin) is turfed out of her Paris apartment after losing her job, and returns home to her mother's house in Roubaix, northern France, to rebuild her life. She ends up working at the kennel run by her uncle Henri (Anglade), who turns out to be running a highly inhumane trade in puppies trafficked from Eastern Europe.
Dogs are bought like potatoes, by the kilo, and dumped in filthy cages, those that die are simply thrown away or burned. Sandrine steels herself to survive in this tough business, learns a few devious tricks of her own, and finds herself an ally in compromised but sympathetic vet Pierre (Capelluto). After nearly getting caught in a police raid, Sandrine gets depressed, triggering an event that brings matters to a head.
This was clearly a challenging film to make, since the effectiveness of the drama depends on confronting us with unpalatable horrors which, by nature, are difficult to stage. It's a measure of the film's seriousness that at no point does it try to manipulate us by playing the 'cute puppies' card, keeping Sandrine's canine charges interchangeable and entirely dehumanised (as it were), which brings home the industrial cruelty of Henri's trade.
The film's cogency depends on Bourgoin holding the centre, and although she's likeable, she lacks the rough edges or emotional heft to persuade us that Sandrine is becoming the 'soldier' of the title (which takes its cue from a Johnny Hallyday song). Domestic scenes of downtime with Sandrine's mum and sister feel slightly off-the-peg and arbitrary, while occasional touches of art cinema stylisation, underpinned by Martin Wheeler's sombre score, feel incongruous - as do the tender-comic moments between Bourgoin and Capelluto. Though by no means a mutt, Larivière's film is just that crucial bit short of pedigree.
Production companies: Mon Voisin Productions, Saga Film
International sales: Le Pacte, b.pugnet@le-pacte.com
Producers: Michel Feller, Dominique Besnehard
Screenplay: Laurent Larivière, François Decodts
Cinematography: David Chizallet
Editor: Marie-Pierre Frappier
Production design: Véronique Mélery
Music: Martin Wheeler
Main cast: Louise Bourgoin, Jean-Hugues Anglade, Anne Benoît, Laurent Capelluto