An arresting debut from Rungano Nyoni is set in and around Zambia's capital city Lusaka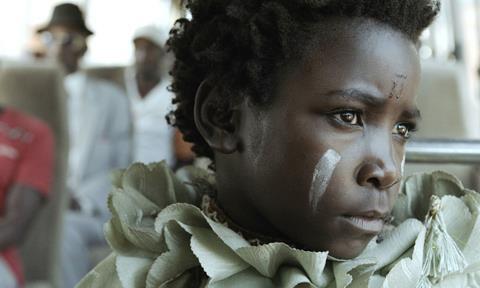 Dir. Rungano Nyoni. UK, France. 2017. 90 mins.
The people of nine-year-old Shula's (Margaret Mulubwa) village don't waste time crying over spilt well-water – they look for someone to blame. And Shula, new to town, with no family, is the obvious choice. She is denounced as a witch, and removed from the community. From there, she is taken to a government-run travelling witch camp in this arresting first feature from Zambia-born, Wales-raised Rungano Nyoni. The film crafts a framework of superstition and ritual, onto which is hung a vividly realised, if somewhat enigmatic portrait of a child's life.
Cast with non-professionals, the story is approached with a kind of deadpan eccentricity.
Broader points about the cynical marketing and commercialisation of tradition hit home, but a final denouement is a little too cryptic to be fully satisfying. With its original subject matter and striking photography, the film should have no shortage of offers of festival slots, however. Theatrical interest is also likely to be strong. Although the film shares cinematographer David Gallego, along with some thematic parallels, with Embrace Of The Serpent, it is unlikely to match that film's heavy-hitting arthouse impact.
An opening sequence reveals the witch camp through the curious eyes of a minibus full of tourists. The 'witches', all elderly matrons with white daubed faces and a uniform of blue canvas pinafores, sit, staring impassively as the visitors snap selfies. Then, on cue, they act their roles, gurning grotesquely for authentic photo opportunities. The tourists ask a couple of polite questions about the human zoo before them, then pile back onto the bus.
The main story starts with a glimpse of the incident which seals Shula's fate – she happens to be standing in the path when a woman drops a container of water. Spooked by the child's level gaze, the woman hurries away, abandoning her bucket. Well-meaning Shula fills it for her and leaves it on the step of the woman's hut – a clear indication that she's a witch, apparently.
Shula is hauled up before a local policewoman who peels an orange and marshals the increasingly excitable 'eyewitness' accounts. "So what did you do after your arm fell off?" she dryly asks one man, who embellished his testimony with an axe attack when he felt that he was losing the crowd.
But the fact that the child, intimidated into muteness, neither confirms nor denies that she is a witch means that government official Mr Banda (Henry Phiri) is alerted. Shula is taken to the witch camp and, like all the other women there, is bound to a white ribbon to stop her from flying away. Banda explains that she must spend the night in a shed. If she cuts the ribbon, she will turn into a goat. If not, she must stay in the camp as a witch. It's in his interests for her to stay. Banda uses the camp as a lucrative business resource, and a child witch is a premium product.
Shot in and around Zambia's capital city Lusaka, and cast with non-professionals, the story is approached with a kind of deadpan eccentricity. That some of the performances are a little unpolished hardly matters – in fact the sometimes declamatory delivery only heightens the sense of matter-of-fact oddness. There's humour too, at least in the first half of the film before the weight of her new life and responsibilities causes little Shula to fold in on herself. Out-there music choices mean that the soundtrack is unapologetically assertive – traditional African song rubs shoulders with excerpts from Vivaldi's Four Seasons and Estelle's American Boy.
For the most part, Nyoni's sparse storytelling gives us just enough to piece together the connections of the narrative. It's just at the end that we are left adrift. A few extra scenes might have clarified a pivotal plot point.
Production company: Clandestine Films; Soda Pictures
International sales: Kinology gmelin@kinology.eu
Producers: Juliette Grandmont, Emily Morgan
Screenplay: Rungano Nyoni
Cinematography: David Gallego
Editor: George Cragg, Yann Dedet, Thibault Hague
Production design: Nathan Parker
Main Cast: Henry Phiri, Margaret Mulubwa, Nancy Mulilo