Dir/scr. Kasper Collin. Sweden / USA, 2016, 91 mins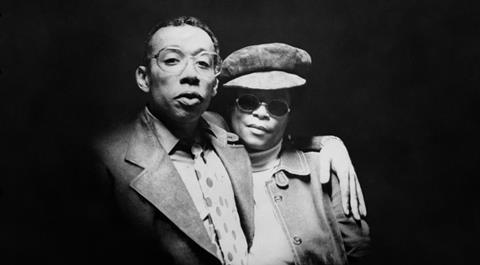 A film's title can be revealing; in I Called Him Morgan, it offers Helen Morgan's preferred name for her hard-bop jazz trumpeter husband, Lee. While seemingly straightforward, with every interview, photograph and performance that writer/director Kasper Collin pieces together, it swiftly proves otherwise. Their tale is one of infamy that the Swedish filmmaker attempts to rescue from the annals of history — and, with the attention his documentary should receive at festivals and in specialised play, he succeeds in that aim.
This is imbued with suspence, even if the outcome is known from the outset
Premiering out of competition at Venice, then moving from Telluride to Toronto to New York, will help spread the Morgans' fascinating, heartbreaking story and appreciation for Collin's poignant portrait of their tumultuous existence. With 2006's My Name is Albert Ayler also on his resume, this isn't his first part-investigation, part-tribute to a jazz legend lost before their time. Here, however, he spreads his focus between the prodigious talent and the woman who saved him from drug addiction — and then, on a snowy night in 1972, shot and killed him during a show.
Given the feats that Lee achieved, it's a narrative screaming for dramatised treatment, though this deserves to be the version of record. Before he was out of his teens, Lee was playing with the Dizzy Gillespie Big Band and Art Blakey's Jazz Messengers. Early in his career, he would perform on John Coltrane's Blue Train, and then make 25 albums for Blue Note Records prior to his death at 33.
It's with a trumpet-heavy soundtrack of Lee's music plus a remarkable array of archival snaps that I Called Him Morgan steps through this timeline, then intertwines Helen's progression from teen motherhood to adopting a bohemian New York lifestyle to becoming his lover and caretaker. Working with fellow co-editors Hanna Lejonqvist, Eva Hillström and Dino Jonsäter, Collin assembles all the usual elements from talking heads to newspaper headlines — yet little that ensues feels standard.
Imbued with suspense even with the outcome already known, biographies of Lee and Helen spring from their own accounts, as well as recent discussions with friends and musicians that knew them. The former were recorded in separate candid chats before their individual deaths, albeit more than two decades apart, while the latter brim with affection and sorrow, spanning jazz greats such as Albert Heath, Billy Harper and Wayne Shorter.
Fresh footage weaved between the recollections helps explain much of the documentary's entrancing air, as made apparent from the outset. I Called Him Morgan starts with the sound of wind — and, just as the introductory radio patter that comes next gives way to a moody tune, the accompanying black screen fades into brightness, with soft, hazy images of a blizzard similar to the weather conditions on the night of Lee's death. The hypnotic sight is just one of the evocative sections shot on 16mm by Selma cinematographer Bradford Young. With his assistance, Collin attempts to do more than recount facts; if he can't always wholly capture the figures at the film's centre, he can convey a sense of the time and place that Lee and Helen inhabited.
Of course, in the biopic realm, exploring the lives of jazz icons by making the corresponding feature resemble their free-flowing style has become so overused that it's now a cliché, though that never proves the case here. What emanates instead is something transitory made permanent, a description that applies as much to chronicling the Morgans' mournful story as giving Lee's musical output its due.
Production company: Kasper Collin Produktion AB, Sveriges Television AB, Film Väst
Sales: Submarine, dan@submarine.com
Producer: Kasper Collin
Executive producers: Ron Mann, Nicole Stott, Dan Braun
Cinematography: Bradford Young, Erik Vallsten
Editors: Hanna Lejonqvist, Eva Hillström, Dino Jonsäter, Kasper Collin