Dir. Ken Loach. UK-Fr. 2016. 100mins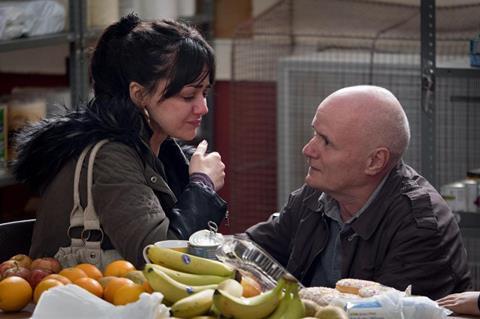 An archetypal Ken Loach hero, Daniel Blake (Dave Johns) is a forthright, decent everyman who finds himself pitted against the unwieldy and uncaring bureaucratic machine of the state. For the first time in his life, Daniel needs to claim welfare support after a serious heart attack has left him unable to work as a carpenter. A tone which initially emphasises the Kafkaesque absurdity of the circles of hellish paperwork darkens to tragedy as the film progresses and Daniel is stripped of his self-respect along with his benefits.
While it might not break new ground, there is no denying the potency of the film's empathetic anguish and fury
This is a film which passionately, if not subtly, gives voice to the collective anger that is mounting against the Cameron government's punitive policies. As such, it feels timely, and should chime with a left-leaning British arthouse audience, as well as those in European countries which have suffered similarly draconian austerity measures, many of which have a strong history of support for Ken Loach. Although stirring, it is perhaps too intimate in scope and ambition to generate the world of mouth required for a breakout success.
We are introduced to Daniel's impossible situation in an interview that plays out as the opening titles flash up on a black screen. A 'healthcare professional' – the words are stressed to underline their fraudulence – conducts a box-ticking interview with Daniel in order to assess whether he is, in fact, entitled to the disability benefit he has been awarded. Ignoring the fact that his doctor's advice forbids work while he recuperates, she seems more concerned about whether or not he can put a hat on unaided. When, inevitably, he is stripped of this benefit, Daniel is forced to claim Job Seeker's allowance, despite the fact that he is unable to work.
A chance encounter at the benefit office introduces Daniel to Katie (Hayley Squires) and her two children, Daisy (Briana Shann) and Dylan (Dylan Phillip Mckiernan). Katie has recently relocated from London – her only option to get out of a single room in a hostel was to accept the offer of a flat in Newcastle. She has also fallen foul of the system, and, enraged, Daniel lets rip on her behalf with a torrent of choicely worded Geordie invective. This gets them both evicted from the premises, but signals the beginning of a tentative friendship.
This is the twelfth collaboration between Ken Loach and his regular screenwriter Paul Laverty. It's a creative partnership which sometimes feels like the cinematic equivalent of a married couple who know each other so well, they can finish each other's sentences. As such, it is unlikely to produce many stylistic or thematic surprises. Certainly, there is a kinship here with many of their previous collaborations – particularly My Name Is Joe – as well as earlier Loach films like Ladybird, Ladybird. But while it might not break new ground, there is no denying the potency of the film's empathetic anguish and fury.
One devastating scene in particular stands out. Daniel accompanies Katie and her children to a food bank where, for once, they are treated with kindness. Drained by hunger and lack of sleep and disarmed by the sympathy of the women there, Katie cracks and surreptitiously opens a can there and then, scooping the contents into her mouth with her fingers. It's a wrenching moment, which is heightened by Squire's performance – panic, self-loathing and despair register on her face as tomato sauce drips through her fingers and down her coat.
Another emotive moment is Daniel's final rebellion against the faceless office drones who refused to address his claim. Spray can in hand, he daubs a message on the walls of the benefit office, to much applause from passers by. Iain Duncan Smith (the former UK minister for work and pensions) is namechecked in singularly unflattering terms by a vocal supporter of Daniel's impromptu grassroots campaign for recognition.
Less successful is the decision to effectively martyr the central character in service of the message. It's a clumsy and obvious device. Equally, the decision to have Katie resort to employment in an escort agency is a melodramatic plot twist which sits a little awkwardly with the understated realism of the rest of the film. A scene in which Daniel visits her place of employment and confronts her is uncomfortable for all the wrong reasons.
The cinematography, by Robbie Ryan, another Loach regular, favours a muted palette of drab browns and greens, but deftly captures the subtleties of the persuasive central performances by Johns and Squire. The score is minimal, just an ominous pulse at times of tension, which subtly reminds us of Daniel's generous but overworked heart.
Production company: Sixteen Films
International sales: Wild Bunch, sales@wildbunch.eu
Producers: Rebecca O'Brien
Screenplay: Paul Laverty
Cinematography: Robbie Ryan
Editor: Jonathan Morris
Production design: Fergus Clegg, Linda Wilson
Music: George Fenton
Main cast: Dave Johns, Hayley Squires, Briana Shann, Dylan Phillip Mckiernan