Valentina Maurel's sensual, spiky debut chronicles a stormy father-daughter relationship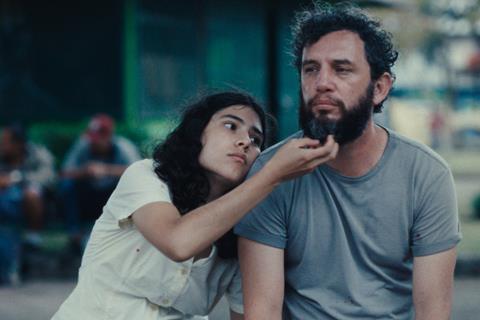 Dir/scr: Valentina Maurel. Costa Rica/Belgium/France. 2022. 101 mins.
The loving but (very) stormy relationship between a bohemian artist and his 16-year-old daughter is the crux of I Have Electric Dreams, the tough, sensual, spiky feature-length debut by Costa Rican writer-director Valentina Maurel. Premiering in the main competition at Locarno, it quite remarkably won more prizes than all its rivals combined: best director for Maurel, plus the acting awards for co-leads Daniela Marin Navarro and Reinaldo Amien Gutierrez. Guaranteed extensive further festival play as a result — first stop Sarajevo — the film ranks among the more distinctive recent arthouse entries from Central America.
Marin Navarro and Amien Gutierrez are always entirely convincing
The small, relatively wealthy (and famously military-free) nation of Costa Rica has made only glancing impacts on the global cinematic consciousness: most notably via Paz Fabrega, whose Cold Water Of The Sea won a Tiger award at Rotterdam in 2010. Nicolas Wong Diaz, assistant cinematographer on her 2015 follow-up Viaje, thereafter graduated to full DoP duties and won awards for his work on Jayro Bustamante's international breakou La Llorona (2019).
Wong Diaz's handheld camerawork is a consistent plus here, intimately capturing the chaotic outer and inner lives of fortysomething Martin (Amien Gutierrez) and precocious teen Eva (Marin Navarro). Painter/sculptor/poet/drunk Martin has split with his ex-partner Anca (Vivian Rodriguez), a former dancer; their daughters Eva and younger Sol (Adriana Costa Garcia) live with her — as does family cat Kwesi (scene-stealing feline performer Bagheera), whose welfare is an ongoing locus of concern and one source of family frictions, but only one among several.
Another is Martin's wayward lifestyle, in keeping with his Bukowski-esque artistic persona. (He is pleased when his poetry is praised as having "melancholy power.") An unhealthy-looking fellow who boozes too much, smokes too much and has a streak of stereotypically Latin-macho violent temper, Martin is a classic example of how talent and torment often run hand-in-hand.
A line from one of his poems provides the film with its title: "I have electric dreams… A pack of wild animals / Scream their love for each other / Sometimes with blows." The film takes its febrile tenor from such sentiments; interestingly, Maurel elects to present nearly everything from Eva's precocious point of view. A rough-edged coming-of-ager, I Have Electric Dreams traces the dawning of Eva's own nascent creative spirit, which blossoms in tandem with her sexuality. In one of the film's most pivotal and effective scenes, which arrives almost exactly at the halfway mark, she experiences her first proper carnal intimacy with her dad's pal Dove (Jose Pablo Segreda Johanning) — a man more than two decades her senior.
The next sequence, in which Eva walks home alone among bluish shades of early morning, neatly captures the film's aesthetic strengths, as well as functions as a sturdy showcase for the two central performances. Marin Navarro and Amien Gutierrez are always entirely convincing, both in terms of their solo characterisations and their interactions as daughter and father. The near-wordless scene in which Martin realises that Eva has "lost" her virginity to his chum is almost unbearable in its sheer emotional intensity.
Such moments confirm Maurel as a talent to watch. While she breaks very little new ground either formally or content-wise — this type of material has been a core concomitant of Latin American cinema for well over a decade — her careful attention to detailed verisimilitude and her full-blooded conviction ensure I Have Electric Dreams stands out of a crowded pack.
Production companies: Wrong Men, Geko Films
International sales: Heretic, info@heretic.gr
Producers: Gregoire Debailly, Benoit Roland
Cinematography: Nicolas Wong Diaz
Production design: Guillaume Landron
Editing: Bertrand Conard
Main cast: Daniela Marin Navarro, Reinaldo Amien Gutierrez, Vivian Rodriguez, Jose Pablo Segreda Johanning