Dirs. Petr Kazda, Tomas Weinreb. Czech Republic, Poland, Slovakia, France. 104 mins.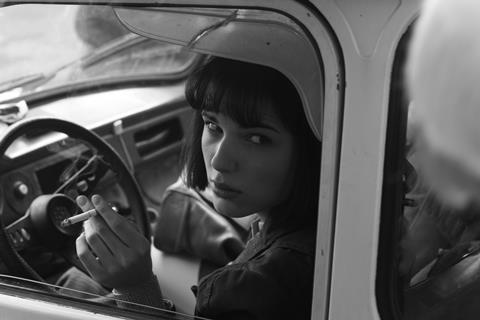 Described as an 'existential drama', I, Olga Hepnarova looks at the life of the last woman to be hanged in the former Czechoslovakia in 1975, at the age of 22. Shot in austere, yet beautifully light-infused, black-and-white, this is an difficult period feature which relies heavily on its Polish lead actress, the very up-and-coming 23-year-old Michalina Olszanska (who has just co-headlined Sundance mermaid drama The Lure). Thematically reminiscent of Dance With A Stranger, I, Olga Hepnarova struggles with its difficult central character, always spiky and occasionally psychotic but never really as intriguing as the filmmakers clearly believe.
An indication of Hepnarova's expression throughout is indicated by an exchange where she's asked why she's angry. "I always look that way," she replies
The troubled and latterly-murderous Hepnarova may describe herself as a "sexual cripple" here, but there's a strong lesbian angle to this niche auteur title and a couple of frank encounters which might see it gain traction on the LBGT festival circuit. Pitching it as the story of a beautiful Czech mass murderer – Hepnarova drove a truck into crowded street, killing eight - may lure a salacious audience, but they stand to be disappointed. This is a monochrome foreign language film about a depressed lesbian who works as a truck driver and doesn't wash; it's a niche item.
Olszanska delivers a committed performance, although Hepnarova – as imagined by debut co-directors and co-screenwriters Petr Kazda and Tomas Weinreb, is a challenging character on several levels. The actress, radiant despite a succession of bad haircuts and awkward poses, leans a little heavily on the character's tics – constant chain-smoking and a butch walk, in particular – but is still the film's main draw, alongside an evocative design which brings 1970s Soviet-era settings and costumes back to lustrous monochromatic life (when Trabants ruled the streets of Prague).
We see that Hepnarova was troubled as a teenager, attempting suicide and committed to a mental hospital where she was relentlessly bullied by her fellow inmates (all engaged in same-sex activity). Angry with her placid middle-class family in Prague (her doctor mother is played stoically by Klara Meliskova), the intense teenager runs off to live in a hut and works in a garage. Given to making declarations like "I'm a psychopath but an enlightened one," she alienates her co-workers and, ultimately, her lover, but finds a strange friendship with the heavy-drinking Miroslav (Martin Pechlat).
An indication of Hepnarova's expression throughout is indicated by an exchange where she's asked why is she angry. "I always look that way," she responds.
First-timers Kazda and Weinreb, working from a story by Roman Cilek, struggle to give Hepnarova's story a wider meaning but their visualisations show a clear talent which means we should see more of the directing-screenwriting duo, and also their talented DoP Adam Sikora. Actress Olszanska is becoming clearly the go-to actress of her generation in Eastern Europe and, despite its flaws, I, Olga Hepnarova is an indication of why.
Production companies: Black Balance, Media Brigade, Love Frame, Alef Film & Media Group
International sales: Guillame de Seille, guillaume@arizonafilms.net
Producers: Vojtech Fric, Peter Kazda, Tomas Weinreb, Marcin Kurek, Mariah Urban
Screenplay: Petr Kazda, Tomas Weinreb, from a story by Roman Cilek
Cinematography: Adam Sikora
Editor: Vojtech Fric
Production design: Alexandr Kosak
Music: Alice Glass
Main cast: Michalina Olszanska, Marta Mazurek, Ondrej Maly, Lukas Bech