Dir/scr: Mark Abraham. US, 2015, 123 mins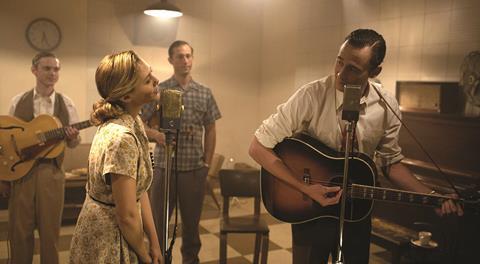 Casting British actor Tom Hiddleston as the late-40s/early-50s Alabama-born country music star Hank Williams was an interesting choice for I Saw The Light director Mark Abraham, and the decision proves to be justified. Hiddleston's intense performance lends a little frisson to an otherwise familiar, if gorgeously-mounted tale about a troubled musical genius who is inevitably, gruellingly, felled by his demons.
This can lead to the sense that Hiddleston is delivering an impressive performance of a character which isn't written very deeply
Hiddleston sings the Williams catalogue with aplomb in I Saw The Light; as an actor, he's certainly got the ambition to deliver this bravura turn, although Abraham pays a little too much visual emphasis to the suit and hat, leaving the actor to work hard to imply what's beneath. But as Hanks' tricksy hard-edged wife, Elizabeth Olsen is the film's find - she flashes her deepening talent like a diamond, proving she's got the depth and range for more complex performances.
Narratively, however, this prestige biopic feels like a routine cycle through an already-over-populated genre. Set to go out through Sony Pictures Classics in the US on November 27, awards pushes for Hiddleston and Olsen may draw some interest in I Saw The Light, but reviews stand to be luke-warm and there's a dramatic sluggishness here which could see the film struggle to reach wider audiences. The electric real-life dramas of dead addict musicians in this year's three ringing documentaries Amy, Curt Cobain: Montage of Heck and Janis: Little Girl Blue seem to cast a faded pallor over Williams's 1950s back catalogue, or perhaps truth is always stronger than a dramatised version of it.
Hank Williams died at the age of 29; I Saw The The Light takes up his story six years before and decorates it in perfect period settings which go a long way towards nourishing the viewer through 123 minutes of booze-filled unhappiness. (Painkillers also played a role in his downfall; Willams suffered from spina bifida). The rich visual trappings from production designer Merideth Boswell don't drown out the story, either. I Saw The Light's focus is on the heyday of the Grand Ole Opry, a pre-Johnny Cash-era Southern music scene and, like 2005's Walk The Line, spends time on the central relationship between Hiddleston's Williams and Olsen as Audrey, an ambitious and occasionally-loving spouse who insisted on being included on his material despite her scanty vocal talent.
Deep Southern accents can sound indistinct here to the untrained ear, and I Saw The Light will certainly need to work to gain traction in international territories where the name of Hank Williams is far from a draw (apart from Britain, where Hiddleston's turn will draw attention, although C&W audiences worldwide should be delighted by this ode to their history). During the couple's frequent arguments over Williams' womanising and drinking, the dialogue isn't entirely audible, although the sentiment is clear. What's less obvious is which story beats Abrahams is trying to emphasise across Williams' crowded, drama-filled, all-too-brief life. Odd black-and-white faux interviews with his publisher Fred Rose (Bradley Whitford) add little, if anything, to the film, and I Saw The Light has a tendency to whip through the singer-songwriter's musical achievements in favour of domestic scenarios such as the rivalry between his mother and wife and the couple's break ups and reconciliations.
Before he succumbed to his addictions, Alabama-born Williams enjoyed 33 hit singles and eight Number Ones, with three more chart-toppers coming after his death on New Year's Day 1953. Some are gloriously performed here by Hiddleston, from the acapella opening-credit performance of Your Cold, Cold Heart to Lovesick Blues up to Your Cheatin' Heart; while the actor doesn't sound entirely like Williams, that somehow enriches the feeling of the piece.
Somewhere in I Saw The Light is a story about a precociously talented boy, surrounded by women, who struggles to achieve the meteoric success which made him one of the first inductees in the Country Hall of Fame and one of Bob Dylan's enduring influences, but Abrahams has a tendency to lose focus on this kernel in the domestic drama which swirls around him. This can lead to the sense that Hiddleston is delivering an impressive performance of a character which isn't written very deeply. Olsen, meanwhile, is effortless; her young face speaks of her character's life and inner struggle. This is an actress to watch.
Awards note could also go to Bowell's design, captured by Dante Spinotti's impressively fresh camera work. From, Alambama to Pensicola, Florida and, of course, Nashville (the production shot mainly in North Louisiana) the American South has rarely looked so real onscreen, giving a deep visual flavour to music producer Rodney Crowell's arrangements. It's not look-at-me flashy work, but they've created a place to fall into, a world to sing about.
Production company: Ratpack Entertainment, Bron Studios
International sales: Sony Pictures Classics
Producers: Brett Ratner, Aaron L. Gilbert, Marc Abraham, Marq Roswell
Executive producers: Parry Long, Jason Cloth, John Raymonds, James Packer
Screenplay: Mark Abraham, based on Hank Williams: The Biography, by Colin Escott
Cinematography: Dante Spinotti
Editor: Alan Heim
Production designer: Merideth Boswell
Music: Aaron Zigman
Main cast: Tom Hiddleston, Elizabeth Olsen, Bradley Whitford, Cherry Jones, Maddie Hasson, Wrenn Schmidt