Claire Simon's exploration of the relationship between Yann Andréa and Marguerite Duras is a remarkable two-hander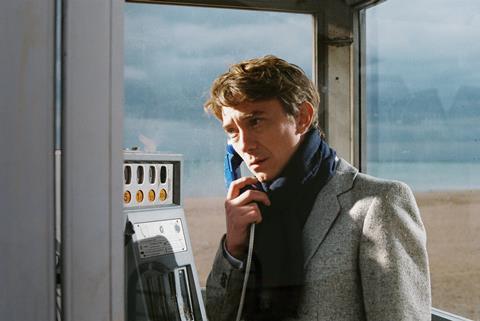 Dir: Claire Simon. France. 2021. 95mins
The two-hander dialogue is perhaps the hardest form to pull off in film – there's always the risk of viewers feeling that they're not really seeing full-blown cinema – but Claire Simon rises magnificently to the challenge in I Want to Talk About Duras. At once literary biography and in-depth portraiture, achieving the concentrated intensity of a psychoanalysis session, Simon's film studies the late Yann Andréa, who was the partner of the writer and film-maker Marguerite Duras. Based on Andréa's interviews with journalist Michèle Manceaux, Simon's film is the quintessence of intimate cinema, and a vehicle for superb minor-key acting from Swann Arlaud and Emmanuelle Devos.
Swann Arlaud's performance sustains a note of nervous delicacy that is intensely revelatory
A versatile director whose best-known films include A Foreign Body (1997) and film school documentary The Competition (2016), Simon should attract considerable attention for an involving, insightful piece that will inevitably be of niche appeal, but may nevertheless resonate beyond French literary coteries and Duras obsessives.
The film is based on I Want to Talk About Duras, the book published in 2016 comprising Manceaux's interviews with Andréa at his and Duras's home in Neauphle-le-Château in December 1982. The interviews apparently happened at Andréa's behest, and the film begins with Yann (Swann Arlaud) curled up on a sofa waiting for his journalist neighbour (Emmanuelle Devos), to arrive so that he can spill his soul. Once they sit down, Andréa begins a thoughtful, delicately pained account of the genesis of his relationship with Duras. A former philosophy student, he became obsessively fascinated with her writing at the age of 22, wrote to her over six or seven years and – when they finally met – moved in with her and became the lover of a woman 48 years his senior
The confessions of Andréa – a published writer himself, but very much in his partner's shadow – are unpacked with painful precision over two sessions, punctuated by an interlude as Manceaux walks home and seemingly reflects on her first day's tape. Andréa, who defines himself as homosexual, talks about his very physical relationship with the writer who is his idol – and whom he refers to mainly as 'Duras' in the first section, 'Marguerite' in the second.
What emerges is a strange picture of self-abnegation on his part, tyrannical domination on hers, with Duras telling him she intends to 'uncreate' him in order to 'create' him, and insisting, "You desire only me" (the film's original French title). Her control of his life, Andréa says, extended to her insistence that he ate, wore, watched and read only what she dictated; at one moment, he even rebelliously insists he has the right to eat leeks if he so wishes. Indeed, we see a clip of Duras herself, directing Andréa in her 1981 film L'Homme Atlantique, grumpily barking at him, "Only do what I tell you."
Apart from a fleeting glimpse of Duras through a window, the writer doesn't appear in the drama, although Virgile Van Ginneken's meticulous sound design evokes her walking around downstairs; she is otherwise seen in brief clips, at one point playing the piano. The real Andréa himself never appears.
As the discussion moves through questions of love, domination, obsession, homosexuality and death – the latter two topics seemingly inextricable in the Durassian imagination – Arlaud's performance sustains a note of nervous delicacy that is intensely revelatory, without giving away too much, always attuned to the specific tenor of Andréa's words. Arlaud is a consistently fascinating actor whose filmography includes work with François Ozon and Stéphane Brizé, plus current French Netflix movie How I Became a Superhero, and this film will stand as a career landmark. His oddly elfin face is a perfect vehicle for the hesitations, evasions and enigmatic nuances of Andréa's discourse – itself a performance, as are all interview-confessionals.
Meanwhile, although her role might ostensibly seem thankless, Devos makes Manceaux very much a presence, with the journalist asking very few questions, giving occasional prompts, and generally functioning like a near-silent therapist. Devos's subtle body language and muted facial expressions are a masterclass in that most famously challenging actorly task, portraying the simple act of listening.
Daniel Bevan's production design establishes Andréa's upstairs den as the enclosed arena for the encounter, with warm lighting suggesting a cosy retreat from the winter outside and the harshness of the relationship under scrutiny. DoP Céline Bozon shoots largely in long takes and in close-up, the camera intermittently drifting between the interlocutor; but when we finally see a carefully composed two-shot, it genuinely has the force of an event.
Interludes include brief flashbacks to Andréa's past, including a moment with a former girlfriend and an episode of gay cruising, while footage from Duras's work includes a ghostly passage from her 1975 film India Song. A bold, indeed contentious, device is the use of Judith Fraggi's ink drawings, often very explicit in their depiction of Andréa's and Duras's sex life. Arguably this suggests an invasive approach to their intimacy but, in context, the pictures might be read as Manceaux's imaginings about the couple. They certainly have the virtue of establishing the absolute carnality of a relationship that might otherwise come across as purely literary, intellectual, even abstract – but which, Andréa's confession makes clear, was a matter of passion, pain and apparently mutual abusiveness.
Production companies: Les Films de l'Après-Midi
International sales: Luxbox info@luxboxfilms.com
Producer: François d'Artemare
Screenplay: Claire Simon
Cinematography: Celine Bozon
Editor: Julien Lacheray
Production design: Daniel Bevan
Music: Nicolas Repac
Main cast: Swann Arlaud, Emmanuelle Devos