Dir: Michael Thurmeier. US. 2016. 94mins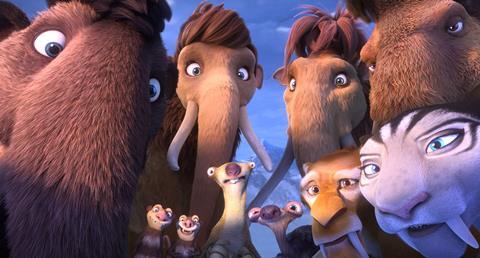 The threat of extinction has always been a theme in the Ice Age films, but there's little real danger of that in this fifth installment of the hugely successful animated franchise. Overpopulated with barely justified subplots and new additions to its family of goofy pre-historic animals, Collision Course is a colourful 3D romp that's heavy on slapstick and cosy family comedy but light on real laughs and affecting drama.
Thurmeier just about manages to pull all the slapstick comedy, parent-child drama and science-themed adventure together into a roughly coherent whole.
After its June 19 premiere at the Sydney Film Festival, the Blue Sky/20th Century Fox sequel hits most major territories in the month before it arrives in the US on July 22, and it will be the international market where it should generate most of its box office action. But with competition coming from Illumination/Universal's The Secret Life of Pets and Pixar/Disney's Finding Dory, matching the $715.9m international haul and $161.3m domestic take of 2012's Ice Age: Continental Drift (the franchise's second biggest worldwide earner) could be a challenge.
Scripted by Michael Wilson (co-writer of the 2002 franchise begetter), Michael Berg (co-writer of the original and the series' two previous chapters) and Yoni Brenner (one of the writers on third outing Ice Age: Dawn of Dinosaurs), Collision Course sets good natured wooly mammoth Manny (voiced by series regular Ray Romano) and his motley herd on a quest to divert a giant asteroid which is headed for their part of the frosty world.
The family dynamics have Manny and Ellie (again voiced by Queen Latifah) fretting about daughter Peaches (Keke Palmer), who is planning to leave home with hubby-to-be Julian (a new character given voice by Pitch Perfect's Adam DeVine), and Julian trying to ingratiate himself with Manny. Meanwhile Sid the sloth (John Leguizamo) is on his own quest for a girlfriend and sabre-toothed tigers Diego (Denis Leary) and Shira (Jennifer Lopez) are thinking about starting a family.
As usual, there's some enjoyable pratfall comedy with Scrat and his acorn to punctuate the story – this time the determined squirrel-rat is on a space ship journey that vaguely refers back to the first film and connects, sort of, with the main plot. And other characters making welcome returns include loopy weasel Buck (back from the third chapter, with Simon Pegg again voicing), Sid's cantankerous granny (Wanda Sykes) and manic possums Crash and Eddie (Josh Peck and Seann William Scott).
Other new characters include a quarrelsome family of 'dino-birds' (with the macho dad voiced by Parks and Recreation's Nick Offerman), who emerge from a subterranean lost world intent on foiling the asteroid diversion scheme, and the New-Agey inhabitants of a giant geode (called, rather cheekily, Geotopia). Among the crystal-dwellers is a bubbly female sloth voiced by British pop singer Jessie J, who also belts out a song for the film's soundtrack.
Continental Drift's Michael Thurmeier is back to direct (with regular franchise supervising animator Galen Tan Chu as co-director) and he just about manages to pull all the slapstick comedy, parent-child drama and science-themed adventure (yet another new character is based on TV-friendly American astrophysicist Neil deGrasse Tyson) together into a roughly coherent whole.
Mostly missing, though, is the kind of humour that might have kept adults as well as kids interested and a sense of dramatic peril that in previous Ice Age installments has stirred up a few moments of real emotion.
Co-director: Galen Tan Chu
Production companies: Blue Sky Studios, 20th Century Fox Animation
Worldwide distribution: 20th Century Fox
Producer: Lori Forte
Executive producers: Chris Wedge Carlos Saldanha
Screenplay: Michael Wilson, Michael Berg, Yoni Brenner
Music: John Debney
Editor: James Palumbo
Art director: Michael Knapp
Website: IceAgeMovies.com
Main voice cast: Ray Romano, Denis Leary, John Leguizamo, Queen Latifah, Seann William Scott, Josh Peck, Simon Pegg, Keke Palmer, Wanda Sykes, Jennifer Lopez, Stephanie Beatriz, Adam DeVine, Jesse Tyler Ferguson, Max Greenfield, Jessie J, Nick Offerman, Melissa Rauch, Michael Strahan, Neil deGrasse Tyson.