Late-life love and second chances form the crux of this warm, sensitive feature from Bohdan Slama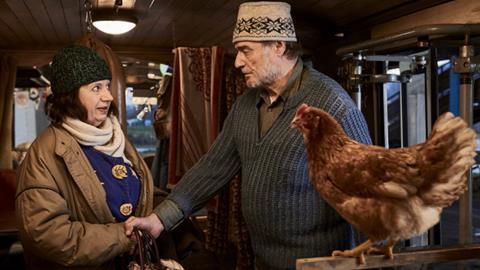 Dir. Bohdan Sláma. Czech Republic/France/Slovakia. 2017. 106 mins.
Hana (Zuzana Kronerová) may have been widowed for years, but the presence of her dead husband still looms large over the crumbling villa where she lives. It's in his name that her two sons and their families visit each weekend, for a clenched, miserable mealtime in which recriminations and grudges are served up along with the soup tureen. This low-key, naturalistic drama from Bohdan Sláma follows Hana's belated decision to stake a claim in her own life following a new relationship and with the support of a community of doughty ice swimmers. While the film is unlikely to match the awards haul of Sláma's 2006 San Sebastian Golden Seashell-winning drama Something Like Happiness (Stesti), Ice Mother handles the lives of its older protagonists with sensitivity and admirable candour.
Kronerová and Nový are persuasive and engaging in the main roles, with sterling support from the peerless avian acting of Adela the depressive chicken.
Performances at least as meaty as the torsos of the well-padded ice swimmers, plus a warmth of approach which contrasts with the icebound Czech winterscape should make this a popular fixture on the festival circuit. Theatrical sales are not out of the question, particularly in territories which traditionally embrace the cinema of Eastern Europe.
Inanimate objects take on a symbolic resonance in this portrait of late-life love and the blossoming of a woman whom old age had robbed of an identity. The malfunctioning furnace in Hana's home spews noxious smoke but fails to heat the house – a neat metaphor for the chill at the heart of her family relations. And there's the soup tureen – impractical, unwieldy – which sits in judgement at the weekly family lunch, a reminder of the 'standards' that Hana's late husband insisted upon. When we first meet Hana she's in the middle of a flurry of activity, trying to tease some warmth out of the furnace and wrangling the giant soup vat. Her efforts are not appreciated by her two sons, who peck at each other over the dinner table like battling roosters.
Hana, it becomes clear, is viewed as an unpaid skivvy by her wealthy son Ivan (Václav Neužil) and his pinch-faced neurotic wife (Tatiana Vilhelmová). She is expected to pick up her grandson Ivanek (Daniel Vízek) from the school where he is routinely bullied and care for him each day until his parents return from work. Ivanek wanders off while in her care, and Hana finds him watching the ice swimmers by a nearby river. When one of them, Brona (Pavel Nový), gets into difficulties, Hana wades in to help him, and a friendship is formed.
Both Hana and her grandson are attracted to the good humoured swimmers, and they attend a competition with them the following weekend. The sad little boy unwinds with the gruff old men who banter with him and play uproarious games of cards. And Hana warms to maverick Brona, who lives on a converted bus with a jealous chicken called Adela. An unflinching sex scene addresses the realities of pensioner romance with robust humour.
In common with Something Like Happiness, a key theme here is that the most supportive family unit might not be the one that you are born into. To this end, Sláma has created a biological family of horrors whose reprehensible behaviour towards Hana is so extreme, it doesn't always feel credible. It's the one exaggerated element which is at odds with the no-frills realism of the rest of the film. Fortunately, Kronerová and Nový are persuasive and engaging in the main roles. And they receive sterling support from the peerless avian acting of Adela the depressive chicken.
Production companies: Negativ, Artileria, Why Not Productions
International sales: The Match Factory, thania.dimitrakopoulou@matchfactory.de
Producers: Pavel Strnad, Petr Oukropec
Screenplay: Bohdan Sláma
Cinematography: Diviš Marek
Editor: Jan Daňhel
Production design: Jan Vlasák
Main cast: Zuzana Kronerová, Pavel Nový, Daniel Vízek, Václav Neužil, Tatiana Vilhelmová, Marek Daniel