Dirs: Guillaume and Stéphane Malandrin. Belgium-Fr. 2015. 96mins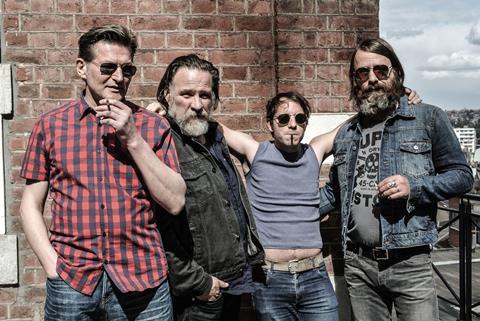 A delightfully unpredictable comic road movie that the phrase "delightfully unpredictable comic road movie" only begins to describe, I'm Dead But I Have Friends (Je suis mort mais j'ai des amis) parlays unexpected twists and deadpan humour into a sweetly irreverent ode to friendship. The ageing members of a punkish Belgian rock band lose their lead singer but decide to maintain their concert dates in Los Angeles with vague plans to place the dead friend's funeral urn in front of the microphone. Nothing — absolutely nothing — goes according to plan.
No matter how peculiar the events depicted onscreen may be, they come across as plausible
Deftly proving that things which aren't ordinarily funny (death, funerals, food poisoning, nearly averted plane crashes) can be amusing indeed, brothers Stephane and Guillaume Malandrin make the most of a wonderfully game cast, eliciting winning performances from Belgians Bouli Lanners (as Yvan) and Wim Willaert (as Wim) and from French actor and director Lyes Salem (as non-rocker Dany). Anybody looking for a French-language comedy that's both silly and smart might want to give this a spin.
Stubborn devotion to one's own possibly-outdated code of behaviour is the driving force behind the antics of the film's mostly scruffy roster of characters. The humour is based on the reliable technique of thwarting your protagonists' intentions at every turn.
There are microphone problems on the night we meet the band, forcing lead singer Jipé to sing himself hoarse. So, unfortunately, when he needs help he can't call out and a minor incident proves fatal.
Out of friendship and loyalty — and a strong gift for denial — the surviving members of the band decide not to cancel their American tour over a little thing like a dead lead singer. They steal the funeral urn.
Then they learn that their late friend had a romantic partner whom they'd never met. The secret lover in question is such an unlikely hybrid of traits it would be a shame to give them away in a review. The surviving members of the band set out for the USA and end up in the wilds of Canada where the indigenous Innu add an otherworldly counterpoint to our singular European protagonists.
Whether it's the fries-and-beer shacks of Belgium, an embarrassing interview via Skype, a tricky effort to retrieve something stuck between two cars on a moving train or the wide open spaces of Canada, the Malandrins tell their tale with unfussy visual assurance. No matter how peculiar the events depicted may be, they come across as plausible.
Carefully chosen soundtrack songs are a plus.
Production companies: Versus Production, TS Productions, Altitude 100 Production, Minds Meet, Voo et BE TV, RTBF, Proximus
International sales: Be For Films, pamela@beforfilms.com
Producers: Jaques-Henri and Olivier Bronckart
Screenplay: Guillaume and Stéphane Malandrin with the collaboration of Vincent Tavier
Cinematography: Hugues Poulain
Editor: Yannick Leroy
Production design: Eve Martin
Music: Born Bad Records, Dino Carapelle for L'Ombre du Sourire
Main cast: Bouli Lanners, Wim Willaert, Lyes Salem, Serge Riaboukine, Eddy Leduc, Jacky Lambert,Marie-Renée André