This metaphysical road movie journeys through the terrain of Tarkovsky and Bresson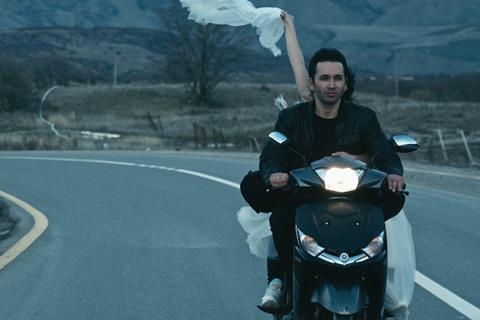 Dir. Hilal Baydarov. Azerbaijan/Mexico/USA. 2020. 88 mins.
Azerbaijani feature In Between Dying is the kind of film that routinely earns the epithet 'poetic', and in this case it's a fair description. While this metaphysical road movie has the bare bones of a story, there's more imagistic poetry than narrative in Hilal Baydarov's contemplative second fiction feature - somewhat frustratingly so. Playing in the Venice competition, this idiosyncratic but rarefied parable can feel slender, but has some heavy hitters on its side; a former student of Bela Tarr, Baydarov has production input from Joslyn Barnes's and Danny Glover's Louverture Films, and from Mexican auteur Carlos Reygadas. But overall, Baydarov's contemplative essay in cinematic symbolism isn't quite distinctive or assertive enough to set alight that increasingly imperilled corner of the arthouse sector specialising in this brand of elliptical image making.
Registers most strongly through its visuals, which muster a powerful sense of the uncanniness of landscape
The protagonist – at first a fugitive, but soon emerging as a searcher for love, meaning and transcendence - is Davud (Orkhan Iskandarli). He's a saturnine, manifestly discontented young man who shares a prickly domestic life with his ailing elderly mother (Maryam Naghiyeva). After a motorbike ride with a female friend through Azerbaijani capital Baku, a hilltop rendezvous with a portly middle-aged man known as the 'Doctor' ends up with Davud killing a man, then taking flight, while the Doctor sends three minions after him.
Fleeing into the countryside, Davud has a series of strange encounters, first with a young woman who says she has rabies, then with a woman who tells him about her brutal husband – who turns up on cue, in a scene that ends brutally. Another is with a young woman in a wedding dress, on the run from an arranged marriage (one of three roles played by Rana Asgarova), but their encounter doesn't end too happily either. The pursuers are never too far behind, although they seem oddly noncommittal and leisurely about their mission.
As the journey ranges across multiple landscapes – some bleakly imposing, others more routinely desolate – it is punctuated with glimpses of Davud, possibly in an imagined future life, with a woman in black, a child and a white horse, with both he and a woman, presumably Asgarova, speaking enigmatic poetic voice-overs (occasionally a line of text flashes up on screen, like a chapter heading). Meanwhile, the Doctor's henchmen make regular pit stops to speculate on Davud's predicament. "By killing one person, he saves another," one of them muses. "A very strange man."
It's hard to gauge, from the dialogue and the subtitles, whether the trio's cogitations ("People are dropping dead everywhere") are intended as deadpan borderline comedy - although the film's overall tone, and the sombre register of Kanan Rustamli's lyrical score, suggest that there's not too much levity here. It's true that the Azerbaijani dialogue doesn't always come across well in translation, given its wilfully elusive tenor ("There was something called fear. Or absence of fear, I don't know").
In any case, the film registers most strongly through its visuals, which muster a powerful sense of the uncanniness of landscape, as when Davud and the bride wander across fields steeped in near-opaque white mist. DoP Elshan Abbasov - who doubles as producer and location manager – scores heavily both in the choice of weatherbeaten settings and in capturing their scale and inhospitable eerieness.
Handsome as the film is, Baydarov – whose second fiction feature this is, following 2018's Hills Without Names and several documentaries - doesn't quite persuade that he yet has a vision entirely his own. He has cited Tarkovsky, Bresson, Bergman and Ozu as influences, none of which surprises; viewers might also detect traces of Ceylan, Kiarostami or Angelopoulos. But, while some moments successfully channel these names – like a scene shot through a window, echoing Tarkovsky's Mirror – Baydarov is yet to shake off the yoke of these altogether canonical precursors. Personal and committed as the film clearly is, it won't come across as a revelation for adepts of this pensive brand of slow-burning visual poetry - of which this seems a reticent and somewhat old-fashioned example.
Production companies: Ucqar Film Production, Splendor Omnia Studios, Louverture Films
International sales: Pluto Film, info@plutofilm.de
Producers: Hilal Baydarov, Elshan Abbasov
Screenplay: Hilal Baydarov, Rashad Safar
Cinematography: Elshan Abbasov
Editor: Hilal Baydarov
Music: Kanan Rustamli
Main cast: Orkhan Iskandarli, Rana Asgarova, Maryam Naghiyeva, Huseyn Nasirov