Dir/scr. Maysaloun Hamoud. Israel/France, 2016, 96 mins.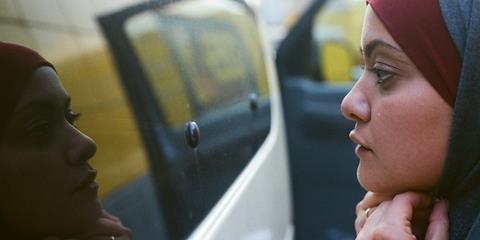 From its very first frames, In Between launches a tirade of instructions towards the Tel Aviv-based women at its centre: how to behave appropriately, attract and please a husband, and ensure that their Palestinian heritage doesn't bother Israelis. To the increasing dismay of those around them, the film's trio of protagonists rarely dutifully acquiesces, though the same rebelliousness isn't evident in writer/director Maysaloun Hamoud's restrained manner of telling their tale.
In Between provides a glimpse of the battle faced by women of a younger generation with a crucial fighting spirit.
That's not a bad thing; in crafting an elegant, sensitive yet still assured and potent debut effort, the Israeli filmmaker should see her first feature secure festival play around the globe following its Toronto premiere and subsequent screening at San Sebastian.
Touching on the pressures of living in a patriarchal society, as well as exploring attitudes towards nationality and sexuality, the film unpacks a raft of parallels in its three stories, leaving seemingly disparate characters with the same choices. In In Between, the contrast lies between the lives they were brought up to lead in small Palestinian towns, and the existence they've each carved out in the city.
Lalia (Mouna Hawa) and Salma (Sana Jammelieh) fill their time with drinking, dancing and partying, when the former isn't practicing criminal law and the latter isn't working in bars and trying to pursue her DJ'ing dream. And yet, they still seek a connection beyond the revelry — and find that their romantic endeavours come with confronting consequences. Laila's boyfriend (Mahmoud Shalaby) isn't as supportive of her independent, determined nature as he initially appears, while Salma struggles with her family's reaction to her boyfriend Dunya (Ahlam Canaan).
As their new roommate, the quiet, studious Nur (Shaden Kanboura) watches on — first in horror at how their behaviour clashes with her Muslim values, and then slowly in fascination and even admiration. She has troubles of her own, however. Engaged to the domineering, ostensibly pious Wassim (Henry Andrawes), she's deemed a future wife first and her own person second, if at all.
Hamoud might be at her most obvious when she's finding similarities in their plights and focusing on the gradually growing friendship between the trio; however the director of shorts Shades of Light, Sense of Morning and Salma generally handles the feature's three protagonists and strands with subtlety — as do editors Lev Goldser and Nili Feller — even in sections that range beyond universal to feel almost overly familiar.
In Between's central trio also illuminates the firm bond between women under threat from the same forces. If Kanboura stands out, it's because she's given more opportunities to convey a greater range, though the nuanced shades evident in Hawa and Jammelieh's portrayals are just as effective.
While sat in the producer's chair here, fellow Israeli filmmaker Shlomi Elkabetz's history of chronicling the injustices of culturally enforced, gender-targeted domination with his late sister Ronit — including 2014's powerful Gett: The Trial of Viviane Amsalem — doesn't go unnoticed. Hamoud's film might not be as blistering, but she sagely follows in the Elkabetz siblings' footsteps, providing a glimpse of the battle faced by women of a younger generation with a crucial fighting spirit.
Production company: Deux Beaux Garcons films
Sales: Alma Cinema, www.almacinema.com
Producer: Shlomi Elkabetz
Executive Producers: Galit Cahlon, Tony Copty, Sandrine Brauer, Aviv Giladi
Cinematography: Itay Gross
Editors: Lev Goldser, Nili Feller
Music: MG Saad
Production Designer: Hagar Brutman
Cast: Mouna Hawa, Sana Jammelieh, Shaden Kanboura, Mahmoud Shalaby, Henry Andrawes, Ahlam Canaan