Dir. James Franco. US/Italy. 2016. 113 mins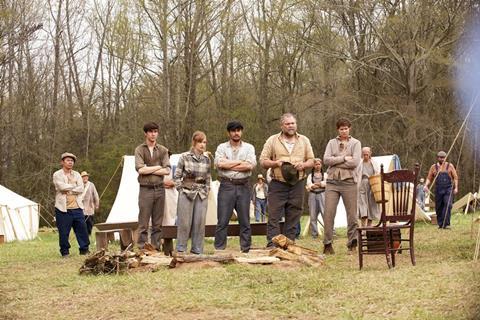 After his William Faulkner double As I Lay Dying and The Sound and the Fury, multi-hyphenate film creative James Franco takes on another worthy Library of America classic, the John Steinbeck book that gives the film its title – a tale of striking Californian fruit pickers that is probably the least-known of a Depression-era trilogy that also includes Of Mice and Men and The Grapes of Wrath.
Bertelmann's quirky electro-classical score plays engagingly against the period setting
This period adaptation is just that: worthy, for all its eager social and political fire, and just a tad directionless. There's nothing wrong with the technical credentials of a film that gives rough, odorous, tactile form to the hardscrabble life of the American rural poor in the early 1930s, nor, mostly, with an ensemble cast that includes some standout performances – particularly by veterans Robert Duvall and Sam Shepard, both in minor roles.
It's the adaptation itself that is the main issue: too respectful by half of its source material, it gets bogged down, alongside the strike it depicts, in this overlong film's second hour. It dodges its own most urgent question: faced with injustice, should militants do bad, underhand things to achieve what they believe to be right?
That said, the story is a little more accessible than those Faulkner reboots, and the leading-man double act of Franco himself as a hardened Communist agitator and upcoming actor/musician Nat Wolff as his young protegé should attract some attention. With Selena Gomez in a supporting role, the cast alone should help push Battle into a small arthouse run in selected territories.
Steinbeck's novel was inspired by the 1933 wave of often brutally supressed agricultural strikes in Depression-mired California that would eventually lead Franklin D Roosevelt's government to introduce legislation guaranteeing workers the right to form unions and take collective action. Matthew Rager's screenplay initially spins along – literally, during a goods-train-hopping scene – taking newly-enrolled young activist Jim (Wolff) and experienced strike organiser Mac (Franco) to the Torgas Valley, where bosses have banded together to cap apple-pickers' wages at a starvation rate of a dollar a day.
Here they find work on the farm of wily landowner Bolton (Duvall at his most sly), where they soon get into the good books of London (D'Onofrio), a principled working-class patriarch the other pickers look up to, by feigning medical skills and helping to deliver the baby of his raven-haired Lolita of a daughter-in-law, Lisa (Selena Gomez) – who soon becomes Jim's amorous distraction from the cause.
That innocent, and lucky, lie gives the duo the credit they need to talk London into calling the estate's workers out on strike – taking refuge, when they do so, on the farm of taciturn, old-school farmer Anderson (Shepard, emanating old-school-acting authority), whose property is mortaged to the cabal of bigtime landowners that own the bank, and lay down the law, in the valley.
But Jim's simple faith in the justice of his cause begins to be undermined as he observes the other, dirtier subterfuges and manipulations in which Mac is prepared to engage to win a battle that, for him, is more important than its expendable troops.
If only Franco and screenwriter Rager had allowed themselves the same creative take on Steinbeck's material that German composer Hauschka, a.k.a. Volker Bertelmann, applies to his quirky electro-classical score, which plays engagingly against the period setting. The surrogate father-son stand-off between Mac and Jim is resolved (as, arguably, in the book) in the most predictable way, in a film that, after its initial promise, descends, at times, into TV-historical-drama mannerisms.
Production companies: Rabbit Bandini, That's Hollywood
International sales: AMBI Distribution, office@ambidistribution.com
Producers: Vince Jolivette, Iris Torres, Andrea Iervolino, Monika Bacardi, Scott Reed, Ron Singer
Screenplay: Matthew Rager, based on the novel by John Steinbeck
Cinematography: Bruce Thierry Chung
Editors: Gary D. Roach, Aaron I. Butler
Production designer: Kristen Adams
Music: Hauschka
Main cast: James Franco, Nat Wolff, Vincent D'Onofrio, Selena Gomez, Ed Harris, Sam Shepard, Josh Hutcherson, Ashley Greene, John Savage, Zach Braff, Analeigh Tipton, Ahna O'Reilly, Austin Stowell, Keegan Allen, with Robert Duvall and Bryan Cranston