Dir. Frederick Wiseman. US, 2015. 190 mins.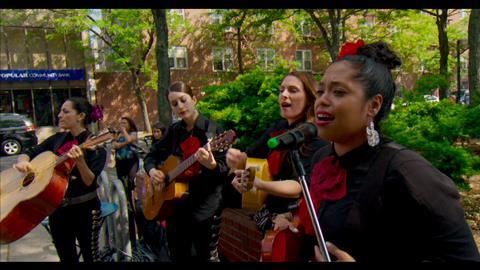 A cinematic benchmark, 85-year-old US documentary maker Fred Wiseman goes on doing what he does, with dogged persistence, impervious to changing trends or commercial pressures. His latest, which comes in at a trim (for Wiseman) three hours and ten minutes, charts the daily life and ethnic diversity of Jackson Heights, a neighbourhood in the New York borough of Queens that as Wiseman's sensitive, humanistic edit suggests – and he reminds us once again that the art of documentary is 99% editing – could stand in for any multi-ethnic suburb of any Western city that is threatened by rising rents and the 'soft' ethnic clean-up euphemistically known as gentrification.
Wiseman is a shrewd, deadpan social commentator; and In Jackson Heights proves that, halfway through his ninth decade, he's still at the top of his game
Premiering out of competition at Venice – which last year awarded Wiseman a Golden Lion for artistic achievement – In Jackson Heights should continue the recent pattern of increased visibility for the American auteur's films which has seen titles like La Danse (2009) or National Gallery (2014) achieving a modicum of theatrical distribution outside of the usual cine-club or festival circuits. But this is still one for the committed – it was telling that after the packed house that turned up for the Venice press screening of Aleksander Sokurov's self-conscious docu-drama Francophonia, only a handful stayed on to watch this Wiseman masterclass in the audiovisual distillation of a complex subject.
As ever, there are no captions, inter-titles or commentary to ease us into the subject; instead, Wiseman uses his edit of around 120 hours of rushes, filmed in the New York neighbourhood over nine weeks, to build a mosaic and give information. We learn from a gay activist who, we will later discover, is city councillor Danny Dromm, that an estimated 167 languages are spoken in Jackson Heights; he calls it "the most diverse community in the world". Wiseman lingers at first on the hub of the area around Roosevelt Avenue and 74th Street, with passing trains on the IRT Flushing Line elevated rail link cutting frequently into conversations, acting as both reassurance (the district's connected to Manhattan, albeit by a rusty old steel-girder line that's almost a century old) and menacing bass-note.
Mexicans, Bangladeshis, Colombians, Ecuadorians, Indians and several other ethnic groups co-exist in the neighbourhood, whose diversity Wiseman portrays in a series of rapidly edited collages – including a lovely series of moving portrait close-ups – and longer sequences, where the camera is simply allowed to run. Many of the latter involve community meetings, for example, a get-together of Gay Seniors in the premises of a synagogue that rents out its rooms for good causes. A scene much later that's set in (we assume) the same synagogue during a poorly-attended Jewish commemoration of the Holocaust is a poignant reminder of the way communities shift and evolve, rise and fall.
Some characters, and issues, recur at various points – among them, the efforts of two young activists to prevent a local mall full of small, multi-cultural shops and restaurants being taken over by corporate harbingers of gentrification. But the director lets us make our own minds up about whether such a process is to be deplored or seen as inevitable. A later humour-laced café conversation between the knitting ladies of the Jackson Heights Beautification Group, about an abandoned English settler cemetery in the area dating back to the 17th century, reminds us that such things often go in cycles.
The touch of genius, though, is the fact that this distant breeze from the area's rural past comes hard on the heels of some pretty footage of an organic farmer's market in one of the more genteel, brownstone parts of the district. 'Observational' is an inadequate term for Wiseman's technique here and in just about everything else he's made since his first documentary, Titicut Follies, in 1967. He's a shrewd, deadpan social commentator; and In Jackson Heights proves that, halfway through his ninth decade, he's still at the top of his game.
Production companies: Moulins Films
International sales: Doc & Film International, d.elstner@docandfilm.com
Producer: Frederick Wiseman
Executive producer: Karen Konicek
Cinematography: John Davey
Editor: Frederick Wiseman