Sharunas Bartas returns to form with this stark, sombre Lithuanian war story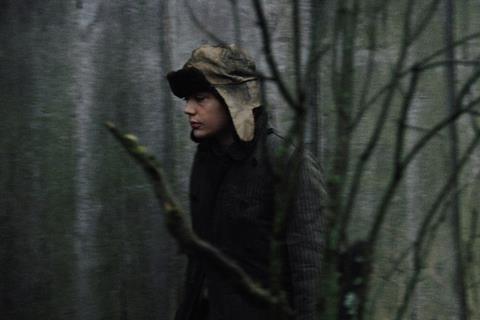 Dir. Sharunas Bartas. Lithuania/France/Czech Republic/Serbia/Portugal/Latvia. 2020. 128 mins.
One of those film-makers who can legitimately be called an 'auteur's auteur', Lithuanian director Sharunas Bartas has spent much of his career in the dusk, to use the English title of his new film. With little commercial exposure, he has endured as a constant, if sometimes marginal presence on the festival circuit. After a recent poor run of form, admirers of his earlier work can take heart that In The Dusk is his best in years, a stark, sombre Lithuanian war story.
Closer to mainstream narrative than his earlier work, it nevertheless generates an ominous sense of tragedy and an unforgiving bleakness that put it in the lineage of Elem Klimov's rather more graphic Come And See and Sergei Loznitsa's In The Fog. In other words, prospects for exposure for Bartas still remain slender, but festivals and niche platforms will pay attention following the film's San Sebastian premiere and inclusion in the 2020 Cannes Official Selection.
Although In the Dusk builds up to something like a conventional war film climax, for the most part it is a densely atmospheric, even poetic study of character and place
The prestige of dreamlike '90s films from Bartas such as Few Of Us and The House (authentic contenders for pioneers of this century's 'slow cinema' wave) has somewhat evaporated in the wake of less-convincing recent works including Peace To Us In Our Dreams and 2017's Frost, a drama about the Ukrainian conflict starring Vanessa Paradis. Now the director moves to 1948 and the Lithuanian countryside, where a detachment of hard-bitten partisans is camped out in a forest, resisting the occupation campaign by Soviet troops.
In a nearby farmhouse, elderly landowner Pliauga (Arvydas Dapsys) muses over the complications of his life, and explains to his adopted son Ute (Marius Povilas Elijas Martynenko) the back story behind his strained relationship with his wife (Alina Zaliukaite-Ramanauskiene), who has reasons to resent a marriage she considers beneath her. As the nearby community endures a harsh winter and the presence of Soviet troops and NKVD officials, Pliauga's house is visited by a Russian officer demanding money for the USSR from impoverished locals.
Eventually, Ute takes up with the partisans, but they prove as dangerous as the Russians – not least to some of their own members, who are suspected by their commanders of collaborating with the NKVD. After an extended narrative slow burn, matters finally come to a head as the Soviets show their punitive muscle, and the partisans settle their differences mercilessly.
Although In The Dusk builds up to something like a conventional war film climax, for the most part it is a densely atmospheric, even poetic study of character and place, with facial close-ups (often steeped in darkness or candlelit chiaroscuro) as evocative as the film's windblown landscapes or its striking one-off images, like the storks caught standing in the wintry distance.
While very little decisive action takes place in the present, it is understood that everyone and everything we see are haunted by the past: by the rigours of World War II and the Baltic history that preceded it, and in the case of Ute's household, the unhappiness of his adoptive parents' marriage. That past is engraved in harsh textures on the faces of a superbly cast ensemble, from Zaliukaite-Ramanauskiene's forbidding patrician leanness to the haggard visages of the partisans, many of them with lank hair and beards suggesting long winters on the edge of survival. By contrast, 19-year-old naïf Ute is played by poet Martynenko, in reality 27, whose broad, androgynous and childlike face suggests someone steeped in (possibly illusory) hope and yet to face the rigours of the brutal world that is closing in on him.
With its deliberate pacing and eerie atmospherics that hang over the isolated characters, the film builds on the style of early Bartas, but also feels very much of a piece with some recent Romanian cinema, Bela Tarr's The Turin Horse (in its interior scenes) and above all, Loznitsa's World War II story In The Fog. For the record, the similarity between the titles is an accident of English translation, although sound designer Vladimir Golovnitski worked on both films, and contributes to a densely suggestive texture that makes this, both in moments of noise and ominous stillness, a film as intensely to be listened to as watched.
Production companies: Studija Kinema, KinoElektron, Sirena Film, Biberche Productions, Terratreme Filmes, Mistrus Media
International sales: Luxbox, festivals@luxbox.com
Producers: Sharunas Bartas, Jurga Dikciuviene, Janja Kralj, Artemio Benki, Nikolina Vucetic Zecevic, Joao Matos, Gints Grube
Screenplay: Sharunas Bartas, Ausra Giedraitytė
Cinematography: Eitvydas Doskus
Editor: Simon Birman
Production design: Jurgis Krasons, Janis Kalnins, Aivars Zukovskis
Music: Jakub Rataj
Main cast: Arvydas Dapsys, Marius Povilas Elijas Martynenko, Alina Zaliukaite-Ramanauskiene, Salvijus Trepulis