Dir: Ron Howard US, 2015, 122 mins.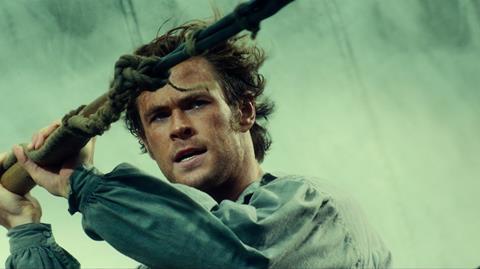 Some stirring, old-fashioned spectacle helps lift this Moby Dick origins story from what might otherwise have been a watery grave. Rising up with the whale to deliver edge-of-the-seat set-pieces full of salt and spit, director Ron Howard pulls his epic together with lashes so tight they strain at the posts. This reworking of Nathaniel Philbrick's novel – which tracked the real-life story behind Herman Melville's 19th century classic - is both bloody and viscous, but parched human characterisation beaches the film throughout.
Characters are reduced to skeleton status: giant narrative whale ribs across the screen with little flesh on the bones.
Rolling across the world from its Australian opening this week and looking to hit the US quickly on December 11 before Star Wars docks, In The Heart Of The Sea will attempt to scale up from Howard's 2013 Formula 1 drama Rush, which first teamed the director with Thor's Chris Hemsworth.
But without much of a pulse in its characters, In The Heart Of The Sea will ebb and flow for Warner Bros on the strength of its tense and lavish action sequences, beautifully presented with a dramatic Turner-esque palette by British cinematographer Anthony Dod Mantle (Slumdog Millionaire). And then there's the whale, of course, a richly imagined and executed creature.
As a director of technically crafted set-pieces, Ron Howard has found his mettle in the company of men; In The Heart of the Sea surpasses what the waterlogged A Perfect Storm rained on viewers back in 2000, although Master and Commander is its closest shipmate. None are distinguished by their female presence. Fluid, shifting and tense, the action here easily outstrips the film's basic set-up (man tests himself against nature, is humbled), which can feel like unconvincing filler between surges of effects work.
Like Rush, Howard frames his film on the ego-fuelled rivalry between two men, here an ambitious first officer on a whaling ship, played by Hemsworth, and his privileged captain (Benjamin Walker).
The story is framed in a narrative box, adapted from Philbrick's non-fiction book, which tracked the real-life sinking of the whaler Essex by a giant sea creature in 1820, a story which inspired Herman Melville to write the eternal classic Moby Dick.
Ben Whishaw plays Melville, who tracks down a reluctant Thomas Nickerson (Brendan Gleeson), sole survivor of the doomed Essex, 30 years after the wreck to discover the truth of what took place. After much reluctance and prompting by Melville and his wife (Game of Thrones' Michelle Fairley), Nickerson begins to remember, cutting back and forth between the past on the ship (where he's played by Tom Holland) and the tormented present, where he guards a troubling secret.
With all that narrative layering, not to mention a vengeful whale and a 90-day shipwreck to squeeze into 122 minutes, there's clearly going to be some casualties and Howard's characters are reduced to skeleton status: giant narrative whale ribs across the screen with little flesh on the bones. Screenplay is from Charles Leavitt (Blood Diamond).
Hemsworth's talented whaler Mr Chase is thus ambitious for his captaincy and about to become a father. Walker's Captain Pollard is privileged and inexperienced at sea. The crew is simply the crew, barely given names, even though we're about to spend months at sea with them. A friendship between the Essex's second mate Mr Joy (Cillian Murphy) and Mr Chase seems largely to have hit the cutting room floor.
But as any schoolboy can tell you, the whale's the thing, and, in fairness, Howard doesn't waste too much time on formalities. Within minutes of pushing out to sea and for reasons only known to himself, the captain arbitrarily demands that the crew sails full tilt into a storm, and Howard teases the audience with what he can pull from his technical toolkit as the ship is battered by the waves in this cinematic amuse bouche. Worse, of course, is to come, and Howard's Moby Dick is indeed a creature to fear and respect.
An uncharitable reading of the performances would say Hemsworth shows about as much range as a mast on the Essex, but he gets little to work with. Much may have been lost in a lengthy post-production period. The entire cast including Hemsworth clearly threw themselves fully into their parts, losing weight as the sailors enter the doldrums, and it's a shame to see their parts truncated. A protracted coda adds little. Holland is a clear stand-out.
Like Robert Zemeckis's The Walk, released earlier this awards season, In The Heart Of The Sea is a film spectacle, to be relished in 3D and IMAX, and admired for its technical brio. Interpretations of Moby Dick have always convinced from the human perspective, but faltered on conveying the true terror of the whale, but that dilemma has clearly been reversed in this production.
Production companies: Roth Films, Spring Creek, Imagine Entertainment
Worldwide distribution: Warner Brothers/Village Roadshow
Producers: Brian Grazer, Ron Howard, Joe Roth, Will Ward, Paula Weinstein
Executive producers: Bruce Berman, Sarah Bradshaw, Palak Patel, Erica Huggins, David Bergstein
Screenplay: Charles Leavitt, based on In The Heart of the Sea by Nathaniel Philbrick
Cinematographer: Anthony Dod Mantle
Editor: Daniel P Hanley, Mike Hill
Production design: Mark Tildesley
Costumes: Julian Day
Music: Roque Banos
Main cast: Liam Hemsworth, Benjamin Walker, Brendan Gleeson, Ben Whishaw, Cillian Murphy, Joseph Mawle