Guillaume Canet stars in a real-life drama about France's struggling farming community which has been a box office sensation locally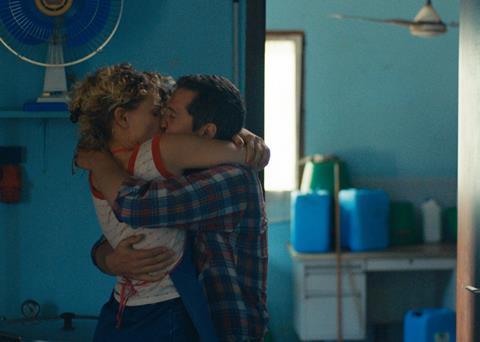 Dir. Edward Bergeon. France. 2019. 103mins
Documentary journalist and organic restaurant owner Edward Bergeon has directed a film based on his own life growing up on a farm. That sounds healthy and bucolic but In The Name Of The Land (Au nom de la terre) is a gut-wrenching cri de coeur about the ways rural life and agricultural methods have changed over the past 40 years. This fact-inspired story of a French farmer trapped by the literally changing landscape has drawn domestic crowds right out of the gate — 1.1 million admissions in 3 weeks — continuing a French mini-trend of city-dwelling filmgoers more than willing to pay to see what life is like for the folks who toil to grow the nation's food.
The statistics about how many French farmers go bust and kill themselves each week are shocking
Twenty-five year-old Pierre, played by Guillaume Canet and based on the director's own father, returns to France in 1979 ffrom a ranch in Wyoming to marry his sweetheart, Claire (a superb turn by Veerle Batens from The Broken Circle Breakdown) and take over his father's farm. This reverently photographed and emotionally involving tale does a very good job of showing how intimations of a bright self-sufficient future for a man and his family were transformed into a slippery slope so insidious we can almost feel our own feet getting sucked into the muck as we watch.
The decline is all the more harrowing because things were going so well at first. Pierre and Claire soon have two healthy children, an adorable daughter and smart son, Thomas (an excellent Anthony Bajon) who help out with farm chores and enjoy the simple pleasures of the outdoor life. They can handle the work together with one trusted employee (affable Samir Guesmi) and the price they get for what they produce is enough to support their modest but fulfilling lifestyle. Or it would be, if Pierre didn't have a hefty bank loan to repay, contracted to pay his own harrowingly stern and disapproving father (Rufus) from whom he bought the land and equipment. Dad thinks driving a hard bargain is a form of moral superiority even as his own son works himself to the bone.
In the Name Of The Land is a crash course in how corporation-dictated agricultural practices have turned farmers into over-worked near-slaves prey to overwhelming debt and clinical depression. The contrast between strapping young Pierre and his mental state just a few decades later is difficult to watch but convincingly portrayed. Claire manages to keep the farm going and do the accounts (the director used his mother's real-life datebooks to illustrate the never-ending stress) but compound tragedy strikes. What was once a satisfying way of life where hard work was rewarded has been transformed into a trap with conglomerates and banks insisting that farmers expand, invest heavily — they'll give you a loan to expand but not to cover current debts — requiring the use of headquarters-furnished pesticides and chemicals and never paying a fair price for the grain or chickens that result.
Since the vast majority of France's population used to work the land — now technology reigns supreme —this is a cautionary look at what is almost certainly underway in a great many other countries. The statistics about how many French farmers go bust and kill themselves each week — it's possible to work long hours year 'round and only have a few hundred euros a month to show for it — are shocking.
The acting is excellent across the board, so much so that when home movies of the man Canet is playing appear alongside the closing credits, most viewers will feel as if they know him.
Production companies: Nord-Ouest Films, France 2 Cinéma, Artemis Productions, Caneo Films
International sales: Wild Bunch
Producers: Christophe Rossignon, Philip Boëffard
Screenplay: Bergeon, Bruno Ulmer, Emmanuel Courco
Production design: Pascal Le Guellec
Editor: Luc Golfin
Cinematography: Eric Dumont
Music: Thomas Dappelo
Main cast: Guillaume Canet, Veerle Baetens, Anthony Bajon, Rufus, Samir Guesmi