Lea Drucker and Alain Chabat star in Quentin Dupieux's droll domestic time travel comedy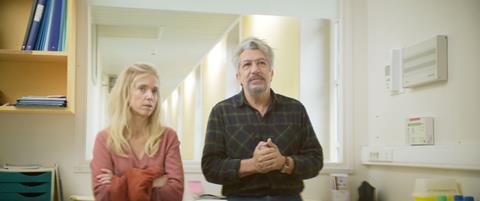 Dir/scr: Quentin Dupieux. France/Belgium. 2022. 74 minutes.
French director Quentin Dupieux, a.k.a musician Mr Oizo, deploys absurd premises as if he were an experimental anthropologist, using them to probe and expose the unfathomable strangeness of the human race. He's at it again in Incredible But True, a minor but still fun-in-parts addition to his wacky oeuvre.
Dupieux almost gets away with it, in a freewheeling indie kind of way
Though Incredible But True is classic Dupieux, it is just a bit too lazy and directionless, in the end, to match either the dark, twisted genius of Deerskin (2019) or the kooky hilarity of Mandibles (2020) and with its 74-minute running time, it feels more like an hors d'oeuvre than a full meal. Buoyed by Jean Dujardin's starring role, Deerskin made a small splash in Australia, the UK and Russia, but Mandibles is still waiting to make much of an impact outside of France. Rather than joining the queue of Dupieux titles for export, Incredible But True seems likely to skip it, opening theatrically in France, Belgium and perhaps a couple of other territories while heading to niche streamers or on-demand outlets elsewhere.
In Deerskin, Dupieux asked himself what would happen if a humourless man were so enamoured of his deerskin jacket that he took it upon himself to eliminate all the other jackets in the world. In Mandibles, he let two idiot friends discover a giant fly in a car boot. Here, he gives us a suburban couple who move into a house with a time tunnel in the basement – a feature duly noted on the real estate sale contract.
Pitch-perfect deadpan performances are once again a key to the passages that really fly, with Benoit Magimel in particularly fine form as a dim insurance company branch manager with both a phallus complex and a complex phallus. There's a Dorian Gray element to the main plot, centring on the peculiar qualities of the basement manhole shaft that middle-aged couple Alain (French comedian Alain Chabat, channelling a shabby Richard Gere) and Marie (Custody's Lea Drucker) have acquired along with their new house. Go down it and it takes you forward twelve hours – but it also makes you three days younger. One of the film's biggest unspoken jokes is the fact that, although Marie becomes obsessed with de-ageing via time duct visits while Alain is supremely uninterested in pulling a Benjamin Button, it occurs to neither of them that there is serious lottery, stock market and horse-racing money to be made out of fast-forwarding twelve hours.
Magimel plays Gege, Alain's boss. Both work in a nondescript modern block that looks like a larger version of Alain and Marie's nondescript modern house, and both seem to regard their jobs as slightly puzzling tasks assigned to them as roleplays in some existential drama class. In a way, Gege is the male Marie, except his obsession is not so much getting younger as maintaining his virility – a quality put to the test by his sexed-up girlfriend Jeanne, played with verve and sparkle by Anais Demoustier. There's even a brief moment when, beneath its comedy sketch veneer, it feels as if Dupieux is engaging with its characters as complex, conflicted individuals. In another nine films' time, you can't help but wonder, will he have shed the comic shtick entirely and become the new Michael Haneke?
Incredible But True is infused by a decade-bridging aesthetic, one in which the recognizable France of today keeps getting dragged back into a wannabe trendy but really quite sad version of the 1970s ­– an era referenced in the Atari 'Asteroid' arcade game that plays over the opening titles and in the film's soundtrack, entirely taken from a forgotten 1976 album in which a German physicist-musician who went under the alias of Jon Santo did jaunty electronic takes on Bach. Shooting and editing himself, the director opts for bright, washed-out summer light in leafy suburban settings that seem cast adrift not only in time but also in space, thanks also to the droll interior styling by Dupieux's regular production designer, and life partner, Joan Le Boru.
The strangest thing of all about this deeply strange film, however, comes just under an hour in, when the action suddenly shifts into a ten-minute-long, dialogue-free montage sequence that mops up Acts Two and Three of the script. It's such a nonchalant, audacious move that Dupieux almost gets away with it, in a freewheeling indie kind of way – but it would work a lot better if the story ended up going somewhere truly interesting, rather than towards a body-horror ending that has been amply flagged.
Production companies: Atelier de Production, Versus Production, Arte France Cinema
International sales: Wild Bunch International, aguilhem@wbinter.eu
Producers: Thomas Verhaeghe, Mathieu Verhaeghe
Production design: Joan le Boru
Editing: Quentin Dupieux
Cinematography: Quentin Dupieux
Music: Jon Santo
Main cast: Alain Chabat, Lea Drucker, Benoit Magimel, Anais Demoustier, Stephane Pezerat