Dir: Richie Mehta. UK/India. 2016. 86 mins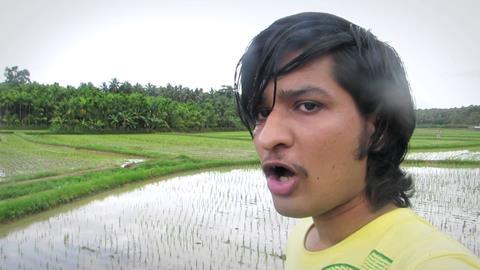 Following in the wake of Life In A Day (2011), Japan In A Day (2012), Christmas In A Day (2013), Italy In A Day (2014) et al, India In A Day emphatically proves there is still mileage in creating a snapshot of a country through videos contributed by its citizens. The crowd-pleasing, crowd-sourcing formula retains its emotional grip as we travel across India from dawn to dusk on October 10th, 2015, watching precious moments from ordinary lives.
The film provides a window into a specific culture but also underlines the things that unite people the world over
The film exudes a best-foot-forward positivity, and cumulative message of progress from the past and hope for the future makes it even more likely to appeal to audiences. The involvement of executive producers Ridley Scott and Anurag Kashyap and Google will only maximise the film's international profile following its world premiere at Sheffield Doc/Fest.
The now familiar formula of relying on video and mobile phone footage of locals means that director Richie Mehta can avoid all the familiar tourist images of India. There are no shimmering visions of the Taj Mahal, no all-singing, all-dancing Bollywood routines, no reservations for the Exotic Marigold Hotel. There are instead adorable rescue elephants, rascally monkeys, railways carriages jam-packed with passengers and sizzling street food but this is very much the people's view of a country's beating heart. The focus throughout is on family, faith, food and the future.
Mehta and editor Beverly Mills have shaped more than 8,000 submissions into a film about extremes which stretches from the tranquility of rural India to the hectic bustle of some of its big cities. The impression is of a country racing to embrace its future but still tethered to many of its traditions. An ox and cart is a familiar form of transport in a country where a hi-tech tuck tuck can offer passengers all mod cons from wi-fi to a mobile charger. Technology has transformed entire communities in India, and the film celebrates the spread of internet access and wi-fi coverage.
Following the country from the first blink of daylight to the last set of brushed teeth before slumber creates a sturdy enough structure to allow Mehta to wander through individual lives and themed sections on school days or the preparation of food. There are striking sequences with a 112 year-old man who recalls a visit from Gandhi and a trip to the roadside restaurant Satara Daba, said to be the only business in India that is owned and run by a transgender group.
India In A Day does seem to be a film in which everyone wants to show their best face to the world but it doesn't entirely shy away from the country's problems. There is some discussion of political corruption, infrastructure failings and the extremes of wealth and poverty. People are content to acknowledge these issues without dwelling on them.
It appears that the majority of those who contributed to the film are male, but the role of women in India's society is another major theme with individuals discussing the necessity of equal access to education for sons and daughters, and the need to change attitudes towards women. One female contributor plaintively savours a brief moment of time to herself away from the demands of being a mother, a daughter and a home maker.
Like many of the previous 'In A Day' films, the film provides a window into a specific culture but also underlines the things that unite people the world over; happy family gatherings, gestures of affection, the comfort of having a home and all the little joys and woes of simply being human and alive on a given day in history.
Production companies: Scott Free Films, Google
International sales: Scott Free Films donna@scottfree.co.uk
Producers: Jack Arbuthnott, Cassandra Sigsgaard
Editor: Beverley Mills
Music: Stephen Warbeck