Director: Pete Docter. US. 2015. 94 mins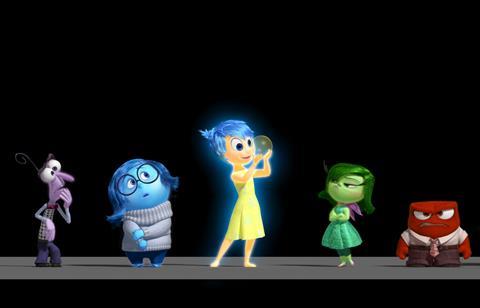 Pixar Animation delivers yet another richly realised, candy-coloured universe in the reliably witty, emotionally deft Inside Out. Likely to deliver commercial returns at the top end of the Pixar range, this benefits from a premise that's relatable and ingenious in equal measure, seeking to answer that eternal question: just what is going on inside our heads? Director Pete Docter completes a winning hat-trick for his Disney-owned employer, following Monsters, Inc and Up, with co-direction this time around from storyboard artist Ronaldo Del Carmen.
Pixar fans will welcome the studio's return to creating a wholly authored and highly original universe for the first time since 2009's Up.
Pixar's top creative team, which pitches in on all the animation studio's hits regardless of individual screen credits, has long been referred to by John Lasseter as his "brains trust". The same tag might apply to the five principal characters of Inside Out: the individual emotions that govern the actions of Minnesota-born, 11-year-old Riley (voice of Kaitlyn Dias), who relocates with her parents (Diane Lane, Kyle MacLachlan) to the alien world of San Francisco, foggy home to upscale bohemia, hilly topography and broccoli pizza.
The colour-coded quintet is led by Joy – a saucer-eyed, golden-skinned, light-bathed avatar voiced with infectious enthusiasm by Amy Poehler – who struggles to keep her hand on the girl's emotional tiller by deflecting the interventions of Sadness (a tremulous Phyllis Smith), Disgust (Mindy Kaling), Anger (Lewis Black) and Fear (Bill Hader), which are rendered in the mood-appropriate tones of blue, green, purple and red.
With most of the story of Inside Out playing out inside Riley's mind – the child's eyes providing the emotion-themed characters' view of the outside world – the film offers ample scope for the creativity of the filmmaking team. And that opportunity is effectively exploited, as we gradually discover a highly evolved interior landscape, which includes various personality islands (initially defined by friendship, family, honesty, goofball play and Riley's Midwest-earned enthusiasm for ice hockey), a literally depicted Train of Thought, as well as such destinations as Dream Production and Imagination Land.
The story's inciting incident is the family's move to California: hitherto, most of Riley's daily memories, which each take the form of a glass ball hued in the colour of its primary emotion, have been golden ones. But lately the child's memory banks are becoming increasingly speckled with red, green, purple and blue, as Riley misses Minnesota, cries in front of her classmates, shouts at her father and flunks her hockey trial.
To return her to equanimity, both Joy and Sadness, who Inside Out's three-person writing team have ejected from Headquarters, must somehow find their way back through the diverse tangle of the brain. Pacing feels occasionally less than nimble as this mismatched-buddy road-trip comedy plays out, especially when the two exiled emotions stumble across Riley's former imaginary friend Bing Bong (Richard Kind), a creature that's part cat, part dolphin and mostly elephant. Very young children may find this world overly and increasingly complicated, although it's not necessary to fully understand every pit-stop – the Subconcious zone, for example – in order to enjoy the journey..
After a run of sequels plus Scottish historical fable Brave, which unfolded in a world that seemed overly familiar from existing storytelling, Pixar fans will welcome the studio's return to creating a wholly authored and highly original universe for the first time since 2009's Up. Such a claim comes with one tiny caveat, however: parents of a certain age may remember a similar premise informing the Numskulls cartoon strip in British children's comic The Beano.
Production company: Pixar Animation Studios
Distribution: Walt Disney
Producer: Jonas Rivera
Co-director: Ronaldo Del Carmen
Screenplay: Pete Docter, Josh Cooley, Meg Lefauve
Production designer: Ralph Eggleston
Music: Michael Giacchino
Main voice cast: Amy Poehler, Phyllis Smith, Bill Hader, Lewis Black, Mindy Kaling, Richard Kind, Diane Lane, Kyle MacLachlan, Kaitlyn Dias