Tense, nerve-shredding drama starring Hiam Abbas which is set in a Damascus apartment block under siege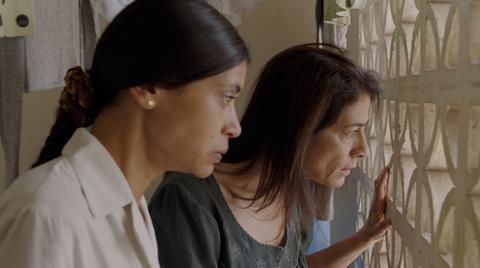 Dir: Philippe Van Leeuw. Belgium/France/Lebanon, 2017. 85 mins
In Philippe Van Leeuw's feature Insyriated, the term 'home invasion' isn't the name of a Hollywood sub-genre but takes on a frighteningly immediate real-world meaning. Set entirely in a Damascus apartment under siege from a world in conflict, this tautly-constructed, intensely claustrophobic drama offers a sometimes nerve-shredding depiction of what happens when conflict impinges on domestic space.
Hiam Abbass offers one of her most powerful performances to date
A concisely-told story that couldn't be more timely in view of the traumas currently afflicting the Syrian people, Insyriated features a terrific lead performance by Hiam Abbass heading a multi-generational ensemble cast, and should be a reputation-making second feature - following Rwandan-themed The Day God Walked Away - by Belgian writer-director Van Leeuw, previously known as DoP on features including Bruno Dumont's La Vie de Jésus. Festivals will embrace it eagerly, and sales potential is very strong - although a more immediately comprehensible title might make it stronger still.
Insyriated is set in its entirety – barring one brief climactic sequence – in a single apartment during the course of one day. The first shot we see, of a courtyard used as a car park, is a view from above, from the flat of Oum Yazan (Abbass), a woman whose family is the last to inhabit a block that has been vacated while battle rages outside.
With her husband away and unreachable by phone, Oum Yazan keeps her family under control and out of the range of the bullets fired by snipers outside. Three generations are in residence, including her elderly father-in-law (Mohsen Abbas), Oum Yazan's young son and two daughters, plus one daughter's visiting boyfriend. Also present are neighbours Samir and Halima (Diamand Abou Abboud), a young couple with a small baby, who are planning to leave for the safety of Beirut after their flat upstairs was destroyed by shelling. Also on hand is maid Delhani (Juliette Navis), intensely loyal to the family, although Oum Yazan sometimes treats her with brusque high-handedness.
Hoping to keep their siege existence calm and smoothly running, Oum Yazan rules her domain with concerned authority, peremptorily herding everyone from room to room when danger beckons from outside. Knocks at her heavily-barred door signal impending danger, and the flat's security is finally broached when two men claiming to represent security forces burst in and treat one character with horrifying brutality – a sequence all the more disturbing because the rest of the household is sheltering out of sight behind a locked kitchen door. What's at issue in such a scene is not just considerable dramatic suspense, but a moral issue of what is permissible in order to survive, and to protect one's own, when someone else is in peril.
The situation is further heightened by the fact that Delhani and Oum Yazan know something that the others don't: namely, that Samir has been hit by a sniper's bullet and is lying outside, left for dead.
Dop Virginie Surdej and production designer Kathy Lebrun make the most of a very restricted space – just a few rooms, a bit of corridor, a balcony looking out. It's here that the entire drama takes place, with a complex sound design (Paul Heymans, Alex Goosse) evoking an outside world whose dangers, unnervingly, draw ever closer. The film echoes such very different close-quarters dramas as David Fincher's The Panic Room and Cristi Puiu's recent Sieranevada, not to mention Rear Window.
Long takes and rigorous blocking allow the drama to flow easily from room to room, while a superbly coordinated cast, largely composed of Syrian refugees – children and young adults included – gel magnificently. Lebanese performer Diamand Abou Abboud is particuarly impressive as a young woman whose innocence takes a brutal hammering in a matter of hours, while Hiam Abbass offers one of her most powerful performances to date as a formidable tough-love matriarch whose awareness of the world's horrors – and what must be done to survive them – is etched to stark effect in every line of her face.
Production companies: Altitude 100 production, Liaison Cinematographique, Minds Meet, Né à Beyrouth, Versus Production, Voo, Betv, Brüssel
International sales: Films Boutique, contact@filmsboutique.com
Producers: Guillaume Malandrin, Serge Zeitoun
Screenplay: Philippe Van Leeuw
Cinematography: Virginie Surdej
Production design: Kathy Lebrun
Editor: Gladys Joujou
Music: Jean-Luc Fafchamps
Main cast: Hiam Abbass, Diamand Abou Abboud, Juliette Navis, Mohsen Abbas, Moustapha Al Kar