Dir. Gilles Marchand. France/Sweden. 2016. 103 mins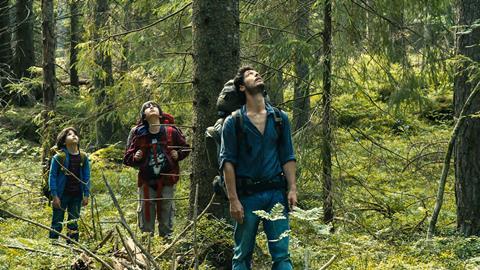 Some intense bonding time between a father and his two sons develops into something much more sinister in Into The Forest (Dans Le Foret), an intriguing little chiller from Who Killed Bambi? (2003) director Gilles Marchand. Renewing a collaboration with co-writer Dominik Moll (With A Friend Like Harry, 2000), Marchand has created a story that mostly stays the right side of the line between creepy and silly until a head-scratching finale that prompts many more questions than it answers.
The restraint and conviction in the performances do a good deal to sustain the creepy mood of Into The Foresteven if it never quite delivers its killer blow.
While Into The Forest delivers enough jolts and disquiet to create a strong trailer and reel in genre fans attracted to the slightly offbeat, ultimately the ending will do nothing for word of mouth.
Into The Forest seems to have taken a healthy amount of inspiration from the more famous works of Stephen King with its remote, isolated location, disturbing patriarch and belief in the special powers of a young child. Already there are echoes of The Shining, Carrie and more. The film chimes with the fairytale elements of a classic like Night Of The Hunter (1955) and with recent tales of gifted, anxious children from Midnight Special to the more precision-engineered horrors of Goodnight Mommy. It's just a shame that Marchand and Moll seem unable to channel that promising jumble of influences and ideas into a more coherent and fully realised story.
We expect trouble from the very beginning as eight year-old Tom (Timothe Vom Dorp) informs a child psychologist that he has had a premonition that a forthcoming visit with his father will not end well. The trip to Stockholm with his older brother Ben (Theo Van De Voorde) is the first time they have seen their father (Jeremie Elkaim) in a year. And there are clear signs that all is not well. from the discovery of family photos in which their mother has been erased to the fact that their father claims never, ever to sleep.
When Tom discovers him wide awake in the middle of the night, the father claims they are two of a kind . Throughout he seems keen to hone mind-reading skills he has observed in the boy. Eventually, the father takes the boys to a cabin in the woods and grows more overbearing and suffocating towards them, suggesting that there may be no real need for them ever to return to civilisation.
Marchand effectively sustains a balance of real and imagined horrors with older brother Ben fuelling Tom's imagination by suggesting this strange man may not even be their father (shades of Goodnight Mommy). Heading into the darkness of the countryside heightens the senses and allows Marchand to create some scary moments through a grotesquely disfigured man who appears to Tom. Silent and threatening with a gaping hole where his mouth might have been, the figure is full of boogey man menace and his sudden appearances should strain the nerves of susceptible audiences.
The moment that the film should be tightening the screws, however, is when it starts to loose its grip - almost as if Marchand and Moll had painted themselves into a corner, or run out of inspiration. The possibility of a satisfying resolution is passed over in terms of an enigmatic leap of faith that really makes no sense.
Marchand does have one undisputed ace in Timothe Vom Dorp, a doe-eyed, mop-topped innocent whose unaffected performance gives the film credibility. His sense of wide-eyed terror and foreboding feel real and provide the sense of horrors that he alone can witness and understand. The boy has natural screen presence and a vulnerability that makes the audience both sympathetic and protective towards him. Theo Van De Voorde fills all the requirements of a playful but concerned older brother with a more cynical view of their father and what he might be doing to them whilst a deadpan Jeremie Elkaim captures the anger and frustration of a troubled man without ever succumbing to scenery-chewing.
The restraint and conviction in the performances do a good deal to sustain the creepy mood of Into The Forest even if it never quite delivers its killer blow.
Production Companies: Les Films De Francoise, Gotafilm, Film Vast
International sales: Wild Bunch ndevide@wildbunch.eu
Producers Valerie Donzelli, Jeremie Elkaim, Mina Driouche, Christer Nilson, Frida Hallberg, Olivier Guerpillon
Screenplay Gilles Marchand, Dominik Moll
Cinematography: Jeanne Lapoirie
Editor Yann Dedet
Production design Gilles Balabaud
Music Philippe Schoeller
Main cast Jeremie Elkaim, Timothe Vom Dorp, Theo Van de Voorde