Dir. Patricia Rozema, Canada, 2015, 101 minutes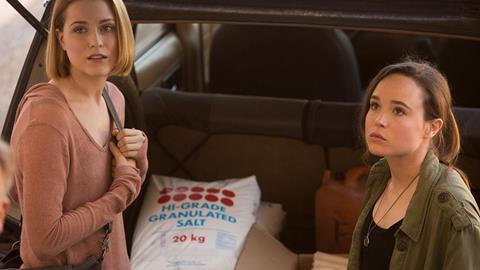 What do you do when the lights and the computer and the iPad go out? In Into the Forest, you might disappear into the wilderness. Patricia Rozema's adaptation of Jean Hegland's novel of the same name is the near-future story of two sisters in the Northwest who survive a blackout that leaves them without electricity for more than a year and piles hardship upon hardship on them. Into the Forest is a motivational tale, and an unusual one even by the standards of disaster movies and post-apocalyptic sagas. Yet in a marketplace saturated with disaster films, it stands out for its brazen novelty and for its implausibility. The presence of Ellen Page and Evan Rachel Wood in a story about two women overcoming adversity could muster an audience for a movie that doesn't muster credibility.
As a parable of resilience, the film is only as persuasive as one's willingness to believe it
In Rozema's script, Nell, a student (Ellen Page), and Eva, a dancer (Evan Rachel Wood), are living in the woods of British Columbia with their genial father (Callum Keith Rennie) when the power fails, part of a breakdown which takes place over a vast area. Frustrated, they still improvise to cook and wash, and drive a vehicle 40 km to a crippled town where store shelves are bare. When the father dies in a chainsaw accident, the two rely on each other, eating out of cans, foraging for food and quarreling as their house comes apart. Eva is brutally raped by a visitor who appears on the property, yet they remain remarkably self-sufficient.
It's an inspiring story, acted with heart and grit by Paige and Wood, and film directed with adroitness by Rozema in a ruin of a set in the woods. Yet life off the grid in the film over more than a year begs some questions. Was there no wildlife – besides feral hogs – that encroached on their property — no rodents, raccoons, snakes or bears that might be competing with the two women for food? Was there no winter spent in the house with one fireplace? British Columbia can have mild winters, like the winter that failed to bring snow to the 2010 Winter Olympics in Vancouver. But even with winters softened these days by global warming, survival in the elements is more challenging than Into the Forest suggests.
What the film does convey, with realism, is that nature is not a natural habitat for most humans. Men and women are dependent on electricity for most of their needs, and on information. When power fails, for people unaccustomed to living without it, scarcity breeds suspicion and delusion, as we see on the screen. Into the Forest has its strongest emotional power in scenes where the two become deluded, like prisoners with no one to talk to but themselves.
As a parable of resilience, the film is only as persuasive as one's willingness to believe it. The performances help. Rennie could be any earnest father as he tries to protect his daughters and dies cutting wood for them. Page, playing headstrong Nell, is a tough fighter. Wood, radiant as a dancer who rehearses to her metronome, survives the extreme conditions and her own obsessional fantasies.
As cinema, Into the Forest provides plenty of drama and suspense in a fictional narrative that relies on the same triumph of willpower as Danny Boyle's 127 Hours (2010) with James Franco trapped in a rock crevice, or Soul Surfer (2011), the saga of a teenaged athlete in Hawaii who lost her arm to a shark – both extraordinary events that did happen in nature.
The lush green old-growth forest also plays a role in Rozema's film, as a realm of comfort rather than one of fear, a beguiling place through DP Daniel Grant's lens. But did the animals hunting each other there know that? Enchanted forests, however, are the stuff of legends. And it's usually in legends that scarcity is an ennobling force. If the cinema can't be a place of wish-fulfillment, what can?
Production companies: Elevation Pictures, BRON STUDIOS/, Rhombus Media, CW Media Finance
International sales: Celsius Entertainment Ltd. info@celsiusentertainment.com
Producers: Niv Fichman, Aaron L. Gilbert, Ellen Page
Executive producers: Sriram Das, Haroon Saleem, Steve Shapiro, Jason Cloth, Allan Stitt, Kelly Morel, Kelly Bush Novak, Adrian Love
Screenplay: Patricia Rozema
Cinematographer: Daniel Grant
Editor: Matthew Hannam
Production designer: Jeremy Stanbridge
Music: Max Richter
Main cast: Ellen Page, Evan Rachel Wood, Max Minghella, Callum Keith Rennie, Michael Eklund, Wendy Crewson