Dir/scr. Scott Graham. UK, 2015, 110 minutes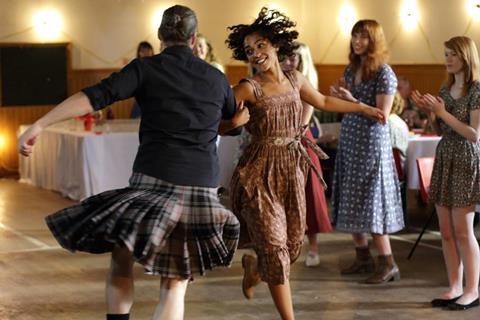 With Iona, writer-director Scott Graham follows up 2012 debut feature Shell with another artfully composed remote-Scottish drama that's stronger on character, performance and arresting setting than it is on storytelling. The tale of a single mother returning to her Inner Hebrides home with her teenage son more than 15 years after she ran away to Glasgow, Graham's latest once again benefits from a striking isolated location and a timeless disconnect from modern life. But despite a significant re-edit following the film's world premiere as closing night of 2015's Edinburgh International Film Festival, the film will do well to much improve on the very modest £42,000 UK theatrical box-office of Shell.
A quiet rigour is in evidence here, matching the soft Scottish accents and gentle pace of the island community.
The story begins with a woman (Ruth Negga) and a teenage boy (newcomer Ben Gallagher) travelling by car ferry to a remote Scottish island. Along the way, for reasons unknown, they ditch their vehicle, setting it on fire by the roadside before continuing on foot and then a smaller boat. The woman, whose name is also Iona, is in her early 30s; son Billy, who goes by Bull, is 15.
In Shell, Graham presented an extreme scenario – a teenage girl's incestuous relationship with her single father, living together at a far-flung Scottish petrol station – in a quietly composed manner that determinedly steered clear of melodramatic emoting. A similar quiet rigour is in evidence here, matching the soft Scottish accents and gentle pace of the island community. But the narrative is somehow less compellingly distinctive than Shell, as a back story of betrayal and guilt is revealed, and the return of Iona impacts on the lives of widower Daniel (Douglas Henshall), his daughter Elizabeth (Michelle Duncan), her husband Matthew (Tom Brooke) and their 14-year-old child Sarah (Sorcha Groundsell), who is carried around on her father's back due to an accident that left her paralysed below the knee.
Scenes unhurriedly unfold, as Iona and Bull pitch in with strawberry picking, attend church and join the community at a ceilidh (a rare instance of music in a film that offers barely any composed score). Bull bonds with Matthew while helping him build a dry stone wall, and responds to Sarah's burgeoning sexuality.
Director Graham, a Screen International Star of Tomorrow in 2011, has revealed that it was his own response to seeing Iona at Edinburgh, rather than the reactions of critics and audiences, that has prompted the new version. Out goes an opening sequence depicting a violent crime, an event we now only gradually learn about. The rethink results in a pervasive sense of mystery that feels a better tonal fit with Graham's artful material, jettisoning the early version's seeming gestures at genre that the director failed to develop. A briefer running time of 85 minutes, down from the initial 110, can only be a good thing.
Performances are solid across the board, but maybe lacking an equivalent revelation to place alongside Shell's Chloe Pirrie, who scooped Most Promising Newcomer at the British Independent Film Awards. Technical contributions are similarly impressive, with Shell cinematographer Yoliswa von Dallwitz making the most of the location's long daylight hours, and Shell's sound mixer Chris Campion another valued returnee.
This is an updated version of the review which first appeared in Screen International on the world premiere of Shell at the Edinburgh Film Festival in June 2015
Production company: Bard Entertainments
International sales: office@bardentertainments.co.uk
Producer: Margaret Matheson
Cinematography: Yoliswa von Dallwitz
Editor: Florian Nonnenmacher
Production design: Stephen Mason
Main cast: Ruth Negga, Ben Gallagher, Douglas Henshall, Tom Brooke, Sorcha Groundsell, Michelle Duncan