Dir. Wilson Yip Wai-shun, Hong Kong, 2015. 105mins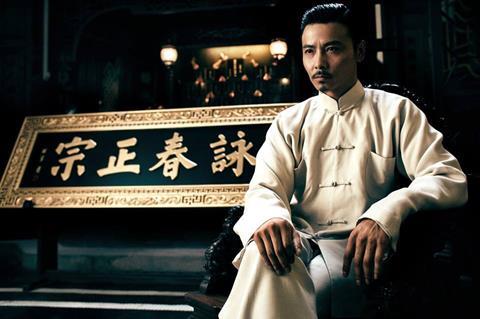 Donnie Yen and director Wilson Yip reunite for a third round of wing chun-related action, this time detailing the grandmaster Ip Man's clash with a corrupt American property tycoon played by Mike Tyson, alongside a title challenge from a rival master (Max Zhang Jin). Veering away from the series' breast-beating jingoism, Ip Man 3 trades the crowd-pleasing intensity of its predecessors for a more introspective portrait of its central character.
As expected, Mike Tyson fails to convince in his role of Frank, a corrupt American property tycoon
Yip's first Ip Man film saw its eponymous hero take on the occupying Japanese forces during World War II, and in Ip Man 2 he fought against the British. Ip Man, known in real life as Bruce Lee's mentor and recently the focus of films by Herman Yau (The Legend Is Born) and Wong Kar Wai (The Grandmaster), has become a Hong Kong legend of late, the territory's very own crusading superhero.
This time, celebrated action director Yuen Wo-ping, taking over from Sammo Hung, ensures the film's fight sequences remain the film's primary focus, although the overall tone is smaller and quieter, reflecting both the personal drama Ip Man encounters and Donnie Yen's own encroaching retirement from kung-fu cinema.
While only modest box office successes compared to a behemoth like last year's The Monkey King ($180 million), Ip Man (2008) and its 2010 sequel have gifted Donnie Yen, now 51, a signature role upon which he has finally achieved legitimate A-list success. Ip Man 3 should therefore see healthy interest across the region on his name alone, as well as from martial arts aficionados worldwide. The stunt casting of former heavyweight boxing champion Mike Tyson may also help the film garner further mainstream attention in the West.
Hong Kong, 1959. When a local gang, operating on behalf of shady property developer Frank (Mike Tyson), intimidates the staff of a local school, concerned parent and force-for-good Ip Man (Donnie Yen) takes it upon himself to stand guard. He also crosses paths with fellow wing chun practitioner Cheung (Max Zhang), whose son also attends the school. Together they are able to see off Frank's men, which only forces the American to take more drastic action.
Meanwhile, Ip Man's wife Wing Sing (Lynn Xiong) is diagnosed with cancer, but suffers in silence as her husband repeatedly puts his duties in the community ahead of his own family. Cheung, who competes in backstreet brawls for cash, grows jealous of Ip Man's fame and respect across town, and sets out to challenge his position as wing chun champion.
Ip Man 3, again scripted by Edmond Wong, attempts to ground the character, who would be in his sixties at the time the film is set. Ip Man puts his martial arts school and neighbourhood concerns before the livelihood of his wife or son, and it is only when hit with the one-two punch of having his boy kidnapped and learning of his wife's terminal illness that he begins to reflect on his decisions.
Donnie Yen has declared publicly on more than one occasion that Ip Man 3 might be his last full-blown action film, and Wong's script clearly portrays a similar shift in its protagonist's attitude towards wing chun. Yen has always portrayed Ip Man as a modest beacon of calm and restraint, which has added to the enigmatic nature of the character, but he struggles here when called upon to express grander emotions.
As expected, Mike Tyson fails to convince in his role of Frank, whose origins are never revealed in the film, and whose motivation is simply greed. His inevitable brawl with Ip Man, however, proves an energising confrontation of styles, as the speed of wing chun struggles to have an impact against the sheer brute force of Tyson's burly frame.
Both fighters are eclipsed by the continuing ascendancy of Max Zhang as Cheung. 2015 is proving a breakout year for the mainland star, who first attracted widespread attention as the villain in 2013's The Grandmaster. After overshadowing leads Tony Jaa and Wu Jing in Soi Cheang's SPL 2: A Time For Consequences, Zhang again steals the spotlight here. His speed, agility and striking good looks prove a match for Yen.
It is frustrating, therefore, that Zhang's character is so difficult to sympathise with. Motivated at first by the need to provide for his own son, Cheung makes the switch from backstreet brawler to hired muscle for Frank's goon, Sang (Patrick Tam). When he fights alongside Ip Man, however, it seems he has been redeemed, only for his own desire for fame to propel him on a spree of challenges, culminating in the film's final showdown with his supposed friend.
Ip Man remains most famous for mentoring a young Bruce Lee, which Yip has repeatedly tried to include in this series, with little success. Here, the "little dragon" does finally materialise, in the form of Danny Chan, who previously played the martial arts legend in the 2008 TV series The Legend of Bruce Lee. This comes as something of a relief, after it was previously reported that the producers would be creating a computer generated version of Lee for the film. However, the character of Lee only appears twice, and makes little impact, so his student-teacher relationship with Ip Man remainingfrustratingly unexplored.
Despite its narrative unevenness, technical offerings are robust across the board. Kenneth Mak's production design proves a particular standout, bringing a layer of visual dynamism to scuffles with hordes of triad goons through cobbled streets and bustling shipyards. Veteran composer Kenji Kawai's score is another highlight of this competently executed, yet ultimately somewhat underwhelming latest chapter of the franchise.
Production company/international sales: Pegasus Motion Pictures Distribution Ltd
Producers: Raymond Wong Bak-ming
Associate Producer: Pang Yuk Lam
Screenplay: Edmond Wong, Chan Tai Lee, Jill Leung Lai Yin
Cinematography: Kenny Tse Chung-to
Editor: Cheung Ka-fai
Music: Kenji Kawai
Production Design: Kenneth Mak Kwok-keung
Action Direction: Yuen Woo-ping
Fight Choreography: Donnie Yen, Yuen Shun-yee
Main Cast: Donnie Yen, Lynn Xiong, Max Zhang Jin, Mike Tyson, Patrick Tam, Karena Ng, Louis Cheung, Kent Cheng, Leung Ka Yan, Danny Chan Kwok-kwan