A fitting send-off for an iconic character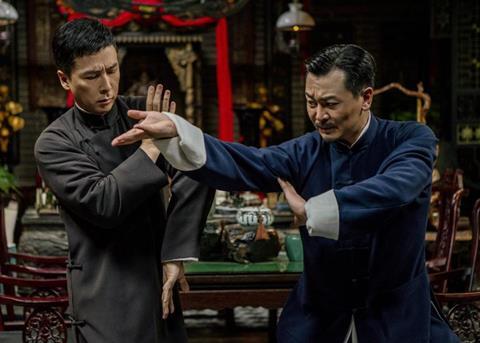 Dir: Wilson Yip. Hong Kong/China. 2019. 105 mins
Donnie Yen returns to his signature role in the definitively titled Ip Man: The Finale, an imperfect but sufficiently stirring conclusion to the hugely popular martial arts series. This instalment in the life of legendary Wing Chun master Ip Man finds the humble hero traveling to the United States where challenges inevitably await. Playing typically fast and loose with history, regular director Wilson Yip again balances a respectful representation of Ip Man's teachings with breathlessly kinetic fight scenes that will surely satisfy the series' legion of fans.
Donnie Yen is a performer of incredible physical prowess but limited dramatic range, yet his stoicism is perfect here
Opening across Asia on December 20, Ip Man: The Finale should do brisk business. Even if it doesn't reach the box office heights of Ip Man 3 (2016), which racked up $156 million worldwide, it will likely become the second highest grossing entry in the series given the exponential growth of Asian markets since the 2008 original. The film's limited international theatrical release on December 25 will attract devotees with robust streaming revenues to follow.
Yip picks-up the eventful saga in 1964 with the widowed Ip Man leading a low-profile life in Hong Kong. Diagnosed with head and neck cancer, his main concern is the wellbeing of his teenage son Ching (Ye He). When he receives an invitation from star protégé Bruce Lee (Chan Kwok Kwan) to see him perform at a tournament in San Francisco, Ip Man accepts, intending to use the trip to look for a suitable school for Ching, who he believes would benefit from overseas education.
Visiting the Chinese Benevolent Association (CBA), presided over by proud Tai Chi master Wan Zonghua (a supremely dignified Wu Yue), Ip Man discovers that traditional martial artists are incensed that Lee is teaching foreigners, creating a rift in the community. Meanwhile, seething Marine instructor Barton Geddes (Scott Adkins) is aiming to curtail the efforts of American-born Chinese soldier Hartmann (Vanness Wu) to get Wing Chun added to the training regime by resorting to any means necessary.
In terms of plotting, it's rather cluttered. As with the first film, Ip Man: The Finale pits Chinese martial arts against karate within a military context, while like the second, it finds feuding grandmasters putting aside their differences to unite against racial hostility. This could be generously seen as a commentary on history repeating itself, but is more likely a sign of recycling (the screenplay is credited to four writers, including mainstay scribe Edmond Wong). It also takes a while for the strands to come together, especially with a school bullying subplot involving Wan's headstrong daughter Yonah (Vanda Lee) which features some distractingly on-the-nose heated exchanges concerning immigration.
In most other aspects, though, it hits the mark. Continuing the series' high standard for splendid period recreation, production designer Kenneth Mak supplies finely detailed Chinatown sets which are stunningly lit by cinematographer Cheng Siu Keung. The headquarters of the CBA serves as competitive space for the fleet styles of Ip Man and Wan, while an abundantly colorful mid-Autumn festival celebration becomes the stage for marine karate practitioner Collin (Chris Collins) to taunt the Chinese masters. These set pieces are precisely choreographed by Yuen Woo-ping with individual disciplines enhanced by a measured use of wire-work and Kenji Kawai's score providing rousing accompaniment.
Since most films only have room for two legends, Bruce Lee is kept in a supporting capacity but is granted a terrific back-alley fight scene in which he handily defeats an overeager opponent. While the films were made around the same time, many will take this as a riposte to Quentin Tarantino's controversial depiction of the Little Dragon in Once Upon a Time in Hollywood with Chan effectively channeling Lee's cool without overplaying the mannerisms. On the bad guy front, Adkins intrepidly follows Mike Tyson in Ip Man 3 and Dave Bautista in the spin-off Master Z: The Ip Man Legacy (2018) as the foreign threat. Unfortunately, his ignorant hate figure is often such a foul-mouthed buffoon that the final showdown feels more like a formality than an event, even with Ip Man in the throes of cancer.
A performer of incredible physical prowess but limited dramatic range, Yen has never been truly adept at conveying emotion. However, his stoicism is perfect here as the unassuming grandmaster wrestles with mortality while endeavoring to patch up his frayed relationship with his son. After something of a stop-start career, this was the role that cemented Yen's international stardom and Ip Man: The Finale serves as a fitting send-off for an iconic character.
Production companies: Mandarin Motion Pictures, Tin Tin Film Production Ltd.
International sales: Mandarin Motion Pictures, Kat Yeung, kathy.yeung@mandarinmovie.com.hk
US distributor: WellGo USA Entertainment
Producers: Raymond Wong, Donnie Yen
Screenplay: Edmond Wong, Dana Fukazawa, Chan Tai Lee, Jil Leung Lai Yin
Production design: Kenneth Mak
Editing: Cheung Ka-Fai
Cinematography: Cheng Siu Keung
Music: Kenji Kawai
Main cast: Donnie Yen, Wu Yue, Van Ness, Scott Adkins, Chris Collins, Chan Kwok Kwan