A dynamic and informative journey through martial arts movies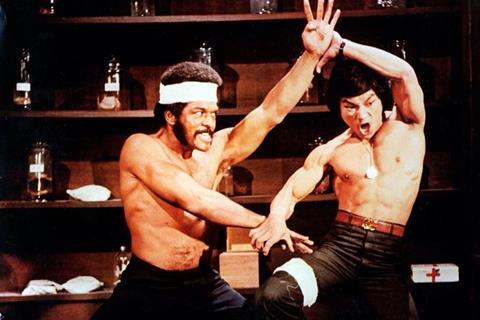 Dir/scr. Serge Ou. Australia. 2019. 107mins
As frenetic and fun as the genre it celebrates, Iron Fists and Kung Fu Kicks takes a kinetic ride through martial arts movies, charting their evolution from the Shaw Brothers' huge Hong Kong hits to the eye-popping abilities of Bruce Lee and Jackie Chan, and their impact upon today's YouTube stars. Breadth, rather than depth, drives Serge Ou's affectionate documentary, but the result is an entertaining package filled with thrilling clips, informative interviews and infectious enthusiasm, with the upbeat film destined to land a firm blow with eager cinephiles.
Iron Fists' extensive array of fight scenes may prove its main attraction
Iron Fists' extensive array of fight scenes may prove its main attraction, in a movie undeniably crafted in Chris Bamford's editing suite. Still, as a primer on a beloved genre supplemented by chats with talent who made the magic happen, it's as energetic and irresistible as fellow Australian-produced, film-focused doco Not Quite Hollywood. There's no Quentin Tarantino leading the charge here — Sammo Hung, Cheng Pei-pei, Cynthia Rothrock, Brian Trenchard-Smith and Christopher Doyle rank among its biggest names — but this martial arts tribute has broad appeal. Ou jumps between Asia, America, Australia, France, Indonesia and Uganda to chronicle his chosen topic and, after premiering in Melbourne, his movie should make just as many global stops.
More than half a century since Lee first wowed western audiences in The Green Hornet, and just as long since Chan made his big-screen debut as a child star, the two remain the biggest names in kung fu cinema history. Iron Fists naturally pays them both considerable attention; while the documentary commences with the Shaw Brothers and their prolific Hong Kong operations, and virtually reuses the same soundbite about the studio's massive misstep in passing on both Lee and Chan, Ou largely follows the genre's action-packed displays. Cue much gushing about the two stars' prowess and impact, especially from the movie's lineup of historians and curators — all warranted, obviously, as the supporting footage makes plain.
Putting the pair's achievements in context is one of Iron Fists' overarching aims, from mapping out the blossoming industry that Lee so desperately wanted to break into, to demonstrating how taking kung fu to the world will remain his and Chan's legacy. Both come overflowing with highlights, letting viewers witness the genre's evolution out of wuxia Chinese dramas and historical melodramas — and its early championing of female heroes — as well as its lingering influence on everything from hip hop to parkour.
The hearty reception that the likes of Five Fingers of Death, Enter the Dragon and Game of Death received from African-American audiences, who valued their diverse casting and "fight the power" messaging, also earns significant discussion; following Lee's death, the line from Brucesploitation to Blaxploitation was direct indeed. Dubbed "the Black Dragon" across his action-movie career, Ron van Clief makes for one of Iron Fists' livelier interviewees, while, on the subject of gender, so does Yes, Madam's Rothrock.
Making his feature-length debut after a spate of shorter and television projects, Ou maintains Iron Fists' dynamic pace from go to whoa, and its likeable vibe. That said, if the documentary loses momentum in its final segments, it's simply a matter of covering well-worn territory. The imprint that 60s, 70s and 80s martial arts cinema left on box office behemoths like The Matrix and Oscar winners such as Crouching Tiger, Hidden Dragon is such common knowledge that, other than showcasing the influence of Yuen Woo-ping, their inclusion almost seems superfluous. Not that viewers will mind — by that point, they'll already have a furious desire to revisit plenty of kung fu classics, and a fist full of films to seek out.
Production companies: Wildbear Entertainment
Contact: XYZ Films, info@xyzfilms.com
Producer: Veronica Fury
Screenwriters: Serge Ou, Grady Hendriz
Cinematography: Geoff Ellis
Editing: Chris Bamford
Music: Rajan Kamahl