Arnaud Desplechin opens Cannes 70 with a display of daring and panache.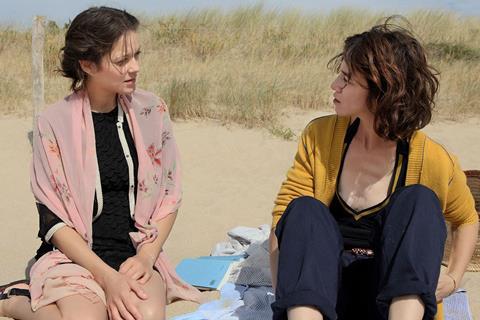 Dir: Arnaud Desplechin. France. 2017. 115mins
A jubilantly complex tale within a tale — possibly within yet another tale — Arnaud Desplechin's Ismael's Ghosts (Les Fantômes d'Ismaël) exudes the lived-in familiarity of a director who knows his characters inside out and the daring and panache of a creator whose creations are still full of surprises, even for him. If you're going to name a protagonist Carlotta and help yourself to some Bernard Hermann music, you'd better be out to entertain with a sure hand. Desplechin delivers with flying colours thanks to an excellent cast and a sometimes serious, sometimes funny story that never lets up or becomes predictable.
The stories bounce around in time but are suspenseful and intriguing rather than confusing
After opening Cannes Out of Competition on May 17 and a bound-to-be popular run in France starting that same day (also in a 130-minute version), these ghosts seem destined to haunt art houses far and wide.
Any attentive movie-goer should be able to navigate this free-standing episode even though it's salted and peppered with reoccurring elements from other Desplechin outings. It would be criminal to delineate which aspects should be taken at face value and which are best filed under narrative sleight-of-hand, but here is the basic armature.
Ismael (Mathieu Amalric, in his seventh escapade with Desplechin), a filmmaker, describes himself as a widower. He married Carlotta (Marion Cotillard) when she was just 20 years-old. A few years later she vanished without a trace. No body or evidence of foul play was ever found. Her eighty-something father Henri Bloom (Lazlo Szabo), a noteworthy film director, has been grieving her loss for two decades, as has Ismael, who was finally obliged to have the authorities legally classify Carlotta as "missing," reluctant to have her declared "dead."
Since he's a creative type from Central Casting, Ismael drinks to excess, smokes quite a bit and takes multiple pills to combat the horrific nightmares that plague his sleep. Ismael and Henri are very close. They have in common the torment of not knowing what became of the same loved one, but Ismael also admires Henri's strengths as an artist.
Almost 20 years after Carlotta's disappearance, Sylvia (Charlotte Gainsbourg) meets Ismael at a party. She's a seemingly austere and somewhat prim astrophysicist (yes, really) and she's the only character who makes an occasional contribution via voice-over. Ismael — seen through her eyes and ours — is both dashing and insufferable.
Meanwhile, a group of male career diplomats together in a restaurant are speculating about the whereabouts of Ismael's brother, Ivan (Louis Garrel with almost unnervingly short hair), who's officially a diplomat, possibly a spy. Flashbacks take us through Ivan's surreal job interview at the Ministry of Foreign Affairs, his encounter with exotic Arielle (Alba Rohrwacher) and some of the high points of his life representing France abroad, abetted by the fact that he already speaks six languages and has a knack for adding more.
Ismael and Sylvia embark on a serious, mutually satisfying relationship. Then, one day on the beach at their country house, a woman claiming to be Ismael's wife shows up out of nowhere. Cue emotional roller coaster ride.
None of this is presented in conventional linear fashion; the stories bounce around in time but are suspenseful and intriguing rather than confusing. An awful lot of separate strands are satisfyingly wrapped up before the closing credits roll.
Some might protest that Amalric, Cotillard and Gainsbourg have all played similar roles before, and they'd be right. But if you need a flustered male or a distant, possibly loony female, why not hire the best? Plus, this trio is rather good at representing the feisty carnal contours of middle age.
In a flamboyant turn, Hippolyte Girardot branches out as Ismael's understandably fed-up executive producer, Zwy.
Desplechin loves mirrors and reflections. His camera zooms or dollies in on faces until they fill the screen. His cast gives off the right doses of emotion no matter where the camera observes from. He even toys with vintage Hollywood-style intimations of mental upheaval (rear projection! double exposure!) as Ismael rides in a train compartment to Desplechin's birthplace, the industrial town of Roubaix.
The score — an astute blend of original and source music — is an excellent companion to multiple layers of intrigue.
Production companies: Why Not Productions, France 2 Cinema
International sales: Wild Bunch
Producer: Pascal Caucheteux
Screenplay: Arnaud Desplechin, Julie Peyr, Lea Mysius,
Cinematography: Irina Lubtchansky
Editor: Laurence Briaud
Production design: Toma Baqueni
Music: Gregoire Hetzel
Main cast: Mathieu Amalric, Marion Cotillard, Lazlo Szabo, Charlotte Gainsbourg, Charlotte Gainsbourg, Louis Garrel, Alba Rohrwacher, Hippolyte Girardot