Dir. Gurinder Chadha, UK, 2009. 100 minute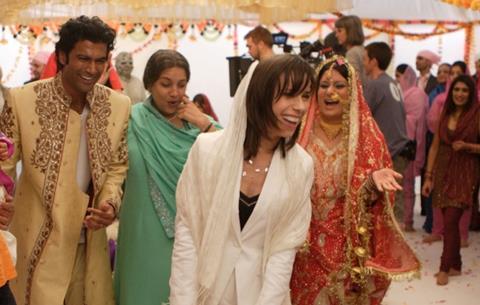 It's a Wonderful Afterlifeis a saucy London-set vaudeville romp about an Indian widow who is determined to commit suicide, but only after her dowdy daughter marries. Anyone who thwarts her ambitions finds themselves on the wrong side of Southall's deadly curry killer.
The cast is as broad as the humor, with curry as this era's stage banana peel.
Gurinder Chadha's burlesque farce should find its best audience in the UK, and throughout India, although the US, where its raucous, physical Ealing-style comedy may be an acquired taste, could be a tougher sell despite Chadha's Bend It Like Beckham credentials.
A series of messy deaths involving food strike Southall's Indian families who won't let their sons marry plump Roopi (Goldy Notay). London police smell murder, and the dashing Officer Murthy (Sendhil Ramamurthy) has just been assigned to the case.
Soon Murthy runs into family friends Roopi and her mother, the recently-widowed Mrs. Sethi (Shabana Azmi), who concocts poisons at her kitchen table. Shadowing the deadly cook are spirits of her victims that only she can see. The grey-powdered ghosts wear their deaths like saintly mediaeval attributes and comment like a Greek chorus on the tempest brewing.
Into the mix comes new age "psychic" Linda, renamed Galani (Sally Hawkins), who wears Indian clothes, has an Indian fiancée (Jimi Mistry) and babbles New Age mantras.
The cast is as broad as the humor, with curry as this era's stage banana peel. The police are another slapstick ensemble, targeting the wrong people and slipping on whatever food piles up underfoot.
The script salutes everyone from Capra to Ealing classics, Robert Altman's Brewster McCloud, and the whole zombie-spoof genre. Chadha's directing approach is warmhearted chaos. Characters collide with each other as food flies through the story, culminating in - what else? – a wedding, where the spirits settle scores in a spoof of Carrie with paroxysms of anything edible.
Despite its overall high production values, It's A Wonderful Afterlife's endearingly crude gore effects seem as deliberately sloppy as the physical comedy.
Shabana Azmi will please her many fans as the mother who delays her threatened suicide until she snares the right son-in-law, whatever it may take. Goldy Notay, who ballooned up to play Roopi, is equally game in this twist on a chubby girl's love dilemma.
As Murthy, Sendhil Ramamurthy sticks to type as the film's straight man, the Prince Charming of East London, as does Sally Hawkins as a New Age goofball indulging her Indian soul with shameless hamming.
This sauce-spattered romance is like your local restaurant's curry – nothing new or too adventurous, but a predictable dish made from the all the usual ingredients that will satisfy the regular customers.
To sign up for Screen's weekly Reviews Newsletter with all the week's new releases, international openings and full festival reviews delivered free to your mailbox every Friday, please click HERE
Production companies
The Indian Film Company
Bend It Films
Studio 16
International sales
HanWay
+ 44 20 7290 0750
Producers
Gurinder Chadha
Michelle Fox
Screenplay
Gurinder Chadha
Paul Mayeda Berges
Cinematography
Dick Pope
Editor
Oral Norrie Ottey
Production Design
Nick Ellis
Costume design
Jill Taylor
Main Cast
Shabana Azmi
Goldy Notay
Sally Hawkins
Zoe Wanamaker
Sendhil Ramamurthy
Sanjeev Bhaskar
Shaheen Khan
Adlyn Ross
Ash Varrez
Mark Addy
Jimi Mistry
Ray Panthaki