Dir: Pablo Larraín. 2016, US/Chile, 91 mins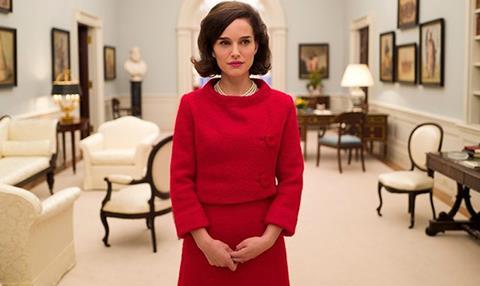 Not so much a biopic as an essay on history and what happens to people who become part of it, Pablo Larraín's Jackie is an elegant, highly intelligent attempt to humanise a legend – while showing its subject's acute awareness of what it means to become a legend. Natalie Portman excels in her most demanding and most complex performance to date as First Lady Jacqueline Kennedy, shown living through the immediate aftermath of her husband's assassination in 1963.
Larraín's highly varied visual invention and command of complex structure serve as a reminder of how vitally an imaginative director can skew what otherwise might have emerged in more mainstream colours
Chilean director Larraín, continuing the semi-docudrama thrust of his No and Neruda, takes to the backstage of American history with grace and stylistic finesse. This sometimes cerebral but also moving film should have upmarket clout, with serious awards potential, not least for Portman.
The script, by The Maze Runner and Allegiant writer Noah Oppenheim, builds its portrait around a classic device – Jackie is interviewed at home in Hyannisport, Massachusetts, shortly after the assassination, by a serious and generally tactful reporter (a fine Billy Crudup), who nevertheless wants the facts of the Dallas shooting from her point of view. Brittle, knowing and quietly in the throes of grief and anger, Jackie takes control of the discussion, making it clear that she's learned much about both power and publicity during her short spell as First Lady.
The film then jumps back to a more callow-seeming Jackie as she films the famous 1961 TV programme in which she hosts a tour of the White House, which she has redecorated with a view to making its history more accessible. This programme is cleverly recreated by Larraín (who showed his skill at period TV pastiche in No), and shows Jackie playing a gauche, smiling ingénue role that presents at once the ideal archetype of the American home-making wife and the adept mistress of PR (while her voice oddly, and with acute irony, echoes Marilyn Monroe).
Other episodes in this fragmented series include moments immediately before and after the Dallas shooting (Portman wearing the pink suit and pillbox hat combination that can, for once, genuinely be called iconic), JFK's funeral and burial at Arlington Cemetery, her discussion with a priest (a nicely pensive John Hurt) about her life and marriage and their meaning, and the period just before she leaves the White House, with new president Lyndon Johnson (John Carroll Lynch) now incumbent.
Indeed, Johnson's impromptu inauguration right after the shooting triggers one of the most poignant sequences, as – suddenly stripped of First Lady status – Jackie becomes at once the widow that all eyes are on, and an isolated, vulnerable outsider in the kingdom she has helped build. Other key figures in the drama include a briefly glimpsed JFK (dead ringer Caspar Phillipson), Jackie's secretary and confidante Nancy Tuckerman (Greta Gerwig) and her brother-in-law, attorney general Bobby Kennedy. He's played by Peter Sarsgaard as a tense, careworn figure aware that he's about to lose power, and narcissistically disappointed that assassination has prevented his family from carrying out their political plans, for which Johnson will now get the glory.
Portman's performance – authoritative and multi-hued - finely balances on the opposition between the approachable, featherlight figure of the 1961 programme and the hardened, historically aware, embattled woman of the interview sequences.
Larraín's highly varied visual invention and command of complex structure serve as a reminder of how vitally an imaginative director can skew what otherwise might have emerged in more mainstream colours. Oppenheim's script is crammed with insight, although at moments the observations, in some occasionally prolix stretches of dialogue, can seem over-emphatic. One can imagine the same script yielding a more staidly theatrical film like Frost/Nixon, or even something in the Oliver Stone vein.
Larraín's fluid approach to this jigsaw drama makes the most of the script's nuance. Stéphane Fontaine's camerawork sinuously cruises the White House corridors and sharply contrasts the faded autumnal colours of the framing interview sequence with the vivid hues characteristic of the Kennedys'reign at their modern-day 'Camelot' – as JFK's White House court came to be known.
Composer Mica Levi follows up her Under the Skin score with orchestrations that, if ostensibly more conventional, are nevertheless richly diverse, and expertly avoid the obvious emotional effects. All in all, Jackie vividly evokes one woman's experience of "one brief shining moment" – to quote the theme song from Camelot, pointedly used here – along with the disillusionment that followed and that was already, we learn, present under the surface.
Production companies: Jackie Productions Ltd, Protozoa, LD Entertainment, Fabula, Wild Bunch, Why Not Productions
International sales: IMR ndevide@wildbunch.eu
Producers: Juan de Dios Larraín, Darren Aronofsky, Mickey Liddell, Scott Franklin, Ari Handel
Screenplay: Noah Oppenheim
Cinematography: Stéphane Fontaine
Production designer: Jean Rabasse
Editor: Sebastían Sepúlveda
Music: Mica Levi
Main cast: Natalie Portman, Peter Sarsgaaard, Greta Gerwig, Billy Crudup, John Hurt