Dir/scr: Cho Hyun-hoon. South Korea, 2016. 100mins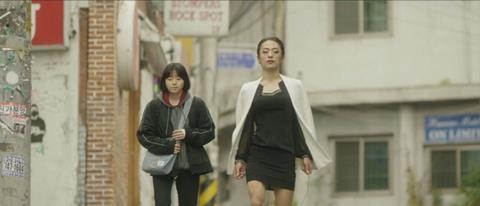 Dealing with runaways and transgender people in Korea, Jane is an impressive feature debut that intelligently grapples with these themes using a layered, enigmatic form of storytelling as it follows a Korean girl who struggles with loneliness.
Jane intentionally leaves much of the plot to interpretation.
The film's premise should arouse interest, but it's the manner of execution along with terrific performances by the two leads which may give Jane the attention it deserves following its premiere in the Vision strand in Busan. Although domestically it might be a hard sell due to its fractured narrative, a warm critical response could give Jane a much needed boost.
At the centre of the piece is So-hyun (Lee Min-ji) who is abandoned by her close friend Jong-ho. Returning to the hotel where they stayed, So-hyun once again comes into contact with a transgender woman called Jane (Gu Gyo-hwan) and joins her community of runaways including Ji-soo, Dae-po and Jong-gu as they become a family. Together, So-hyun and Jane look for Jong-ho.
Jane, however, is evidently not well both physically and psychologically, and her deterioration means they don't stay a family for very long.
The focus then moves to a home, where So-hyun becomes part of another group of runaways which also includes Dae-po, Jong-gu and later Ji-soo. Running the home is a young man of around the same age they refer to "dad." But in return for a roof over their heads, the girls appear to work as prostitutes.
These two narrative threads are linked using some of the same characters and locations. But while the latter strand appears to reflect 'reality' and the former, the imagination of a girl who conjures up the character of Jane in an attempt to combat her isolation, the film intentionally leaves much of the plot open to interpretation.
The ambiguous nature and non-linear structure of the narrative might perplex some viewers as director and screenwriter Cho Hyun-hoon deliberately makes the film abstract, following a more unconventional and innovative route, seeking to convey not necessarily the causes of such alienation, but rather its impact on young people without homes to go to, or families to depend on.
Cinematographer Cho Young-jik juxtaposes the gloomy hotel rooms with bright shades of red and pink, reflecting both the character of Jane and her desolation. The film's EDM influenced score also helps create an interesting ambience.
Playing So-hyun, Lee Min-ji (Coin Locker Girl) is surely a talent to look out for, as evidenced by her convincing and layered lead performance, while Gu Gyo-hwan - who is also an independent filmmaker (Now Playing) - is superb as Jane. Lee Ju-young, who also featured in the Busan film festival's opening film, A Quiet Dream, is also memorable as Ji-soo.
Production Company: House in Seoul
World Sales: M-Line Distribution (michelle@mline-distribution.com)
Producer: Baek Jae-ho
Cinematography: Cho Young-jik
Production Design: Lee Hee-jung
Editor: Choi Hyun-sok
Music: FLASH FLOOD DARLINGS
Main Cast: Lee Min-ji, Gu Gyo-hwan, Lee Ju-young.