Jane Birkin and Charlotte Gainsbourg explore their relationship in this modest, tender documentary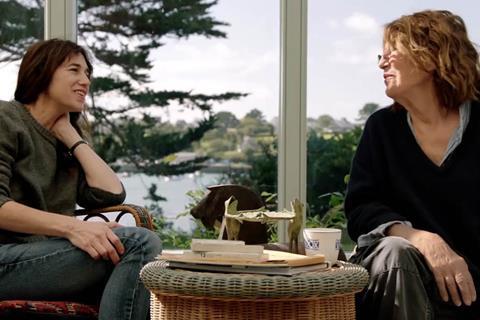 Dir. Charlotte Gainsbourg. France. 2021. 107 mins.
When a celebrated actress and singer makes a film about her mother, also a celebrated actress and singer, you expect the result to be something of a mutual appreciation party. In fact, in Jane by Charlotte, Jane Birkin and daughter Charlotte Gainsbourg seem not only to revel in each other's company, but to be a little perplexed by each other – and in Birkin's case, perplexed by herself too. This small, engaging film doesn't offer much in the way of introduction to Birkin for non-initiates - there's nothing about her acting career, for example. But for the devoted audience of a star who can – for once – genuinely be called an icon, the film offers a tender and quite illuminating portrait of a mother-daughter relationship seen both within, and far away from, the public sphere of celebrity. It should have a modest but solid presence in Francophile, cinephile and musical outlets alike.
A tender and quite illuminating portrait of a mother-daughter relationship seen both within, and far away from, the public sphere of celebrity.
With its title nod to Agnès Varda's 1988 Birkin portrait Jane B. par Agnès V, the film is a sort of investigative home movie, with Gainsbourg quizzing her mother about their relationship, their family history and her opinions, with Birkin intermittently waxing philosophical about her self-image and the ageing process, and musing about her storied past. Partly comprising material shot by Gainsbourg on both film and video, plus her own elegant stills of Birkin, Jane by Charlotte begins misleadingly as a showbiz behind-the-scenes number, as Gainsbourg (also appearing in front of camera) accompanies her mother to concert dates in Japan and New York. Birkin is seen graciously engaging with fans, dispensing her famously gauche smile, even hand-drawing stacks of little self-portraits, by way of autographs.
The intention, Gainsbourg tells her mother, is "to look at you as I've never looked at you before," as the two launch into a series of conversations that can genuinely be called intimate – not least, in that both speak in a near-whisper that will have viewers leaning forward to catch any fleeting nuances. Much of the discussion takes place at Birkin's rambling country house – where they're joined by Gainsbourg's 10 year-old daughter Jo – and there's a staged sequence where the two relax in bed, as Birkin describes her eccentric sleeping habits, which she claims included having suitcases on top of her. Some shared confidences are revealing – Birkin saw Charlotte as "unknown territory" when she was a child - while some seem almost parodically what you'd expect from a famously unconventional family. "When you were 14," Birkin recalls, "I was dying to see you naked. I asked to see your breasts." Gainsbourg matter-of-factly replies that she asked her older daughter the same, and got a refusal.
Some very personal elements are alluded to rather than spelled out, which can leave the viewer feeling excluded if they're not aware, for example, of Birkin's recent experience of cancer, or the fact that her oldest daughter, photographer Kate Barry, died in 2013 in a presumed suicide. While Birkin lets slip some revealing remarks about her past, little effort is made to provide biographical guidelines.
There is, however, a wealth of family documentation in still photographs and on film, notably home movies with Charlotte's father, the notorious Serge Gainsbourg, relaxing like a proper bourgeois père de famille. There's very little said explicitly about life with him – but then, belatedly, the movie hits pay dirt. Charlotte and her mother visit Jane and Serge's old home in the rue de Verneuil, Paris, where Birkin apparently hasn't set foot for 30 years. It's a darkened bohemian den cluttered with memorabilia and everyday relics - old perfumes, even ancient tins of food – and Birkin is manifestly fascinated by encountering this frozen-in-aspic piece of her past.
Throughout, Birkin's candour and seemingly artless self-awareness may be part of a persona that she has perfected over the years, but it comes across as natural and unprompted in the largely everyday settings where Gainsbourg films her. The film ends with a Gainsbourg's first-person address to her mother - a little mawkish, but undoubtedly sincere. For fans of the two chanteuses, there's music from both, but very sparsely used, although there's a nice moment when their distinctively fragile voices fuse rehearsing a duet.
Production companies: Nolita Cinema, Deadly Valentine
International sales: The Party Film Sales, clemence.lavigne@thepartysales.com
Producers: Mathieu Ageron, Maxime Delauney, Romain Rousseau, Charlotte Gainsbourg
Cinematography: Adrien Bertholle
Editor: Tianès Montasser, Anne Person