Dir. Rachel Perkins. Australia, 2016, 101 mins.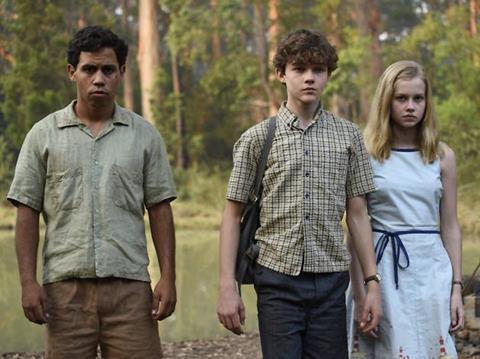 Small-town secrets, particularly of the dead girl kind, are as common as coming-of-age tales. And yet, in mixing the two, adding a dash of To Kill a Mockingbird-style intrigue and steeping its story in the quirks and attitudes of its rural setting circa 1969, Australian book-to-screen adaptation Jasper Jones shows no signs of genre fatigue or narrative overload. Instead, Rachel Perkins' first feature since festival hit Bran Nue Dae (2009) proves an engaging mystery, a warm-hearted account of friendship and an exploration of courage in the face of prejudice.
Levi Miller turns in his best work to date
At home, the film also comes to the screen with considerable anticipation and fanfare: Craig Silvey's 2009 novel is an award-winning best-seller, while a stage version has been treading the boards nationwide since 2014.
Australian distributor Madman will be hoping that bodes well for box office success, alongside the considerable audience appeal of a cast boasting Red Dog: True Blue's Levi Miller, The Nice Guys' standout Angourie Rice, and veteran talents such as Toni Collette and Hugo Weaving. The combination of a universal story and star appeal should also boost the feature's fortunes for potential international interest following its March 3 local release.
Unsurprisingly, it's thanks to the aforementioned dearly departed teen that 14-year-old Charlie Bucktin (Miller) crosses paths with the titular character (Aaron McGrath). Less expectedly, their meeting comes in the thick of a hot summer night over Christmas, courtesy of Jasper's plea for help at Charlie's window. After finding his white girlfriend hanging from a tree on the outskirts of their fictional Western Australian home town of Corrigan — and from his rope, nonetheless — the part-Aboriginal outcast is certain he'll wear the blame from the small-minded, already unwelcoming community. He's similarly adamant about his innocence, which Charlie believes.
A book-loving boy fond of arguing about the merits of superheroes with his cricket-obsessed best friend and neighbour Jeffrey Lu (Kevin Long) — "the thing about Spider-man is that he'd be useless in a place like Corrigan" — the shy but kindly Charlie is primed for the case, even if it pushes him well beyond his comfort zone. Jasper suspects local recluse Mad Jack Lionel (Weaving), focusing their detective efforts accordingly. Meanwhile, Charlie struggles with keeping a secret from his crush Eliza Wishart (Rice), who happens to be the victim's sister, and with weathering the tension between his mild-mannered father (Dan Wyllie) and unhappy mother (Collette).
Working from Shaun Grant's (Berlin Syndrome) perhaps overly patient screenplay and Silvey's shooting script, Perkins cites the likes of Stand By Me as inspiration for her take on the tale. As kids ride bikes and roam unsupervised in cinematographer Mark Wareham's (A Month of Sundays) lovingly lensed widescreen frames, then learn harsh truths and discover what it really means to be a hero set to Antony Partos' (Tanna) spirited score, the influence of '80s classics is clear.
With this in mind, and with the bulk of the action preoccupied with the feature's younger players, Miller turns in his best work to date, Rice demonstrates why she's a rising star, McGrath balances conflict and quiet charm, and debutant Long make a splash.
Still, there's ample room for Collette and Weaving to impart added complexity, the former striving to present a picture of small-town domestic bliss but seething with the hardship of marital disharmony, and the latter once again leaving an imprint as a wearied character on the margins.
Jasper Jones may come hot on the heels of other youth-centric Australian efforts, such as The Daughter, Girl Asleep, Red Dog: True Blue and Emo the Musical, yet a new adolescent adventure that peers beneath the surface of close-knit country life — and interrogates small-minded pre-conceptions, discrimination and inequity — is always welcome.
Production company: Bunya Productions, Porchlight Films
Australian distribution: Madman Entertainment
International Sales: Mongrel Media, info@mongrelmedia.com
Producers: Vincent Sheehan, David Jowsey
Screenwriters: Shaun Grant, Craig Silvey, based on Silvey's novel
Cinematographer: Mark Wareham
Editor: Veronika Jenet
Music: Antony Partos
Production designer: Herbert Pinter
Costume designer: Margot Wilson
Cast: Levi Miller, Aaron McGrath, Angourie Rice, Dan Wyllie, Matt Nable, Toni Collette, Hugo Weaving