Director Thomas Napper makes his debut with this nimble drama of down-for-the-count boxer chasing one last win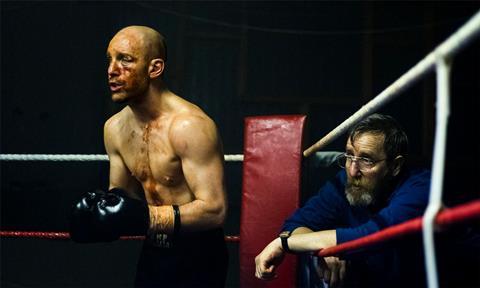 Dir: Thomas Napper. UK, 2017, 91 minutes
Actor Johnny Harris and debut feature director Thomas Napper breathe some fresh life into a familiar genre in Jawbone, a gritty, low-budget British drama about the comeback attempt of a washed-up boxing champ. Defiantly modest in narrative scope – Harris' bloodied brawler fights only one match – and all the better for that, this S London-set feature scores in authenticity what it lacks in fist-pumping populism. Critical support should propel UK distributor Vertigo to some modest theatrical success while names including Ray Winstone and Ian McShane, both making a vivid impression with limited screen time, could help Jawbone land some punches in foreign.
The charm of Jawbone is its compellingly human scale
Harris, here making his feature screenwriting and producing debut, shies away from a too-easy bid for audience sympathy with self-destructive protagonist Jimmy McCabe. He refuses any help from the local authority trying to rehouse him – he's the sole occupant of a tower block that's about to be demolished – and he seems lost in a spiral of bitterness, anger, and grief over the death of his mother the previous year. His only release for his pain is to sit on a bench by the Thames at night, self-medicating with neat vodka.
So far, so familiar – although Paul Weller's discordant score and inky lensing from Tat Radcliffe (Yann Demange's '71) add some original tang, and Harris makes Jimmy increasingly watchable.
McCabe's inevitable eviction is the trigger that sets him on a path to redemption as he returns to the boxing gym run by tough-but-fair Bill (Ray Winstone) and Bill's weary assistant Eddie (Michael Smiley), and seeks an opportunity with fight fixer Joe (Ian McShane). This turns out to be an unlicensed contest in the North of England, where a baying audience regularly pays to see a local vicious bruiser (an energetic turn by real-life MMA fighter Luke Smith) batter a conveyor belt of lesser opponents.
The charm of Jawbone – which owes its origins to Harris' and Adam Smith's light-hearted boxing-themed short Jimmy the Hook, albeit notably different in tone – is its compellingly human scale. Jimmy trains and does his best, but the progress he makes prior to the climactic fight resides within credibly plausible limits (thanks, perhaps to the input of boxing consultants Barry and Shane McGuigan). Nor are Jimmy's former glories built up to be too glorious, and are in fact rooted in Harris' own teenage boxing experiences: like his protagonist, the actor won an ABA junior championship at 16 before falling away from the sport.
The early restraint pays dividends when McCabe finally enters the ring for the contest: a visceral tour de force that is grubbily resonant and powerfully convincing. Working with an agile Harris, editor David Charap and sound mixer Jerome McCann, Napper (who made his name as second unit director on a string of Joe Wright features and also helmed 2010 documentary Lost Angels: Skid Row Is My Home) pulls us into a bloody battle where brave, desperate need confronts a punishing, preening bully. "Break his heart," urges Smiley's corner man Eddie, and, by this point, audience rooting interest is a given.
Jawbone is that rare film that actually feels shorter than its nimble running time, and its very modesty might well underwhelm audiences attuned to the more extravagant conceits of the recent Creed and Southpaw. For the rest, its underdog charms are suitably ample.
Production companies: Emu Films, Marlin Films, Revolution Films
International sales: Independent Film Sales, mail@independentfilmcompany.com
Producers: Michael Elliott, Johnny Harris
Screenplay: Johnny Harris
Cinematography: Tat Radcliffe
Editor: David Charap
Production design: Nick Palmer
Music: Paul Weller
Main cast: Johnny Harris, Ray Winstone, Michael Smiley, Ian McShane, Luke Smith, Jackie Clune, Simon Manyonda