Dystopian drama from France stands out from the crowd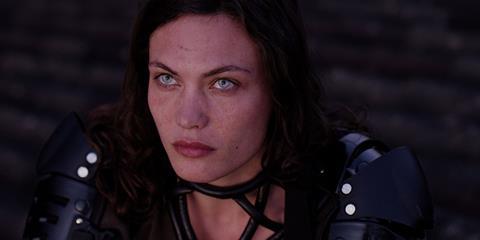 Dirs/scr. Caroline Poggi, Jonathan Vinel. France. 2018. 97 mins
Marking the feature debut of writer-directors Caroline Poggi and Jonathan Vinel (the duo behind 2014 Berlinale Golden Bear-winning short As Long As Shotguns Remain), this ambitious, dystopian film steps into the existence of orphaned teenage misfits, all male, who are considered enemy number one by drone-wielding special forces. Only the titular Jessica (Love's Aomi Muyock) affords them any kindness — and, as it engagingly charts her influence upon the squad of violent lost boys, Jessica Forever proves a candidate for further festival play, particularly on the genre circuit.
The film also presents a feminist subversion of typical saviour narratives
Closing out Toronto's Platform strand, this sci-fi drama commences with high-concept panache but assuredly shifts its focus to the emotional toll of fighting for survival. (In North America, the film is also destined for Shudder in 2019).
At an unknown time and place, and after an unspecified period of corralling her loyal band of testosterone-fuelled outcasts, Jessica discovers their newest recruit: the quiet yet tightly-wound Michael (Sebastian Urzendowsky). Initiated through the ritualistic bestowing of bulletproof vests, guns and knives, his penchant for destruction wanes as he slowly finds his place within the makeshift family dynamic. The young men train together, nap together and fight together, all under the watchful eye of Jessica as their resourceful surrogate mother.
Jessica Forever is less concerned with mechanics of the fractured society at its centre, and more interested in the inner restlessness such circumstances spark. That remains true even with Jessica helping quell the teens' looting, marauding and attacking, and even more so as the group carves out a tentative sense of normality in a luxurious mansion.
In exploring youthful malaise as a response to heightened times, the feature recalls the heady, reactionary restlessness of Nocturama — and in its sensory visuals and opulent surroundings, too. But, in burrowing into the emotional scars that plague Michael and his new friends as they try to reconcile their past impulses with their new lives, it bears echoes of war movies that ponder the consequences of combat.
With the charismatic Jessica offering a ray of hope for the wayward souls in her care, the film also presents a feminist subversion of typical saviour narratives; here, survival isn't about someone swooping in and saving the day, but about learning empathy, unity, respect and resilience. It's a message that's grounded in Jessica as a character, and in Muyock's portrayal. She looks every bit the usual strong female action hero, taking charge and marching into battle when needed, but she's never robbed of her femininity.
Still, in a feature with such evident confidence, not every element hits its mark. Poggi and Vinel's script takes time to find its rhythm and, even when it does, some characters remain a means to an end. That said, there's poise and flair in the film's overall stripped-back nature, echoed in its aesthetic touches as well. The filmmakers boast a distinctive sense of style and pace, as strikingly realised by After School Knife Fight cinematographer Marine Atlan and Divines editor Vincent Tricon. Whether parachutes are raining down from the sky, drones are flying through windows, characters are playing normal at the mall or Jessica is arming up the group for action, Jessica Forever possesses an otherworldly look and feel — another adaptive tactic that helps it stand out in the heavily populated dystopian realm.
Production companies: Ecce Films Arte, France Cinema
International sales: MK2 Films, fionnuala.jamison@mk2.com
Producers: Emmanuel Chaumet
Production design: Margaux Remaury
Editing: Vincent Tricon
Cinematography: Marine Altan
Music: Ulysse Klotz
Main cast: Aomi Muyock, Sebastian Urzendowsky, Lucas Ionesco, Paul Hamy.