The Jigsaw Killer is back for more gory games in the latest instalment of the Saw horror franchise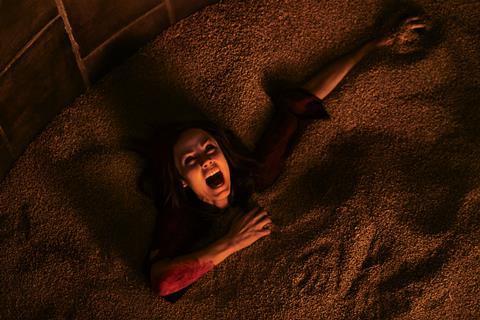 Dirs: Michael Spierig, Peter Spierig. US. 2017. 91 mins.
There's an understandable misapprehension that the Saw films are all about the twisted torture game devices, but the real strength of the franchise – all the way back to James Wan's small-scale original Saw (2004) – has been its commitment to equally twisted mystery plotting. The set-piece death traps may provide memorable moments, but the strongest series instalments deliver sleight of hand plotting.
Editor Kevin Greutert cuts plot strands and suitably squirmy gore scenes together with the precision and flair of a typical Jigsaw trap
Seven years on from Saw 3D, Jigsaw relaunches the franchise in its traditional last-week-of-October release slot with a suitably perplexing set of mysteries; not least of which is how John Kramer (Tobin Bell), aka the Jigsaw Killer, can be playing his games 10 years after his fairly definitive death. Have we entered the realms of the supernatural? Was the death (and autopsy) another deceit? Or has Jigsaw inspired a new generation of copycats? It remains to be seen whether Jigsaw can hook in new generations of horror fans or bring back the crowds which supported the highly profitable earlier films, but this genuinely is a fitting jumping-on point for the Saw saga.
In the anonymous North American city – played, as ever, by Toronto – once terrorised by Kramer, corner-cutting cop Halloran (Callum Keith Rennie) takes down a jittery suspect who has been forced by person or persons unknown to trigger a remote control device which starts a new series of deadly games. In a separate story thread, five bedraggled folks with buckets fixed to their heads are tugged awake by chains and dragged towards a wall of buzzsaws. These new contestants, all culpable in the deaths of innocent people, have a slim chance of surviving if they shed their own blood and demonstrate genuine remorse. Spoiler- most don't make it.
Back in the city, mutilated corpses turn up and Halloran consults with medical examiner Logan Nelson (Matt Passmore) and his strange assistant Eleanor (Hannah Emily Anderson) on the new killings. As always in the world of Saw, the investigators are also ensnared in the games – and everyone is a suspect. Halloran's partner (Clé Bennett) is an internal affairs officer out to make a case against him. Nelson has an iffy war record and a mysterious dead wife in his past, plus a hint of malpractice back when he was working with live patients rather than cold corpses. And Eleanor is a collector of Jigsaw memorabilia whose hobby is assembling working models of Kramer's traps in her own sinister lair.
Screenwriters Pete Goldfinger and Josh Stolberg and directors Michael and Peter Spierig are new to the series, but qualified to tackle the razorwire labyrinth by their work writing the inventive slasher remake Sorority Row and directing the time paradox drama Predestination. Saw creators Wan and Leigh Whannell remain credited as executive producers, but the key returning creative is Kevin Greutert. Editor of all the Saws but the first (and also director of Saw 3D and the surprisingly outstanding Saw VI), Greutert cuts plot strands and suitably squirmy gore scenes together with the precision and flair of a typical Jigsaw trap.
Known for delivering a high yield on a modest investment, the Saw series tends to use non-name players as guest stars (the few survivors are likely to return in future sequels), with only pale, quietly-spoken Bell as a continuing presence. And John Kramer is a unique franchise fiend – he isn't technically a murderer, since his victims could all escape if they put their minds to it. Bell delivers moral lessons embedded with significant clues with a kind of non-ranting sympathy and seriousness which always raises the hackles.
Production companies: Serendipity Productions, Twisted Pictures, A Bigger Boat
Distribution / sales: Lionsgate
Producers: Mark Burg, Gregg Hoffman, Oren Koules
Executive producers: Peter Block, Daniel J.Heffner, Stacey Testro, James Wan, Leigh Whannell
Screenplay: Pete Goldfinger, Josh Stolberg
Cinematography: Ben Nott
Production Design: Anthony Cowley
Editor: Kevin Greutert
Music: Charlie Clouser
Main Cast: Matt Passmore, Tobin Bell, Callum Keith Rennie, Hannah Emily Anderson, Clé Bennett, Laura Vandervoort, Paul Braunstein, Mandela Van Peebles