Pema Tesden's fifth feature from Tibet is backed by Hong Kong's Wong Kar-wai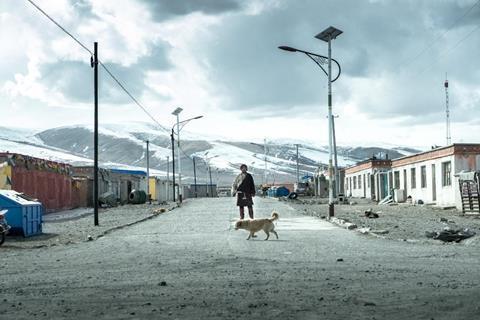 Dir. Pema Tseden. China. 2018. 86 mins.
So this man's driving along a road… Essentially a shaggy dog story (or shaggy sheep tale) with an eerie metaphysical dimension, Tibetan road movie Jinpa is a playful, gently perplexing and distinctly stylish fifth feature from director Pema Tseden, whose films include The Silent Holy Stones (2006) and Tharlo, a 2015 entry in Venice's Orizzonti section.
Interplay between the characters, and scenes of the driver alone in his cab or with his passenger, carry a deadpan touch of Jim Jarmusch or Aki Kaurismäki.
Playing at a concise 86 minutes, Jinpa nevertheless has the anecdotal feel of a short slightly stretched beyond its natural capacity, but it's an enjoyable, teasing and very sly-humoured watch with a charismatic lead and arresting visuals. Production input from Hong Kong maestro Wong Kar-wai should add to the film's visibility on the festival circuit, with niche outlets also likely to hitch a ride.
Preceded by a caption outlining a Tibetan proverb – about how we become part of other people's dreams - the slight but unsettling narrative is based on two stories, one by Tsering Nobu, the other the director's own 'I Ran Over a Sheep', a title which pretty much cuts to the chase. The setting – hauntingly captured in Lu Songye's Academy ratio photography – is Kekexilli, a desolate, scantly populated Tibetan plains region 5,000 metres above sea level. Across this expanse, amid sparse snow fall, travels a lorry driver – a scowling, shaggy-haired man in leather and dark glasses, who entertains himself en route by playing and singing along to a cassette of 'O Sole Mio'.
He runs over and kills a sheep – cue arresting close-up of the beast's blood-spattered muzzle – loads it board, then picks up a passenger, a taciturn man in traditional local garb. It turns out that the man's name, given him by a lama, is Jinpa – and we now learn that the driver's name, similarly acquired, is also Jinpa. In fact, Jinpa is also the name of the actor playing the driver; his passenger is played by Genden Phuntsok.
The driver is troubled to learn that the traveller, who's carrying a sword, is heading to a place called Sanak, with the intention of killing the man who killed his father years before. Dropping him off at his destination, the driver – worried about bad karma - visits a monastery and persuades a monk to pray for the soul of the sheep, then visits a girlfriend for a night of love. But the man's story is troubling him, and he feels he should prevent the murder. In search of the would-be assassin, he heads to a teahouse, where a flirtatious hostess (Sonam Wangmo) serves him a meal and tells him a story – one of two flashbacks in blurry, distorted black and white. The payoff is a little mystifying and arguably slight, but the trip has certainly taken you somewhere you don't often go, geographically and cinematically.
Pema Tseden is blessed with an arresting cast - notably Sonam Wangmo, who has a positively vampish screen presence, and extraordinary lead Jinpa, also seen in Tharlo, who here exudes a likeable, somewhat punky tough guy persona with a hint of Clint Eastwood's Man With No Name. Interplay between the characters, and scenes of the driver alone in his cab or with his passenger, carry a deadpan touch of Jim Jarmusch or Aki Kaurismäki.
Lu Songye's photography is naturalistic but poetic when it comes to capturing the Kekexilli plains, but more expressionistic in the interiors, notably in the stylised flashbacks and a culminating dream sequence, and there's some gorgeous colour play, like the juxtaposition of a hot red-orange interior sequence and chilly yellow-green hues for the night outside. There's also terrific sound, by Tu Duu-Chih and Wu Shu-Yao, especially in the teahouse scene where the background chatter of dice players resonates and repeats to decidedly dream-like effect.
Production companies: Jet Tone Films, Shanghai Tang Dynasty Communications Co., Qinghai Mani Stone Pictures Co., Master China Films
International sales: Block 2 Distribution, charlotte@jettone.net
Producers: Wong Kar Wai, Jacky Pang
Screenplay: Pema Tseden
Cinematography: Lu Songye
Editors: William Chang
Production design: Nyima Tenzin
Music: Lim Giong, Point
Main cast: Jinpa, Genden Phuntsok, Sonam Wangmo