IDFA's Best Dutch Documentary is an intimate portrait of the Covid-19 pandemic in which the directors turn the camera on themselves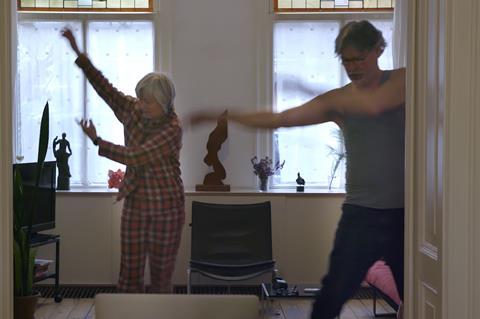 Dir/scr: Peter Lataster, Petra Lataster-Czisch. Netherlands. 2022. 115 mins
For obvious and unfortunate reasons, the lockdown chronicle is likely to prove a crowded cinematic sub-genre for some time yet. But there will be few more distinguished or rewarding examples than Journey Through Our World from veteran Netherlands-based filmmaking team Peter Lataster and Petra Lataster-Czisch.
The Latasters train their two cameras mainly on themselves, creating a nuanced, humorous and candid self-portrait of a long-time happily-married couple
Named the Best Dutch Documentary when premiering at Amsterdam's non-fiction giant IDFA, where it also won the Best Editing prize in the International Competition, this is an irresistibly warm work of solid humanism. It shows in intimate detail how testing circumstances can bring out the best in both married couples and urban neighbours. While not quite up to the lofty level of the Latasters' superb and deeply moving school-based Miss Kiet's Children (2016), the latest in their long series of joint ventures will be a popular choice for festivals and small-screen outlets — including those not directly oriented towards documentary.
With Covid-19 pandemic lockdowns varying in severity and duration from country to country, those in the Netherlands were relatively mild; citizens being allowed out for exercise as well as shopping without need for official approval. The sexagenarian Latasters nevertheless adopted a cautious approach, staying put for the length of the restrictions. Filming was, we deduce, a way for them to retain mental equilibrium. Online video-calling helps them keep connection with close friends — the latter are eventually able to visit in person when the pandemic moves into a less lethal phase, and contribute significantly to the picture's emotional impact in its latter stages.
Journey Through Our World functions on multiple levels, a valuable time-capsule of how creative, politically-attuned Europeans responded to a dire global event without direct precedent in living memory. The Latasters train their two cameras mainly on themselves, creating a nuanced, humorous and candid self-portrait of a long-time happily-married couple. Never straying from the confines of the Latasters' (quite spacious) Amsterdam flat and its leafy back garden over a period of months, their cameras occasionally capture goings-on in the adjacent properties — with the occupants' consent — as well as the duo's interactions with these friendly folk.
The most surprising element is the way the film emerges as an enthralling nature documentary with a vivid supporting "cast" of creepy-crawlies, flying insects and, best of all, two highly intelligent crows and their youthful offspring — named Genia, Xenia and Junior. These clever corvids are also glimpsed via the smartphone lenses of a cheerful Ukrainian couple who help out with the Latasters' shopping. This hand-held footage provides an effective counterpoint to the directors' more classical, tripod-fixed approach.
Working as usual with editor Mario Steenbergen and for the first time with score-composer Harry de Wit (whose contributions are extensive but never intrusive), the Latasters juxtapose these human and non-human worlds with a mature, intelligent eye. This fulfils their deliberate, stated intention of emphasising how the Covid-19 virus "came from nature" and must thus be understood as part of ongoing life/death cycles. And while the human cost of the pandemic has already been tragically immense, Journey Through Our World offers welcome hints of cautious optimism regarding lessons that could and should have been learned along the way.
Production company: L&F Productions
International sales: NPO Sales, info@nposales.com
Producer: Peter Lataster
Cinematography: Peter Lataster
Editing: Mario Steenbergen
Music: Harry de Wit