Director: Kiyoshi Kurosawa. Jap-Fr. 2015. 128 mins.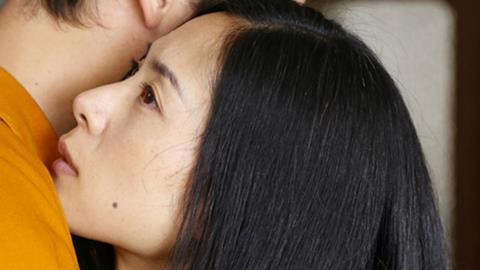 A supernatural romantic road movie takes an initially intriguing but ultimately dead-end route in Japanese maverick Kiyoshi Kurosawa's latest feature. Mixing up the genre elements of his earlier films like Pulse with the more sentimental, character-led side he displayed in his most successful export to date, Tokyo Sonata, Kurosawa's overlong afterlife love story seems undecided whether it belongs in the arthouse or on afternoon TV, and it's a conflict that mars a rosy premise.
This extended metaphor for the grieving process relies too heavily on ambience alone.
Though a niche player even in his native Japan, Kurosawa's visibility has been helped recently by his association with TV miniseries Penance. This and the star duo at the centre of Journey – Eri Fukatsu and Tadanobu Asano – should give the new feature a respectful reception, though its languorous pacing will hinder wider acceptance. Away from home, Journey is no shoe-in for arthouse distributors despite its Cannes Un Certain Regard Premiere, although Version Original/Condor is releasing in France.
Introverted, solitary Mizuku (Fukatsu) inhabits a beige world – at least if her apartment, where she gives piano lessons, is anything to go by. We see her being berated by the mother of a recalcitrant pupil for choosing a dirge-like tempo for the piece she's set him to learn. Then a man in an orange trenchcoat wanders out of a dark corner into her living room. It's Yusuke (Asano), Mizuku's former husband, who disappeared three years previously. He tells her he drowned in the sea; but he's here now, intact and apparently in good health. Unfazed after the initial surprise, she serves him shiratama rice dumplings (the preparation of food is a recurring theme: it's as if we're witnessing a deferred funeral feast). And he offers to take her on a journey to "some places – beautiful places" that he has visited since his passing.
Nothing else in Journey to the Shore is as engaging as this intro. It's true that, as Yusuke leads Mizuku on a trip by train and bus around Japan to visit those who have helped him out in his undead afterword to his life, there's plenty to keep us watching and guessing. Settings and sets build a picture of an autumnal world, one of unresolved regrets and ageing arts and technologies, as in the local newspaper office, run by elderly Mr Shimakage (Komatsu), which is the first of the three stages on the couple's journey. Shimakage, Yusuke tells his wife, is "like me" – dead but still attached to this world, though in his case he hasn't even noticed he's crossed the line.
At first, the idea that this may all be a dream of Mizuku's is toyed with; but soon enough Yusuke is a fixture, doing all a man does except marital intimacy, which seems not to be an option in his netherworld state. The shyness and formality in the couple's rapport is charming at first, but soon smothers much emotional engagement – and an over-the-top orchestral soundtrack, so high in the mix that it sometimes drowns out the dialogue, does little to redress this. Changing the music and losing at least twenty minutes from the indulgently long running time might well have helped Journey to live up to its potential, which is glimpsed in bursts. Kurosawa remains a master of twilight-zone atmosphere, but this extended metaphor for the grieving process relies too heavily on ambience alone.
Production companies: Amuse Inc, Wowow, Office Shirous, Comme des Cinemas, Showgate, Pony Canyon, Hakuhodo
International sales: MK2, intlsales@mk2.com
Producers: Hiroshi Endo, Masa Sawada, Hiroko Matsuda, Takehiko Aoki
Screenplay: Takashi Ujita, Kiyoshi Kurosawa, based on the novel by Kazumi Yumoto
Cinematography: Akiko Ashizawa
Editor: Tsuyoshi Imai
Production designer: Norifumi Ataka
Music: Yoshihide Otomo, Naoko Eto
Main cast: Eri Fukatsu, Tadanobu Asano, Masao Komatsu, Yu Aoi, Akira Emoto