Shot live and set in a prison, this rough, all-female Shakesperean production is urgent, diverse and relevant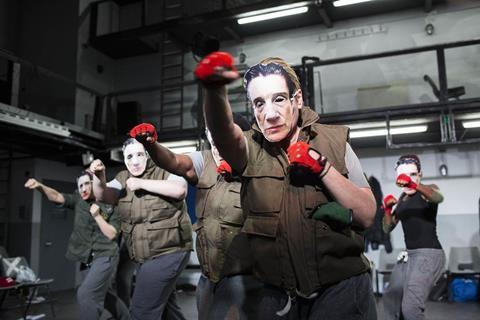 Dir. Phyllida Lloyd. UK. 2017. 113 mins.
Director Phyllida Lloyd delivers a riposte to the idea that cinema derived from theatre is somehow a static, inflexible affair with her vital all-female production of Julius Caesar. Set in a women's prison, and derived from her touring Donmar Warehouse trilogy (which also included The Tempest and Henry IV), this live-shot show (over two nights) is a hybrid of theatre, event cinema and something more shockingly intimate and connective.
This is dynamic theatre, much more close-up and urgent than event cinema
Set to compete at the Edinburgh Film Festival, Julius Caesar was originally intended as a record of both Harriet Walter's extraordinary performance (as Brutus) and the work Lloyd has done with the Clean Break Theatre Company, which collaborates with female ex-offenders. Yet its rough-edged go-pro rush could make an artistic mark outside obvious educational and rehabilitation potential, in much the same way as fellow theatre director Rufus Norris's London Road had its own impact.
This is dynamic theatre, much more close-up and urgent than event cinema, which Lloyd has avoided, yet also incorporating an audience and some real-life events from her experience of working in prisons. (Occasionally, for example, performers will swop roles when one is marched out for a court date, or for medication.) This type of production has been attempted before onscreen, most notably The Taviani Brothers with the all-male Cesar Must Die winning the Golden Bear in 2012. Yet Lloyd's drama doesn't really compare.
When the director of Mamma Mia! and The Iron Lady first signed on with London's Donmar Warehouse to stage these touring Shakespearean productions, back in 2012, the all-female concept seemed like a novelty: but times have changed. Within minutes and before Brutus even makes her appearance, sex already seems secondary. Walter delivers the hoped-for powerhouse performance, but the whole cast impresses. Martina Laird, as Cassius, is a standout (and previously best known outside theatre circles for a part in British TV soap Casualty), as is Jackie Clune as Julius Caesar, Karen Dunbar as Casca, and young Jade Anouka as Mark Anthony.
Yet although the sex of the performers may seem irrelevant, it is also important, in ways that are hard to quantify. Every actor puts on a robe for Julius Caesar, and the women here would appear to have an added layer between them and their male characters. Yet in some magical way, this helps to dispense with the trappings and connect the viewer directly with the rawness of Shakespeare's text. Between the prison setting, the rough camera-work, the vital performances and this added element, the violence has rarely seemed so real and the meaning so stark in today's tumultuous political stage – something that's underlined by Walter's final, ad-libbed exeat. Lloyd turns the piece into a truly dangerous game.
Anyone expecting a smooth cinematic experience when this goes out through Trafalgar Releasing – it's set for arthouse distribution in the UK on July 12, with some screens showing a live Q&A afterwards – will come away disappointed. But they'll definitely feel the passion behind it. It's exhilarating to be shown a Shakespeare which is tangibly alive on screen in an unexpected, progressive way, and a relief to see the greats soldier on to a new generation with such vitality as delivered by Lloyd, Walter and this cast and crew.
Although students (of all types) may end up being the most enduring audience for this diverse piece, they stand a better chance than ever of being able to relate to what they see. In that way, Lloyd has achieved the testament she intended; it's a record, certainly, but her Julius Caesar may also have a very particular legacy.
Production companies: The Donmar Warehouse, About This Space, Trafalgar Releasing
International sales: Trafalagar Releasing, sales@trafalgar-releasing.com
Executive producer: Kate Pakenham
Producers: John Wyver, Kate Pakenham
Artistic Director, Donmar Warehouse: Josie Rourke
Cinematography: Rhodri Huws
Lighting: James Farncombe
Designer: Bunny Christie
Sound: Tom Gibbons
Editors: Jo Anne Dixon, Dyl Goch
Main cast: Jade Anouka, Jackie Clune, Karen Dunbar, Jennifer Joseph, Martina Laird, Harriet Walter, Sheila Atim