'Wolf Creek's Greg McLean strands Daniel Radcliffe in Bolivia for a survivalist drama-turned-thriller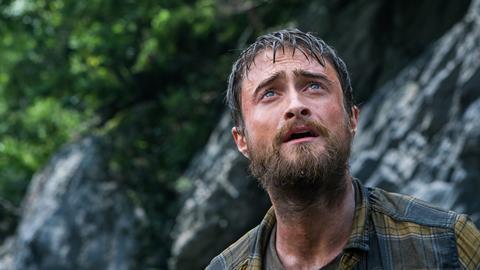 Dir. Greg McLean. Australia. 2017. 115 mins.
It has been more than a decade since Wolf Creek took the seeming kindness of strangers and the sparseness of the Australian outback to savage serial killer extremes, but Greg McLean isn't done with roaming tourists, mysterious interlopers and threatening landscapes just yet. Stranding Daniel Radcliffe in Bolivia's unforgiving splendour, the horror filmmaker's Jungle adapts Israeli adventurer Yossi Ghinsberg's memoir into an survivalist drama meets man-against-nature thriller — though the director remains most comfortable and capable with visceral jolts rather than adding flesh and blood to his familiar scenario.
Inspiring survivalist dramatisations and pulpy genre thrills make for predictably awkward bedfellows, though Jungle brings enough spirit to each to remain engaging enough
Ripping into a charred monkey carcass, rampaging down the Tuichi River's rocky rapids and wrestling with cranial parasites might hold on to audience attention; however it's star power that should initially lure them in in modest numbers, as well as another case of déjà vu. It was only last year that Radcliffe was stuck in remote climes in Swiss Army Man. Still, the lost wanderer genre is an apt fit for the former Harry Potter actor as he attempts to venture far away from the franchise that brought him to fame.
For Jungle, which premiered at the Melbourne International Film Festival thanks to their funding support, that means stepping into Ghinsberg's early-'80s shoes, adopting his accent with unflashy efficiency, trekking well off the beaten path in South America and then detouring from that trail as well. After scene-setting voiceover espouses the expected self-discovery platitudes that tend to spark such journeys, it's a relatively swift jump from the usual backpacking antics to slogging through the thick of the rainforest (with Mount Tamborine in southeast Queensland largely standing in for the Amazon).
Ghinsberg has already picked up two pals along the way — quiet Swiss teacher Marcus Stamm (Joel Jackson) and his brash American photographer friend Kevin Gale (Alex Russell, the standout among the feature's supporting players) — but it's a third who leads them into the titular jungle. Promising lost tribes, rivers of gold, magazine-quality snaps and an all-round authentic experience, enigmatic Austrian Karl Ruchprecter (Thomas Kretschmann) soon has them stomping through the wilderness, eating wildlife and mostly buzzing about their jaunt. Then Stamm's injured feet hamper their progress, the adventurous camaraderie begins to fray and the group splits up.
Helming a script by Spear's Justin Monjo, McLean charts the opposite trajectory to his intrepid travellers: they're happiest when the going gets only slightly rough, but he's in his element when the going truly gets tough. Indeed, Jungle becomes a film of two distinct parts, with the first conveying the stock-standard into-the-wild build-up with neat, staid competence; and the second lively and gleeful as Ghinsberg struggles, suffers and hallucinates. Alas, both sit in the shadow of fellow explore-and-endure efforts —lacking the grace and depth of James Gray's similarly real-life-inspired The Lost City of Z, and reaching for but not quite achieving the mania of Werner Herzog's also Amazon-set Aguirre, the Wrath of God.
Of course, inspiring survivalist dramatisations and pulpy genre thrills make for predictably awkward bedfellows, though Jungle brings enough spirit to each to remain engaging enough. A handful of visually and emotionally memorable moments prove far more gripping than the overall finished feature, but McLean's second-half fervor pairs convincingly with his committed lead and luscious scenery. Compellingly tussling with his surroundings, Radcliffe helps give weight to a protagonist broadly written like an archetype, even given the material's true-tale origins, while cinematographer Stefan Duscio (The Mule, Backtrack) finds both beauty and darkness in the film's picturesque yet ominous tropical setting.
Production companies: Arclight Films, Dana Lustig Productions
International sales: Arclight Films, info@arclightfilms.com
Producers: Gary Hamilton, Mike Gabrawy, Dana Lustig, Todd Fellman, Greg McLean
Executive producers: Yossi Ghinsberg, Mark Lazarus
Screenplay: Justin Monjo
Cinematography: Stefan Duscio
Production design: Matthew Putland
Editor: Sean Lahiff
Music: Johnny Klimek
Cast: Daniel Radcliffe, Thomas Kretschmann, Alex Russell, Joel Jackson, Yasmin Kassim, Lily Sullivan