Screenwriter Erica Li makes her directorial debut with Chris Doyle behind the lens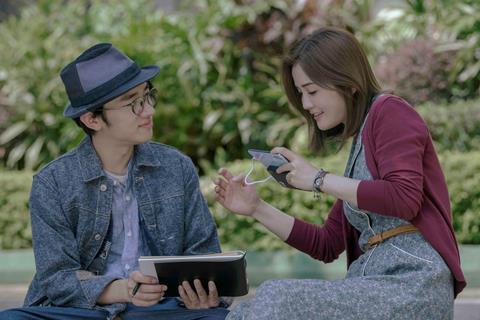 Dir/scr: Erica Li. Hong Kong. 2021. 98 mins
An unashamedly sentimental weepy which deploys the big guns of terminal disease and unrequited love set against a backdrop of Hong Kong at its most romantic, Just 1 Day is a tearjerker which leans heavily on the appeal of its adorable leads. Hong Kong-Canadian singer and actress Charlene Choi plays bank teller Angelfish; Wong Cho Lam is Mosaic, an 'urban sketcher' who has yearned after her since they were classmates at elementary school. But Mosaic's diagnosis with the degenerative disease ALS prompts him to conquer his nerves and ask Angelfish to pose as his girlfriend for 'just one day.'
A sweetly soppy story
The film marks the directorial debut of prolific screenwriter Erica Li (credits include The Legend is Born: Ip Man, and Stephen Chow's King of Comedy), who adapted the screenplay from her own romantic novel. It's a big-hearted but naïve piece of storytelling which is likely to best connect with domestic audiences. The involvement of Christopher Doyle as Director of Photography might be a draw on the festival circuit, although the dreamy but clean look of the film represents Doyle at his most restrained and polite.
Angelfish is a romantic who has always hoped that the first time she watches the sun rising over Hong Kong harbour, she will be standing next to someone who truly loves her. But her current boyfriend, inconveniently shared with a former girlfriend he hasn't yet been able to dump, doesn't seem to be the right one. Then, at a school reunion, she bumps into Mosaic. Seeing her plunges him into consternation: he is mortified by the fact that he is still shorter than she is. But through sepia-toned reminiscences, they recapture the special connection that was first forged over shared crayons. Li emphasises the fact that, deep down, both are still essentially the children they once were – there's a tacit chasteness to the bond which grows between them, a dewy innocence in their encounters.
Li's soft-focus approach extends to Mosaic's disease. The one-day date he shares with Angelfish is not marred by any major symptoms aside from a dropped pencil. He has meticulously planned their day together with an almost stalkerish precision – breakfast with a former teacher-turned-miniature model maker is followed by a movie together, an impromptu song performed on a guitar borrowed from a busker and, naturally, the opportunity to watch the sunrise.
It takes Angelfish a few weeks to realise that not only does Mosaic love her, she also loves him. By which point, his condition has dramatically deteriorated, to the extent that he needs a full time carer. None of this is subtle: a swelling, lachrymose score works diligently to ensure that no tear is left un-jerked. But the incorporation of the miniatures – little worlds, reshaped with painstaking care into flawless versions of the real thing – brings an element of charm to this sweetly soppy story.
Production company: Emperor Motion Pictures
International Sales: Emperor Motion Pictures enquiry.emp@emperorgroup.com
Producers: Herman Yau, Jason Siu
Cinematography: Christopher Doyle
Editor: Azrael Chung
Production Design: Pong Sze Ho
Music: Patrick Leung
Main cast: Charlene Choi, Wong Cho Lam, Kenny Wong, Kathy Yuen, Eric Kwok, Leung Ka Ki, Sunny Chan