Dir/scr. Craig Roberts, UK, 2015, 84 mins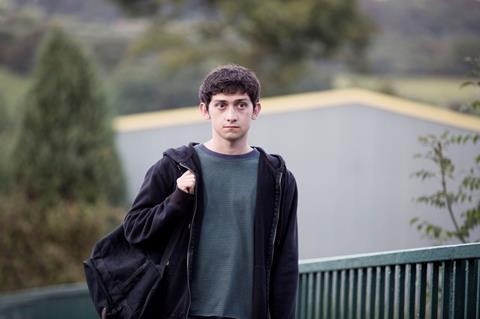 Welsh actor Craig Roberts makes his directorial debut with Just Jim, a darkly awkward comedy set in his hometown of Maesycwmmer which premiered at the SXSW festival. A modest feature, both in scale and length (a brief 84 mins), Just Jim stars Roberts himself and Emile Hirsch in a story about a misfit teenager who is befriended by a subversive American neighbour.
As a directorial debut, Just Jim is an encouraging start for Roberts, should he ever wish to give up the day job.
Backed by UK public money and set for a local release through Soda Pictures, Just Jim may draw some attention for its cast and setting, although the theatrical arena could prove a challenge. Whimsical and static and heavily influenced by Lynch, Wes Anderson and Roberts' Submarine director Richard Ayoade, Just Jim is an ironic comedy which works better when it's behaving like a drama. Aiming to mine awkward laughs from a stilted, shifting tone, Roberts falters. Directing himself in the title role is an unfortunate extra pressure for a first-timer.
Jim (Roberts) is an alienated, friendless boy who lives in a small town where he's picked upon by his school-mates and his gym teacher - even his dog runs away. His only friend deserts him to join the in-crowd, and his strange, wooden parents are no help. He desperately seeks approval, but nobody attends his birthday party and the pink-haired object of his affections remains tantalisingly out of reach. Mind you, as played by Roberts, Jim isn't hugely sympathetic either. Now 25, Roberts has to dig deep to find a 17-year-old's awkwardness, and not always successfully. Jim spends a lot of time in the local rat-infested cinema, watching strange film-within-a-film The Piper's Revenge.
It's a relief then, to everyone, when Dean (Emilie Hirsch), from Pennsylvania, moves in next door. He's a mysterious James Dean type and could well be Jim's Piper. "You need to man up a bit instead of being a little bitch," Dean tells Jim, and soon the older boy is stage-managing Jim's life, with amusing consequences. Dean inserts himself in situations, ensuring that Jim finishes first in the cross-country run, goes on a date with Jackie (a sweet Charlotte Randall) and has a successful teen party, despite the fact "you have the co-ordination of a cripple". He even chums up to Jim's parents. Dean is not all he seems, however, and Jim may be falling into a Patricia Highsmith-style territory, scuttling the film's cheery middle act.
While it can sometimes feel under-written, Roberts' observations on a place where "the people look miserable but sound happy" is very carefully constructed – he goes in for elaborate framing, courtesy of talented DoP Richard Stoddard and production designer Arwel Jones, constructing a sunny Welsh summer in primary colours and giving the town of Maesycwmmer the air of a heightened fantasy. Roberts' parable of teenage bullying boasts some lovely moments, especially in its amusing underwater sequences, but unfortunately struggles for air for good part of the proceedings. As a directorial debut, though, Just Jim is an encouraging start for Roberts, should he ever wish to give up the day job.
Production companies: Vox Pictures
International sales: Visit Films, www.visitfilms.com
Producer: Adrian Bate, Pip Broughton
Cinematography: Richard Stoddard
Editor: Stephen Haren
Production designer: Arwel Jones
Original music: Michael Price
Main cast: Emile Hirsch, Craig Roberts, Aneirin Hughes, Nia Roberts, Richard Harrington, Mark Lewis Jones, Charlotte Randall