A powerhouse performance from Michael B. Jordan anchors this legal justice drama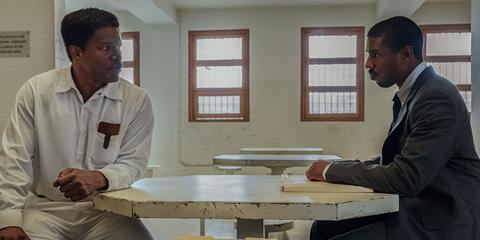 Dir. Destin Daniel Cretton. US. 2019. 136 min
This is movie-making with a mission. Based on the life of Harvard-educated lawyer Bryan Stevenson (a powerhouse performance from Michael B. Jordan) who set up a practice in Alabama to defend wrongly convicted death row prisoners, Just Mercy smoulders with righteous anger and indignation. The picture focuses on a key case, that of Walter McMillian (Jamie Foxx), a black man sentenced to death for the murder of a white teenaged girl on the flimsy evidence of a highly unreliable witness. Although conventional in its approach, the film is a forceful reckoning of a broken legal system.
Solid, serious and worthy
A definite crowd-pleaser, as evidenced by the outbursts of spontaneous applause which punctuated the premiere screening in Toronto, this picture has the potential to make its mark on the coming awards season, particularly in the acting categories. It's solid, serious and worthy fare, certainly, but the casting of Jordan, Foxx and Brie Larson adds not only a seal of quality but also a handy marketing angle. In the focus on altruism and self-sacrifice, the picture is cut from the same cloth as director Destin Daniel Crettin's earlier feature, Short Term 12. And perhaps the time is right for a film which celebrates a character whose life's mission is to fight for the people who need help the most – the kind of character that seems to be in short supply right now.
Stevenson learns before he has even graduated that he can make a difference in the lives of the men that society has written off. Working as an intern, he enters a death row cell and meets a broken, weeping creature. Two hours later, after a conversation which ranges from childhood reminiscences to shared memories of church choirs, the same prisoner walks out, tall, proud, his voice raised in song.
Several years later, Stevenson moves to Alabama, a state which wastes no time in showing its true colours. In his puttering little dirt-brown car – Stevenson is not in law for the money, clearly – he drives past fields of sad-eyed convicts slogging in work parties. Later, before he can first meet his clients on death row, a prison guard subjects him to a humiliating strip search. It's moments like these, he realises, and a gradual attrition of rights and respect, which has led to the current bias in the state legal system; to a presumption of black guilt and an assumption of white innocence.
Meanwhile characters repeatedly enquire whether he has had time to visit the Mockingbird museum. "It's one of the great civil rights monuments of the south," smirks one character. Support for Stevenson's quest to make a difference comes from Eva (Larson), a frizzy-permed idealist who is so committed to the cause, she lets Stevenson run his law firm from her dining table.
This is a message movie, and as such, it doesn't mince words. The courtroom speeches are stirring, which is fortunate because there are a lot of them. And the film is equally unflinching in what it shows us. A scene in which Stevenson witnesses the execution of a prisoner is horrifying and goes on for far longer than is comfortable to watch. But that, of course, is the point. The long seconds spent focused on the face of the man about to die sharpens the disgust we feel at the idea of his death. All lives, argues Stevenson, are meaningful.
Production company: Gil Netter Productions, Outlier Society
Distribution: Warner Bros
Producers: Gil Netter, Asher Goldstein, Michael B. Jordan
Screenplay: Destin Daniel Cretton, Andrew Lanham, from a book by Brian Stevenson
Production Design: Sharon Seymour
Editing: Nat Sanders
Cinematography: Brett Pawlak
Music: Joel P. West
Main cast: Michael B. Jordan, Jamie Foxx, Brie Larson, Rob Morgan, Tim Blake Nelson, Rafe Spall, O'Shea Jackson Jr., Karan Kendrick