Life goes on in Kabul, as its residents stuggle to rebuild and conquer their fears in IDFA's opening film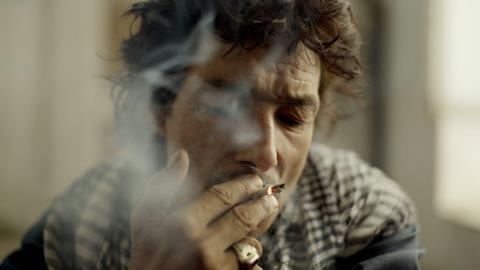 Dir/scr. Aboozar Amini. Netherlands/Afghanistan/Japan,/Germany. 2018. 88 mins
Amid the aftermath of past conflict and the constant threat of further bloodshed, life in Kabul somehow goes on. Director Aboozar Amini captures a sense of that precarious daily existence in a well-observed, impressionistic documentary based around the lives of a philosophical bus driver and a young teenage boy. Kabul, City In The Wind offers an absorbing, refreshingly distinctive perspective on Afghanistan and should attract further festival interest after its world premiere as the opening night of IDFA.
Amini uses the camera as a form of confessional
Amini's modest debut feature may focus on two individuals but their stories allow the viewer entry to a much broader picture of Kabul. Driver Abas strives to keep his rickety old bus in service, crunching gears and puffing on his cigarette as he crawls through city streets, rubble and desert dust. Afshin has become the head of his family now that his father (a former soldier) has thought it prudent to exile himself to the comparative safety of Iran. Accompanied by his younger brother Benjamin, he buys sugar and green tea at the local shops, waters the family trees and adds his labour to the communal efforts at improvement that would have fallen to his father.
Amini allows us to witness all the little details of Kabul life, from streets filled with shops to markets where carts groan under the weight of fruit and vegetables. A peddler clambers up vertiginous steps seeking second hand goods to purchase. A helicopter sweeps overhead. There is some sense of normality here but one that is constantly undercut by the sight of an abandoned tank that has become a makeshift playground for the local children or just the look of Abas's rusty bus pitted with bullet holes and barely roadworthy.
Amini is the eyes of the viewer, observing without judgement, soaking up the atmosphere of a place where family homes appear to be carved out of the mountainside and a fierce wind whips through the streets.
The legacy of recent events in Kabul doesn't need to be spelled out but is everywhere the camera looks and in the lives that Amini has chosen to spotlight. Abas's cheerful manner conceals a man beset with debts who finds solace in smoking hash. He doesn't believe that he is destined to enjoy a ripe old age. Afshin and his little brother have the look of troubled, traumatised souls who know far too much about death for ones so young. They talk of suicide bombers, ammunition dumps and the loss of loved ones. Their father survived a terrorist attack that left many others dead and they visit the graves with him before he leaves.
Amini also uses the camera as a form of confessional, framing Afshin, Benjamin and Abas in tight close-up, scrutinising every flicker of emotion as they talk about their troubling dreams and darkest fears. Questioned as to what frightens him the most, Afshin pauses for lengthy reflection before quietly stating: "the suicide bombs". Kabul, City In The Wind may show the resilience of the city and its residents but it also confirms that it comes with a heavy price.
Production company: Silk Road Film Salon
International sales: Rediance Films,info@rediancefilms.com
Producer: Jia Zhao
Editing: Barbara Hin
Cinematography: Aboozar Amini