A champion boxer comes into focus in Ross Whitaker's accomplished doc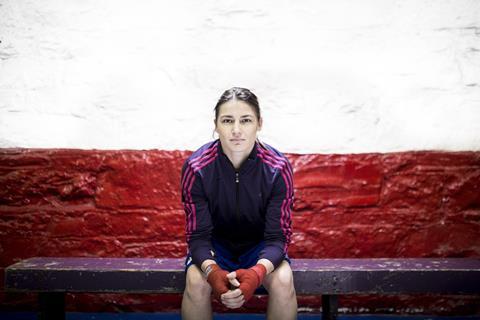 Dir. Ross Whitaker. Ireland. 2018. 90 mins.
Quite literally the embodiment of female power, champion boxer Katie Taylor is the subject of Ross Whitaker's riveting new documentary, simply entitled Katie. It's not necessary to know anything about her, or female boxing, to be sucker-punched by this film: a household name at home in Ireland, Taylor is a trailblazer who has attracted countless headlines but is an introverted, shy soul who has never spoken out in her own or anybody else's defence. Her fists do her talking; her still face remarkably expressive in the hands of this skilful documentarian.
From her deep religion, to her tight family, to her against-the-ropes gumption, it's a pleasure to watch this story unfold.
Domestic audiences will want to hear Katie's words, but international crowds should also respond well to this beautifully crafted story of a supreme athlete who thrives by defying the odds. Katie Taylor is the real-life Million Dollar Baby; boxing and sports aficionados are her natural audience, but this should also extend to wider female audiences. In the best-case scenario, a high-profile festival launch after its home premiere at the Galway Film Feadh would launch Katie into select theatrical play (co-financier Wildcard will distribute in Ireland) and awards attention. This is no normal talking heads doc, as Taylor is a reticent subject but through granting Whitaker (Unbreakable – The Mark Pollock Story) full access at the lowest point of her career, they tell a remarkable story together.
With help from Taylor's close-knit family – with one key exception – the touching story of "The Bray Bomber" involves an extraordinary athleticism which was evident from an early age. (Alongside "a competitive streak that was borderline unhealthy".). She excelled at football, for example, before landing a real blow with boxing at the age of 11. Her British father, Pete, was an amateur boxer who became her coach and mentor as Katie went from fights where she had to pretend to be a boy to five world championships and helping persuade the Olympic authorities to allow woman's boxing at London 2012 where she won the gold medal.
At that point, Katie had it all: she was a fully-fledged national heroine and with an athleticism and natural talent which confounded the naysayers who protested female involvement in this most male sport. She couldn't wait to start on her campaign for Rio 2016. But it devastatingly came to ground as she parted ways with her father and floundered painfully in the spotlight, crashing out in the first round. Here she acknowledges that the split with her father – who was targeted in June by a hitman at his gym in Bray who wounded him and killed another boxer – came about after he left the family for another woman. Not much more is said, but her tears of distress vividly convey the loss she felt – it's clear here that Katie is a woman alone, more interested in athletic excellence than a partner or children, or even learning how to cook for herself. Her father's departure was devastating.
It's at this point that Katie turns it around: she decides to go professional. The gloves stay on but the protective hats come off as she hits the ring in a make-or-break effort to prove herself and the womens' sport in the bright lights of the commercial arena and television deals.
At the onset of Whitaker's film, her promoter says: "I don't think many people know Katie Taylor". It's to the director's credit that, by the end, you feel you do, without her actually having to explain herself. From her deep religion, to her tight family, to her against-the-ropes gumption, it's a pleasure to watch this story unfold. It seems impossible that Taylor has not yet been approached for a ficionalised version of her own life story, yet Whitaker's doc renders this unnecessary. Fiction couldn't beat this real-life warrior queen. It will be interesting to see who can.
Production companies/international sales: True Films/Venom Film, info@truefilms.tv
Producer: Aideen O'Sullivan
Editing: Andrew Hearne
Cinematography: Brian Moore
Music: Michael Fleming