Sweeping awards as it travels the festival circuit, this warm romantic comedy features two autistic leads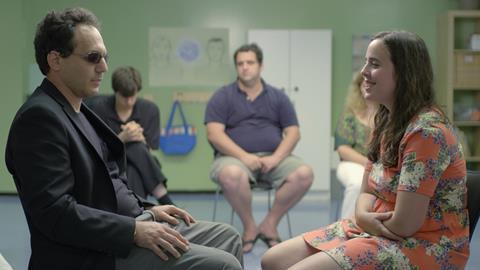 Dir/scr: Rachel Israel. US. 2017. 94 min
A warm, cheerful romantic comedy, Keep The Change's central love affair blossoms in a community support group for autistic adults. While this isn't the first film to deal with autism, it's different to most of its predecessors, which have used professional actors in the leads (Dustin Hoffman in Rain Man, for example). Here, the two protagonists are non-professionals and emotionally impaired, just like the parts they play, and this makes all the difference. Their natural, uninhibited performances offer an authenticity that has often been lacking in earlier attempts to deal with autism on screen, and their personal charm should dispel the vague uneasiness some audiences associate with this subject.
Rachel Israel allows her characters plenty of freedom, explaining the natural spontaneity of their performances
With two top awards at Tribeca, one for Best American Narrative Feature, the second for Best New Narrative Director, followed by a host of enthusiastic reviews and now recognition by Karlovy Vary (Special Jury Mention, International Critics' Award), Rachel Israel's debut picture should be lifted out of a narrow specialised niche into wider commercial play. Some seven years in the making, a short version of Keep The Change was made in 2013.
David (Brandon Polansky), the only son of a wealthy Jewish family whose parents (Jessica Walter and Tibor Feldman) are worried about his future, refuses to see himself as anything else but normal in every respect. Driving around town in the family's luxurious limousine and spreading around $20 bills, he never asks for change for math is beyond him (hence the film's title). He considers himself a natural charmer, hitting on every available girl he can find on the internet, and at the slightest excuse will deliver an unending string of dirty (mostly Jewish) jokes, often to the wrong ears.
Forced to join a support group after offending a cop with his odd sense of humour, David considers himself superior to his cohorts and snubs them all until he meets and is gradually swept over by the ebullient, over-excited Sarah (Samantha Elisofon). Unlike him, she embraces her own disabilities with a kind of innocent enthusiasm and is the first to join into every therapeutic game suggested by the group's monitors.
Sarah likes to sing, she likes men, she is a happy-go-lucky person, and has no problem telling David, or any other man for that matter, how sexy she finds him. Despite the fact that their romance develops along classical Hollywood lines, the peculiar nature of this couple lends their on-and-off relationship a singular charm that not only remains untouched by their disabilities but is actually enhanced by them.
Having developed her characters in close association with the performers for a long period of time, Rachel Israel allows them plenty of freedom, explaining the natural spontaneity of their performances. It's not only Polansky and Elisofon who shine all the way through, the entire cast (consisting mostly autistic members of Manhattan's Jewish Community Center) gives the impression of feeling perfectly comfortable in the roles they play and actually relishing the whole process.
Adult autism is rarely discussed in the open, usually Aspergers is as far as movies like to go, causing many people to shrink away from what they suspect is a dark, mysterious and troubled disorder of the mind. Not in this case. Sunny, profoundly humane, endearing and enormously sympathetic, Israel's film shows her characters to be not that very different from the kind of people one meets every day on the street. Granted, they may seem at times quirky, annoying, a bit too outspoken, abd not always accommodating, but then, who isn't, at times?
Production company: Keep the Change Productions
Producers: Kurt Enger, Summer Sheldon, Todd Remis
International sales: Cinetic Media, info@cineticmedia.com
Cinematography: Zachary Halberd
Production design: Alina Smirnova
Editor: Alex Camillieri
Music: Amie Doherty
Cast: Brandon Polansky, Samantha Elisofon, Will Deaver, Nicky Gottlieb, Jessica Walter, Tibor Feldman